Copenhagen-based luxury homeware label Tekla has launched an eye-catching collection of colorful luxury blankets in soft mohair, inspired by Swiss-French architect Le Corbusier's sensibility and playful approach to color. IGNANT caught up with the brand's founder and creative director, Charlie Hedin, to learn more about his admiration for architecture and the inspiration behind the enchanting collection.
Since 2017, Tekla has created a captivating universe of home textiles—one which has made it its mission to develop designs that bring comfort to the home and celebrate the pleasure found in the simplicity of things. Informed by a serene and pared-back aesthetic that is minimalist and unmistakably Scandinavian, their products—which range from bedding to towels to blankets and sleepwear—are modern, luxurious, conscious, and always expanding. Collaboration has always been at the core of Tekla's work (and success). Their exquisite portfolio is testament to that imperative—for years, the brand has cooperated with creatives worldwide to produce collections with a personal feel. The limited-edition capsule of luxe mohair blankets with fringed edges in collaboration with Le Corbusier is the latest in that roster—a unique study of color and textures on the tip of every design-savvy tongue.
"Architecture and Le Corbusier's legacy have always been an inspiration to Tekla"
Tekla has always been inspired by architectural marvels—their latest bedding collection with British architect John Pawson being just one of the many ambitious explorations. "Architecture and Le Corbusier's legacy have always been an inspiration to Tekla—he is one of the most influential architects, synonymous with modern architecture," says Hedin, founder and creative director of the brand. We are talking on the phone, right after the successful launch of the collection in Paris. "In our research for this project, we realized Le Corbusier's incredible contribution to color," he continues. "The architect himself noted that 'color is an incredible triggering tool', stating that 'colors affect our emotions and have a substantial impact on our mood'." Much like with Le Corbusier, color and its ability to shift and alter one's impression of a space has always been central to Tekla—far from being solely reduced to a matter of aesthetic preference, it is one of, if not the most, important mediums in the brand's narrative.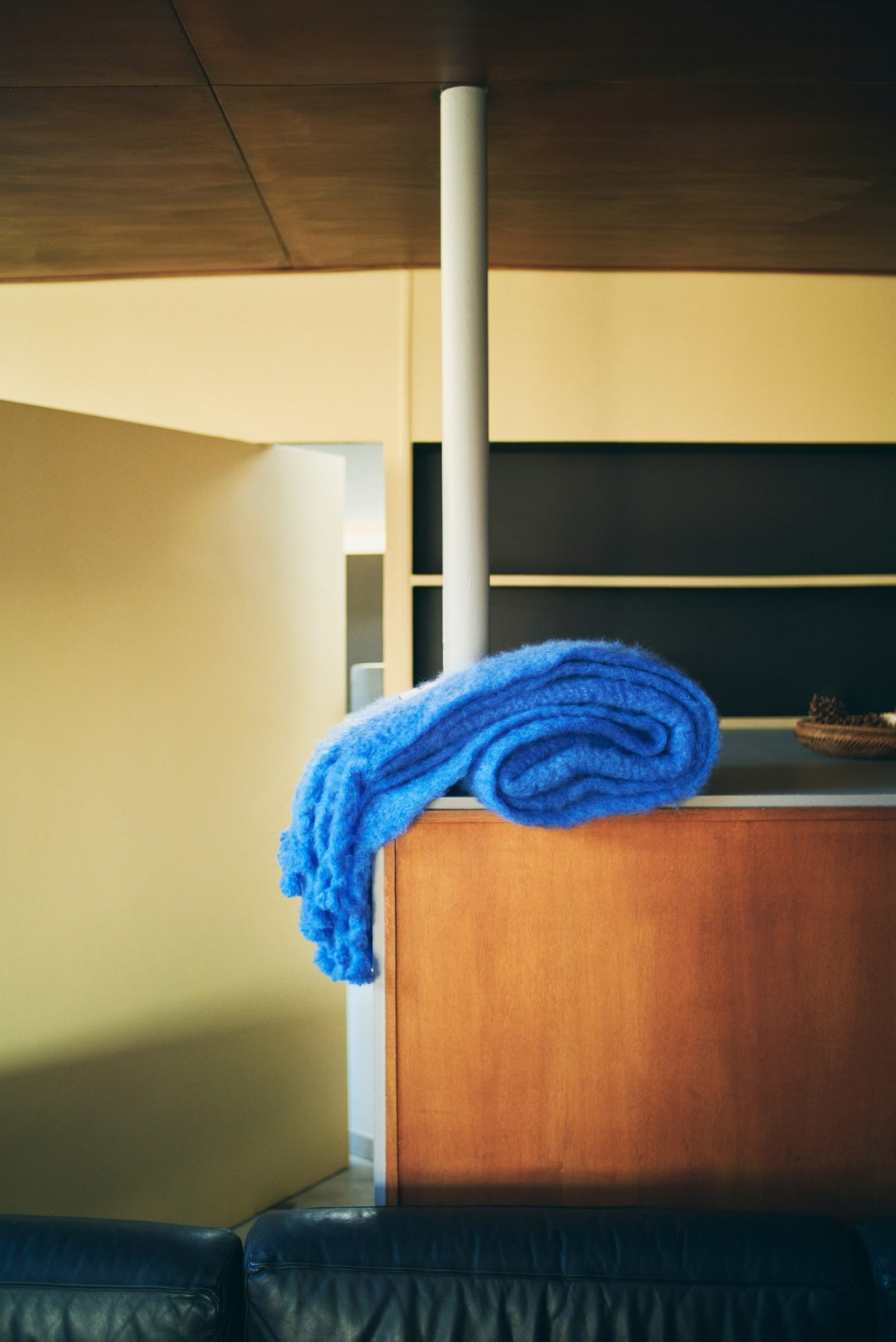 "Le Corbusier's colors are a natural foundation for this limited collection of blankets," says Hedin. The project started during the 2021 Salone del Mobile, when the designer met with Les Couleurs Suisse AG—a Zurich-based company granted worldwide rights by the Fondation Le Corbusier to disseminate the designer's original palette of colors. The blanket collection is directly inspired by the 63 hues that comprise Le Corbusier's architectural color system, known as the Architecture Polychromy, after his 1930 essay of the same name. "We were attracted to the colors in his creations, how they were so central to the design and how he used them in his own life," he adds. For the project, Hedin selected three captivating shades—the spearmint green Outremer Gris, the ocean blue Bleu Outremer, and the candyfloss pink Rose Vif—and translated these to hand-woven textiles. "The whole project represented a big challenge for both because, as the first home-textile company to partner with them, we were to develop the unmatched Le Corbusier colors for a home textile collection on a natural yarn," he continues. "The process included many rounds of color testing to ensure we would perfectly emulate the architect's unique shades."
"Storytelling has always been part of Tekla's core values. It is our hope that each product in our collection evokes an emotion"
Finished in either striped or color-blocked iterations and hand-woven by artisans in Spain, each blanket encapsulates the emotional triggers of the Corbusier colors, including feelings of comfort and warmth. Like all Tekla products, they have more than a strong visual identity; they also have a character—they tell a story. "Storytelling has always been part of Tekla's core values. It is our hope that each product in our collection evokes an emotion," says Hedin. The designer believes passionately in creating and adorning spaces that inspire a meaningful human connection. "The home is very individual, but the aim is for people to be able to curate a safe and comfortable space within the Tekla universe. You want to surround yourself with different feelings and emotions, something you want to escape in, to feel content," he continues.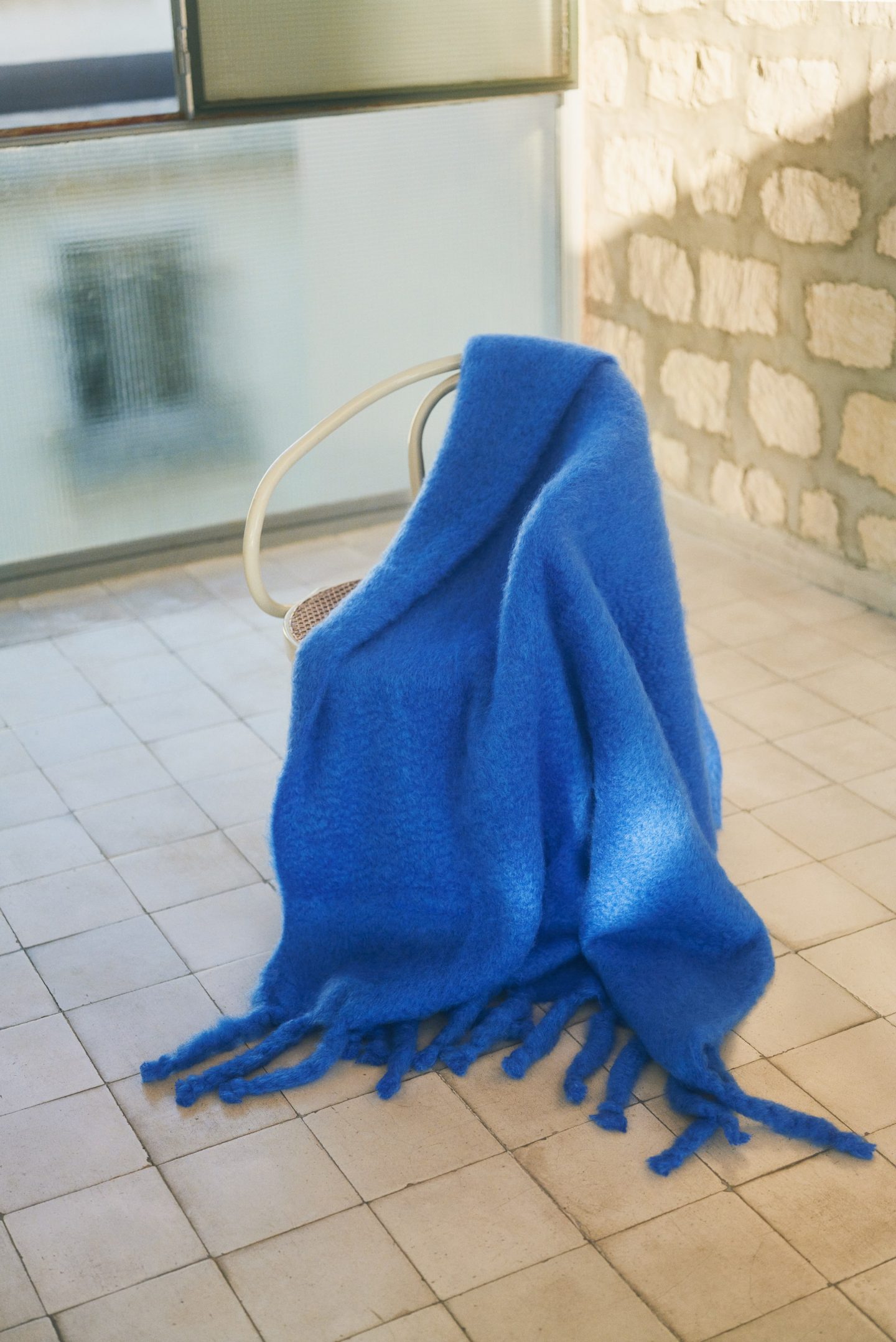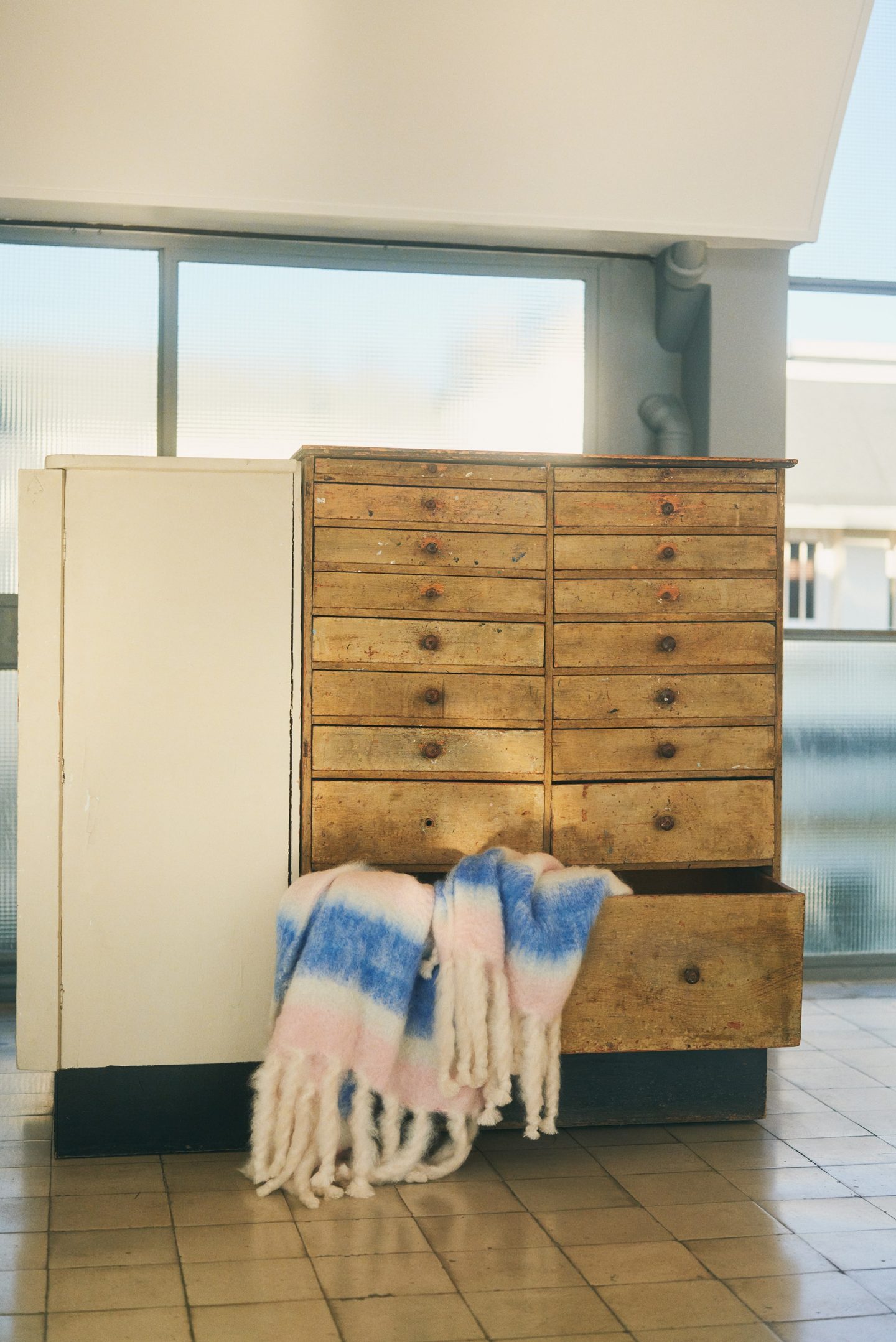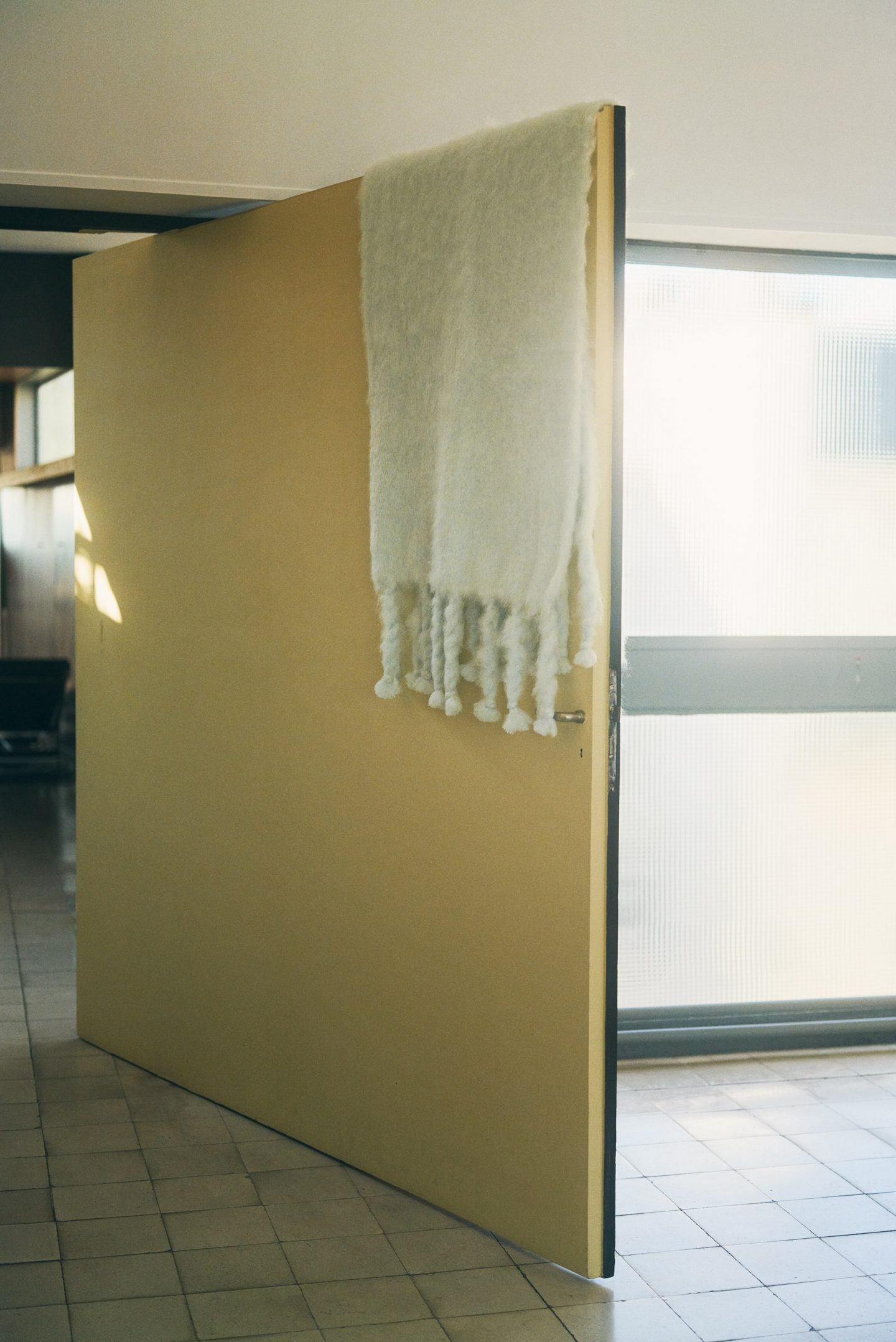 The beguiling collection was captured on camera and presented at the Studio Apartment of Le Corbusier in Paris, on the top two floors of the Molitor Building, which the architect designed with his cousin Pierre Jeanneret in the 1930s. An intriguing space of bold primary colors, contrasts, and playful interiors, this served as a great reference during the creation phase. "Each piece of the collection is specifically inspired by the colors used in Le Corbusier's Studio Apartment. We wanted to capture this approach to color in the blanket design," shares Hedin. Recalling the feeling of walking into that very space—an experience unlike any other—he notes how "many of Le Corbusier's spaces have a tempo and a movement that feel quite joyful. As you move through his studio and home, the colors almost act as a guide, helping you understand the spaces' use."
"The collection is inspired by the colors used in Le Corbusier's Studio Apartment. As you move through his studio and home, the colors almost act as a guide"
Aiming to recreate that same feeling while piquing one's curiosity, the collection's campaign images portray the different blankets nestled between iconic Le Corbusier architecture details and furniture. Shot on film, they highlight how the fluffy designs add charming accents to the living, working, and sleeping areas, gently popping against neutral backdrops and playing up the room's liveliness and feeling of comfort. Both in the stills and the pieces themselves, the two aesthetics—the Scandinavian minimalism of Tekla and the Brutalism of Le Corbusier—are exquisitely married and naturally matched. "To me, Corbusier isn't necessarily a brutalist; I see him as a humanist. With a quest to make every day easier and more efficient," the designer reacts to our remark. "And this is something central to Scandinavian culture too; that your house should be practical and comfortable," he notes—a place of relaxation, retreat, and recreation.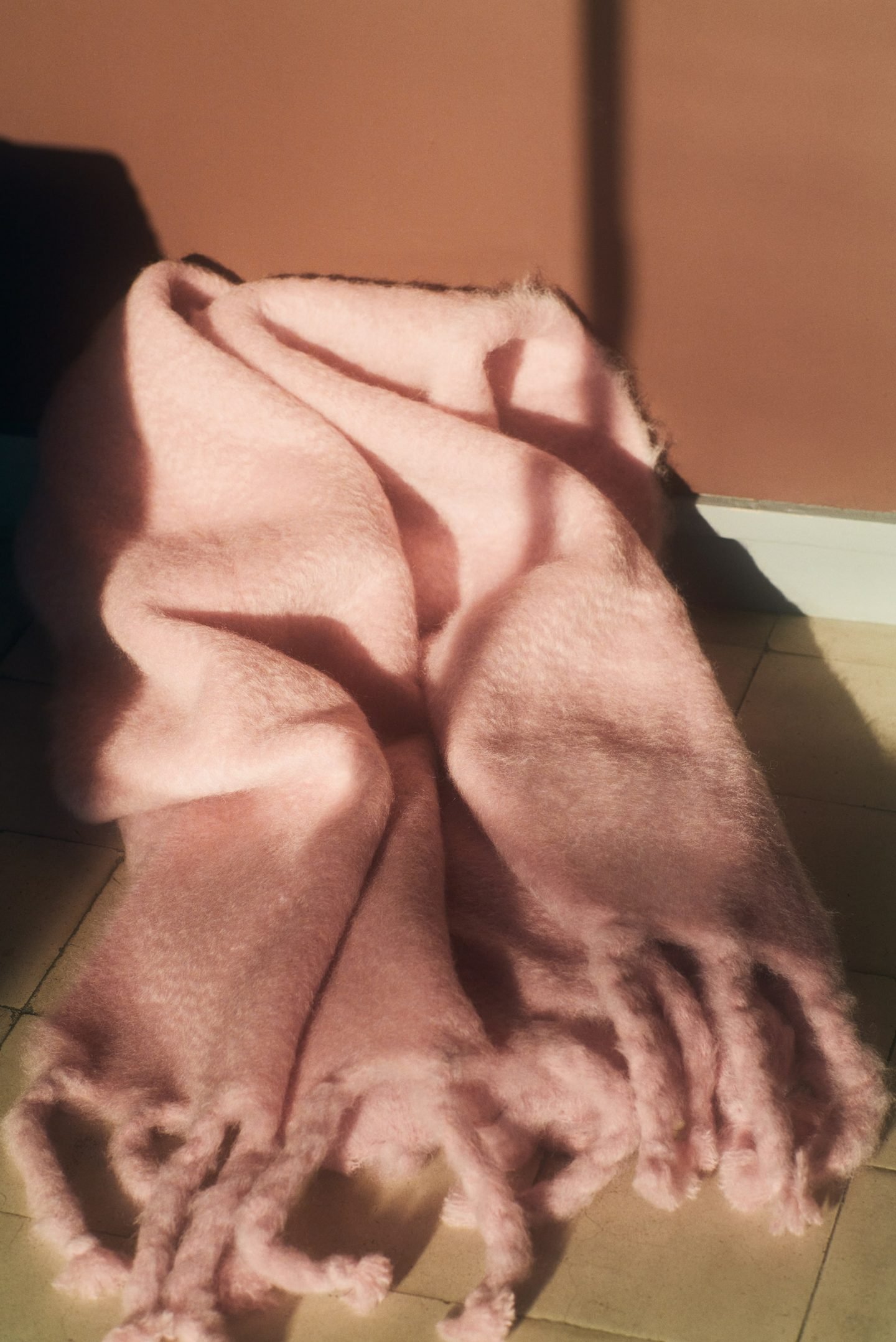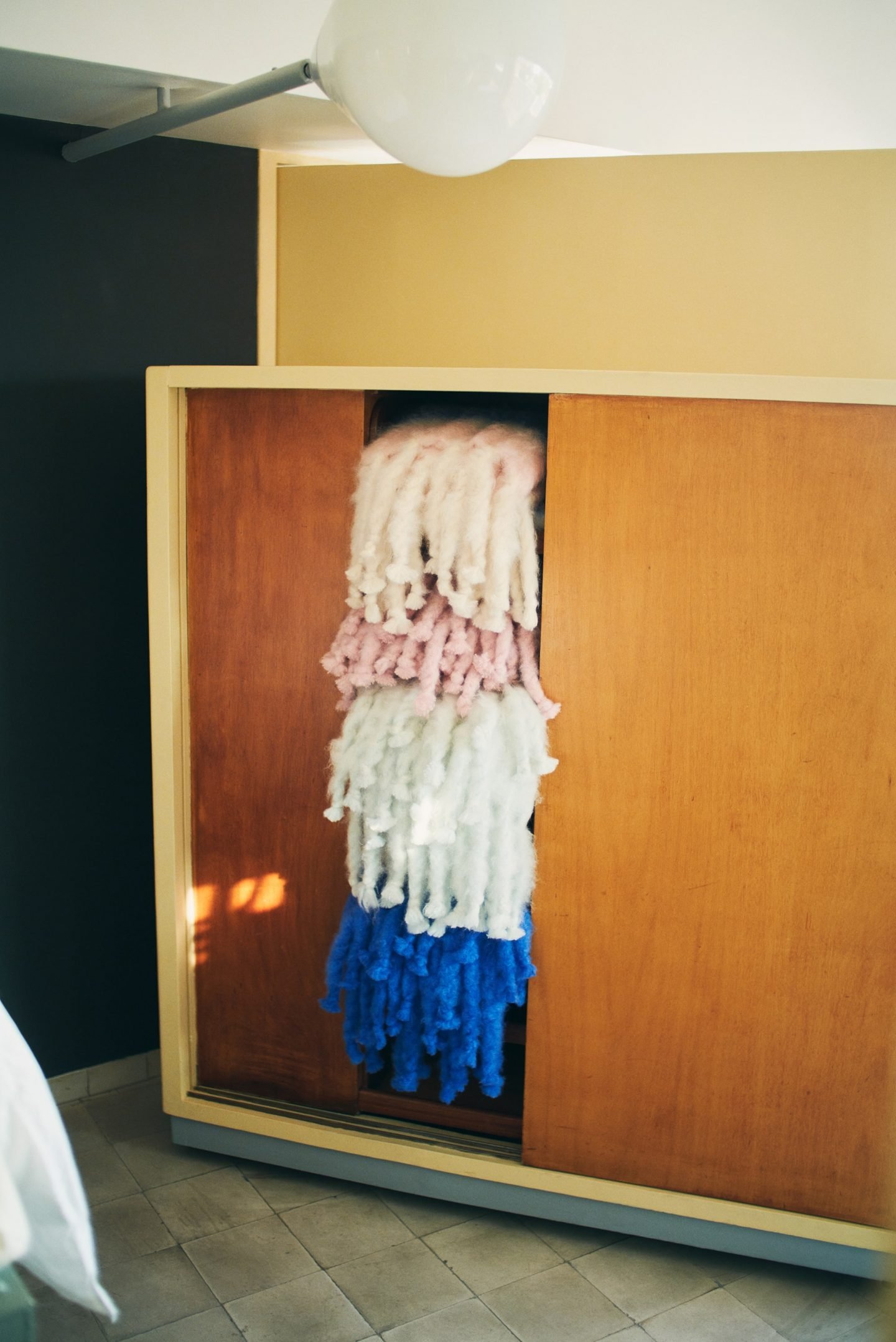 Hedin, for whom the project is close to his heart, has found himself especially moved by the collection and its launch. "The most rewarding part [of launching the collection] was seeing the whole project come to fruition and being able to invite the Tekla community into Le Corbusier's Studio Apartment in Paris, where people could freely move around and see the blankets interacting with the space and people's response to it," he shares. "It is a truly amazing and humbling experience to see Tekla grow so much over the last few years and to see the response within the global community. In the years to come, we hope to continue building our universe and designing products that have a meaningful impact on our customers' everyday lives." A hopeful promise we are sure he will be happy to keep.
The collection is available to preorder online. For more information, click here.
Source: Ignant