Blue Bottle Coffee the American chain established by musician James Freeman in California in 2002, has opened its first permanent store in Osaka, Japan. Now owned by the global consumer-brand giant Nestle, the chain opened its first three Japanese stores in 2015 in Tokyo and it now has about 20 stores in total in Japan. In Osaka, before opening this permanent store, Blue Bottle had a quick month-long pop-up of cold beverages at the Daimaru Osaka/Umeda department store in July this year.
The Osaka café is located on the first and ground floors of a new concrete-and-glass building in the Chayamachi district. The area is known as having a historically rich cultural mix of arts, theaters and broadcasting stations, and it also includes office towers and other commercial facilities.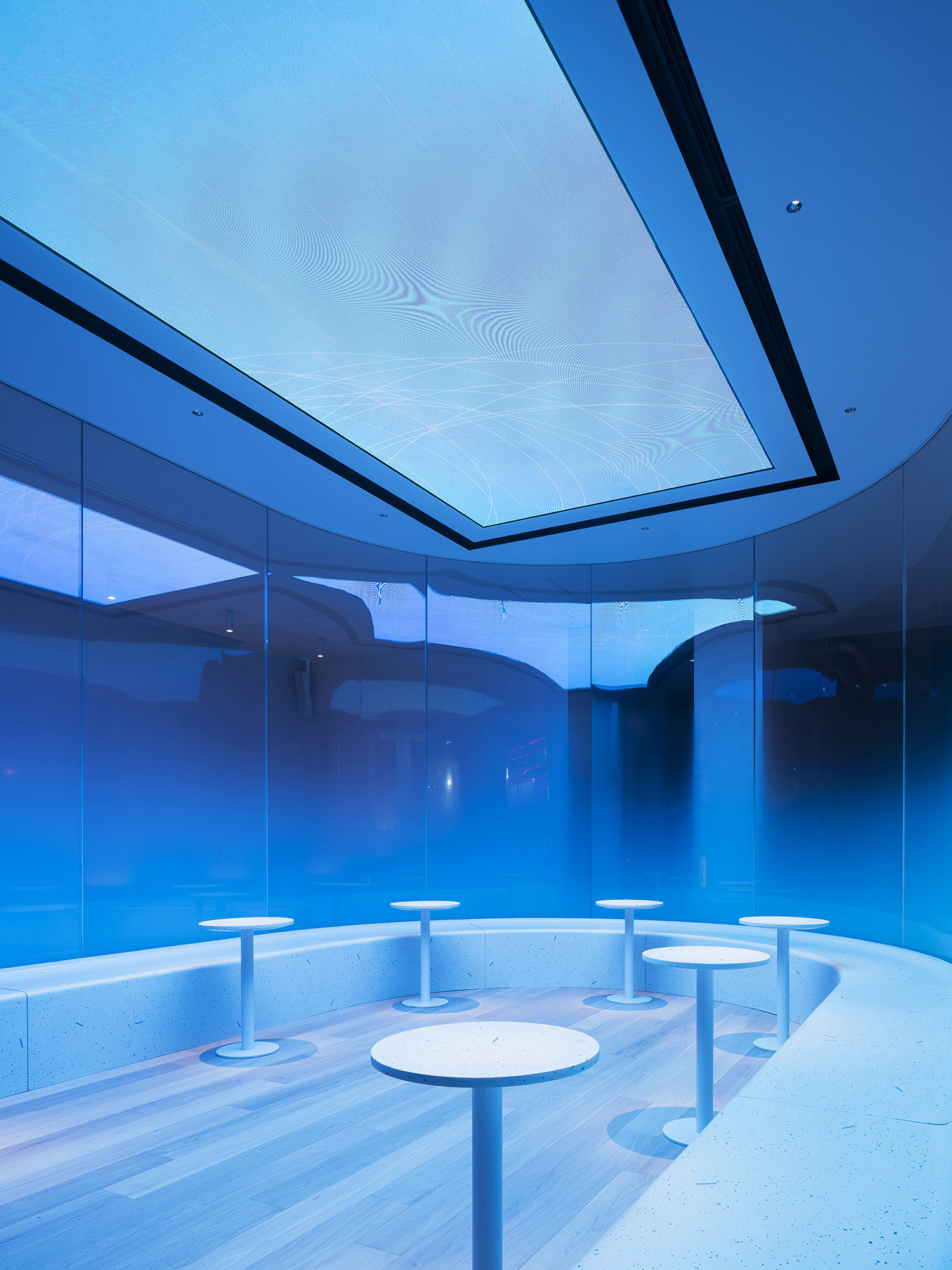 The café was designed by Tokyo-based Studio I IN www.i-in.jp, who founded the studio in 2018, has created a minimalist fusion of many influences in the 345-square-metre (3,713 sq.ft) Osaka café. The strong Japanese tea culture of the area, the minimalist, blue-glass-bottle dominated graphic language of the brand, and the desire to separate the two levels of the café, each with its own vibe – all of this influenced the clean, almost sterile feel of the café where the main materials are glass, stainless steel and concrete.
The first level is open and spacious with wood and stainless steel dominating the otherwise sparse space that also has the obvious Blue Bottle brand accents of blue glass. The second level is infused with a digital overlay created by Tokyo-based Panoramatiks. According to the designers, customers sitting in this upper-level area will encounter a "sensory experience where music and images 'fall' from the ceiling."
Blue Bottle cafes all sport the minimalist blue bottle logo. According to the company website, the name stems from a historic tale that involves coffee beans and heroics, and led to the establishment of the first-ever central-European coffee-house in Vienna called Blue Bottle. This tale does not divulge why the café was so called but that is how the American chain, some 300-plus years later was named Blue Bottle.
In all, Blue Bottle Coffee has about 100 cafes in major US and Japanese cities plus a couple in Seoul and Hong Kong. Like all companies following consumer trends, Blue Bottle Café has announced its commitment to sustainability. Blue Bottle commits to carbon neutrality by 2024 according to Karl Strovnik, CEO of Blue Bottle Coffee, quoted on Nestle's website last month. Tuija Seipell
Photography Tomoki Kengaku
Source: The Cool Hunter