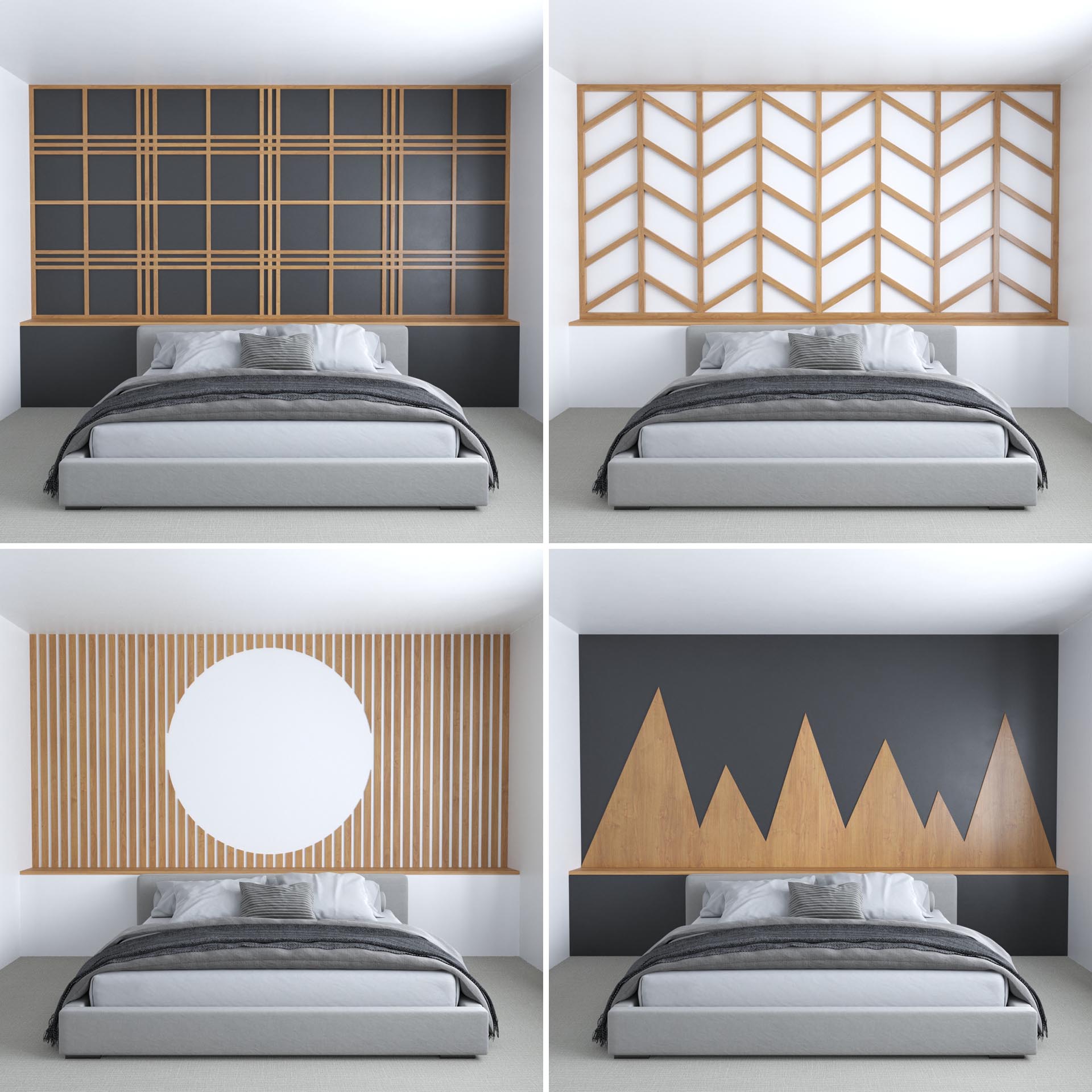 If you need some design inspiration, we've put together these wood accent wall ideas for a bedroom to get you thinking about what you could do with the space you're working with.
Most of these ideas are fairly simple to make as a DIY project, or you could find a local woodworker to have them built for you.
Let's take a look…
1. Chevrons
This chevron wood accent wall, not to be confused with herringbone, has wood lengths cut on an angle that connect to straight lengths. A matching frame wraps around the border of the wall, finishing off the design.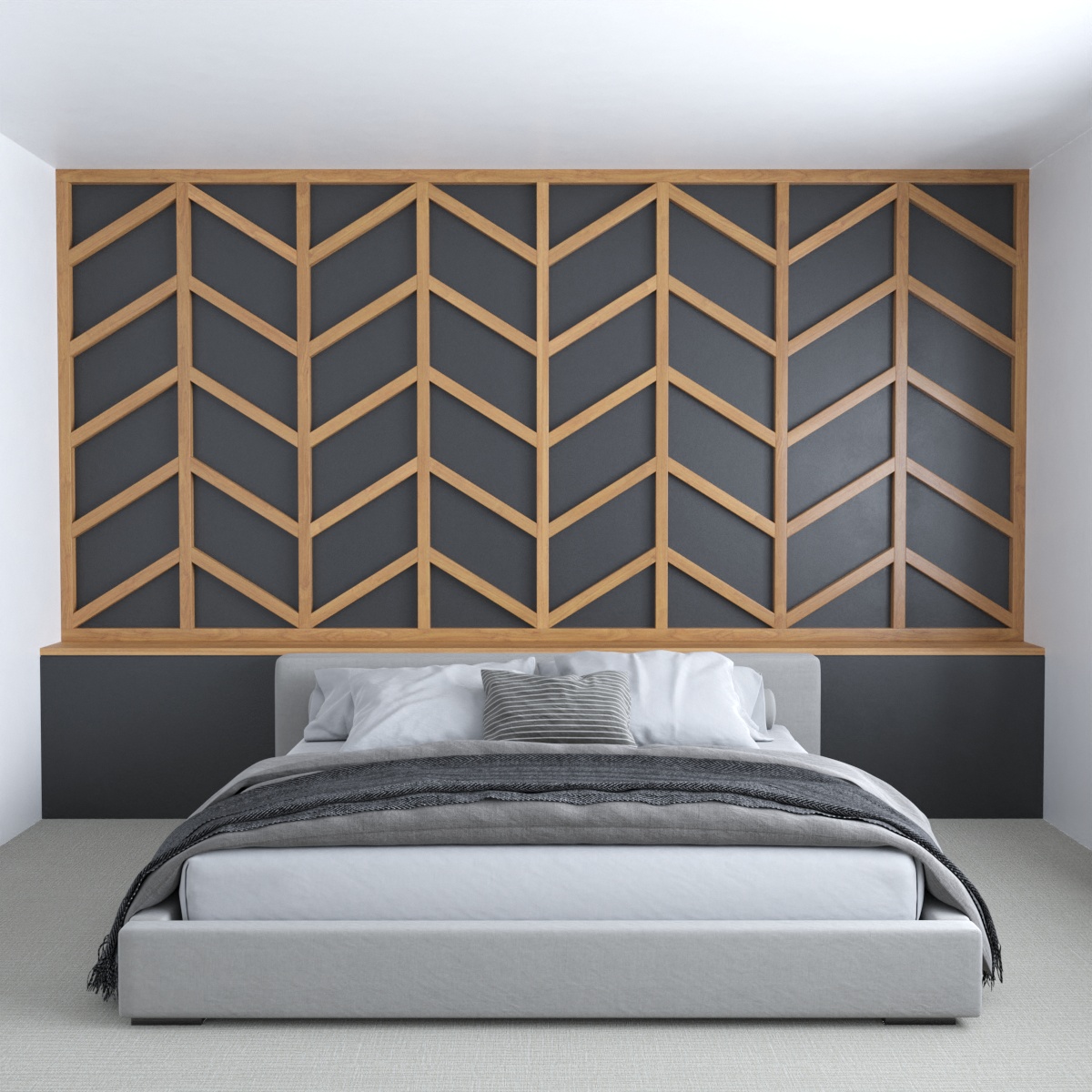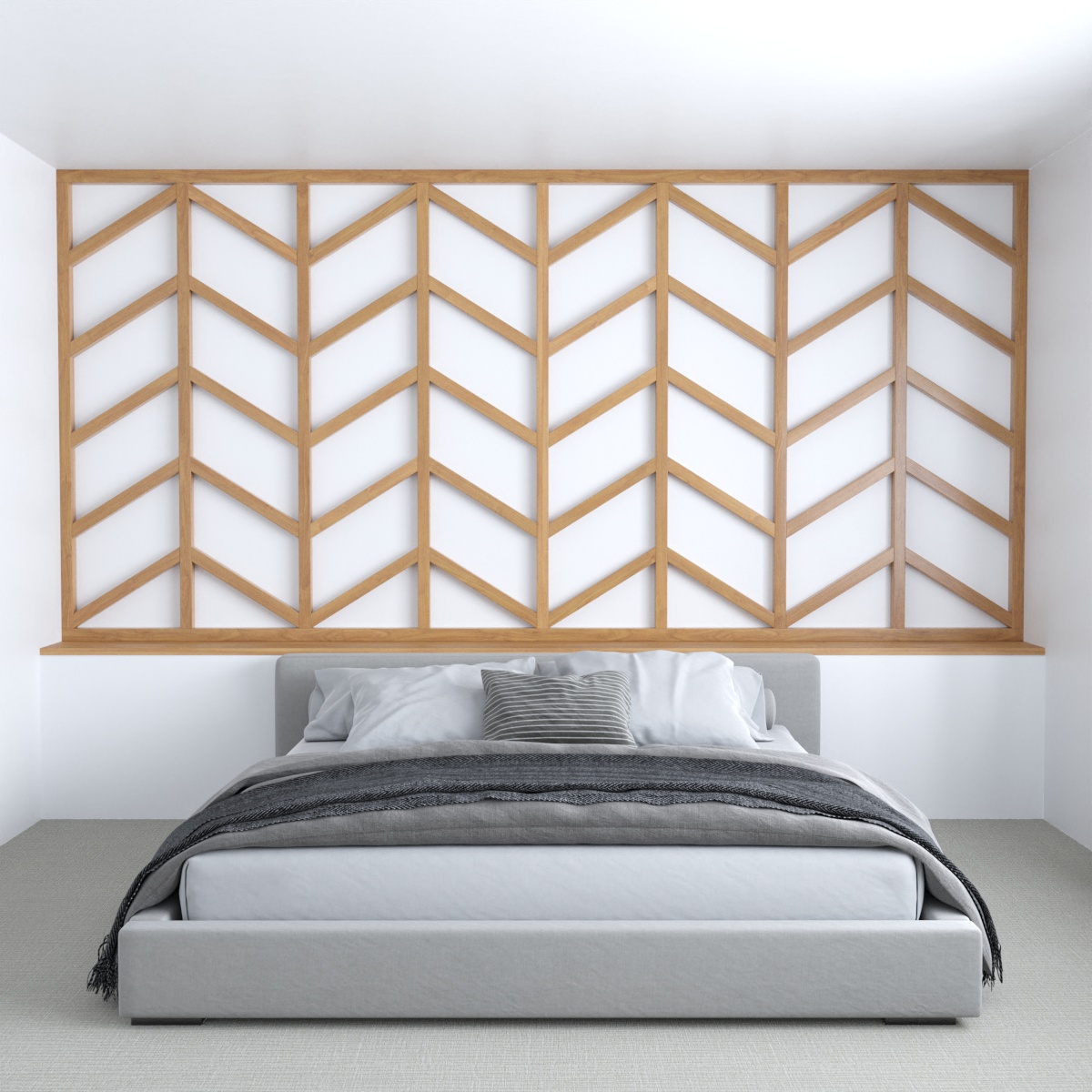 2. Tartan
This tartan-inspired design is an elegant solution for a bedroom accent wall. Using simple lengths of wood, the wall consists of installing the wood so that it replicates a simple tartan pattern.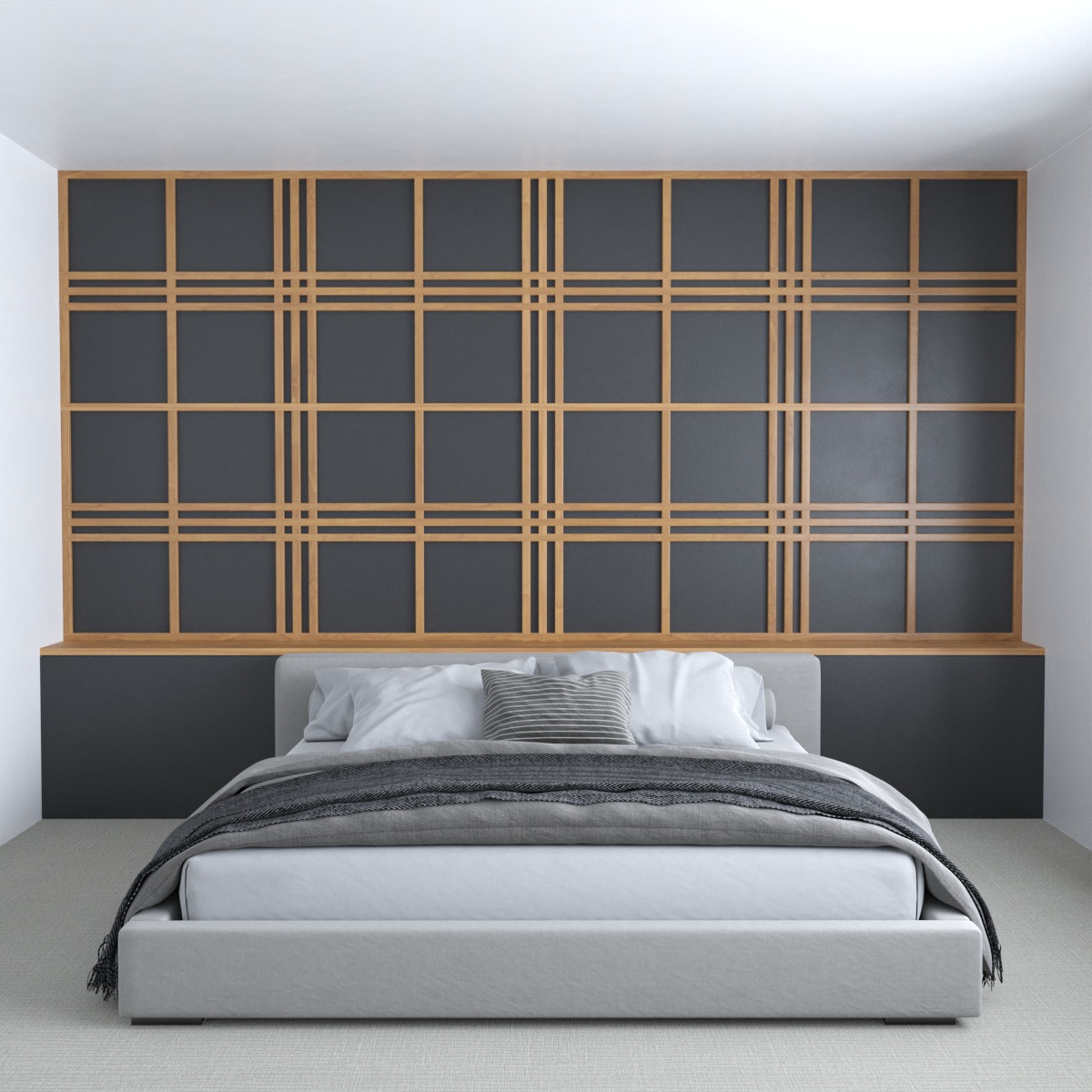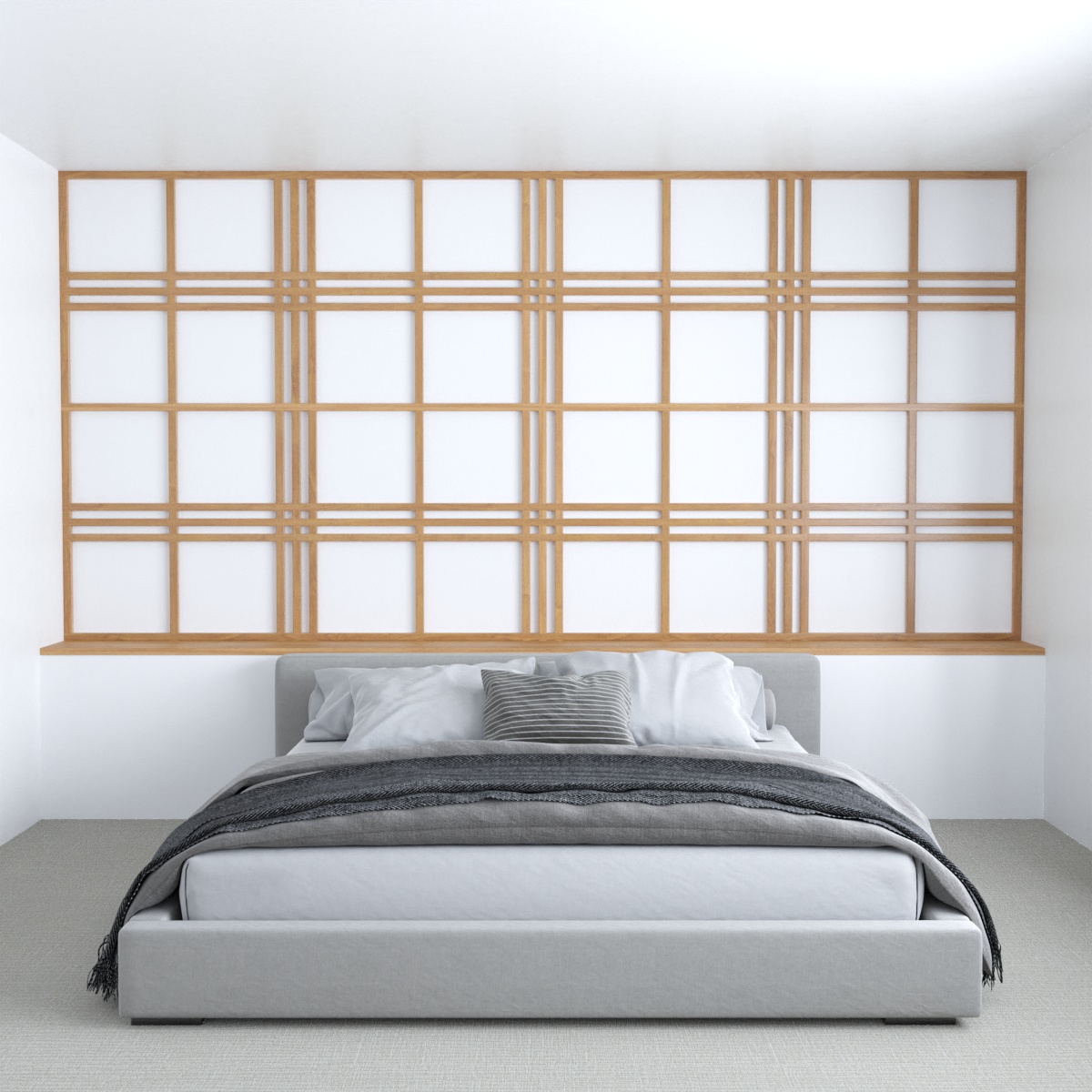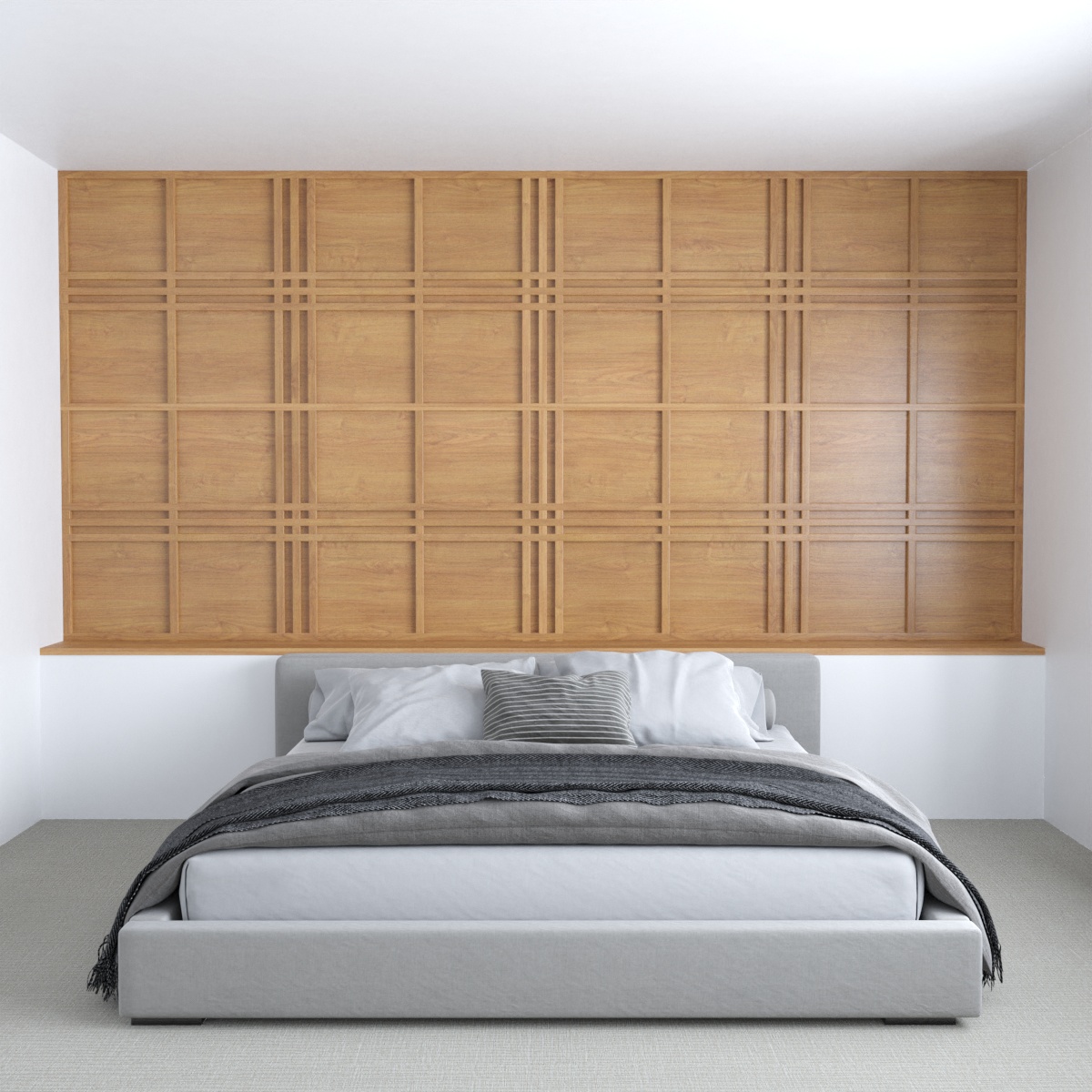 3. Mountains
Inspired by mountains, this wood accent wall has a series of peaks that stand out against the backdrop of the black-painted wall.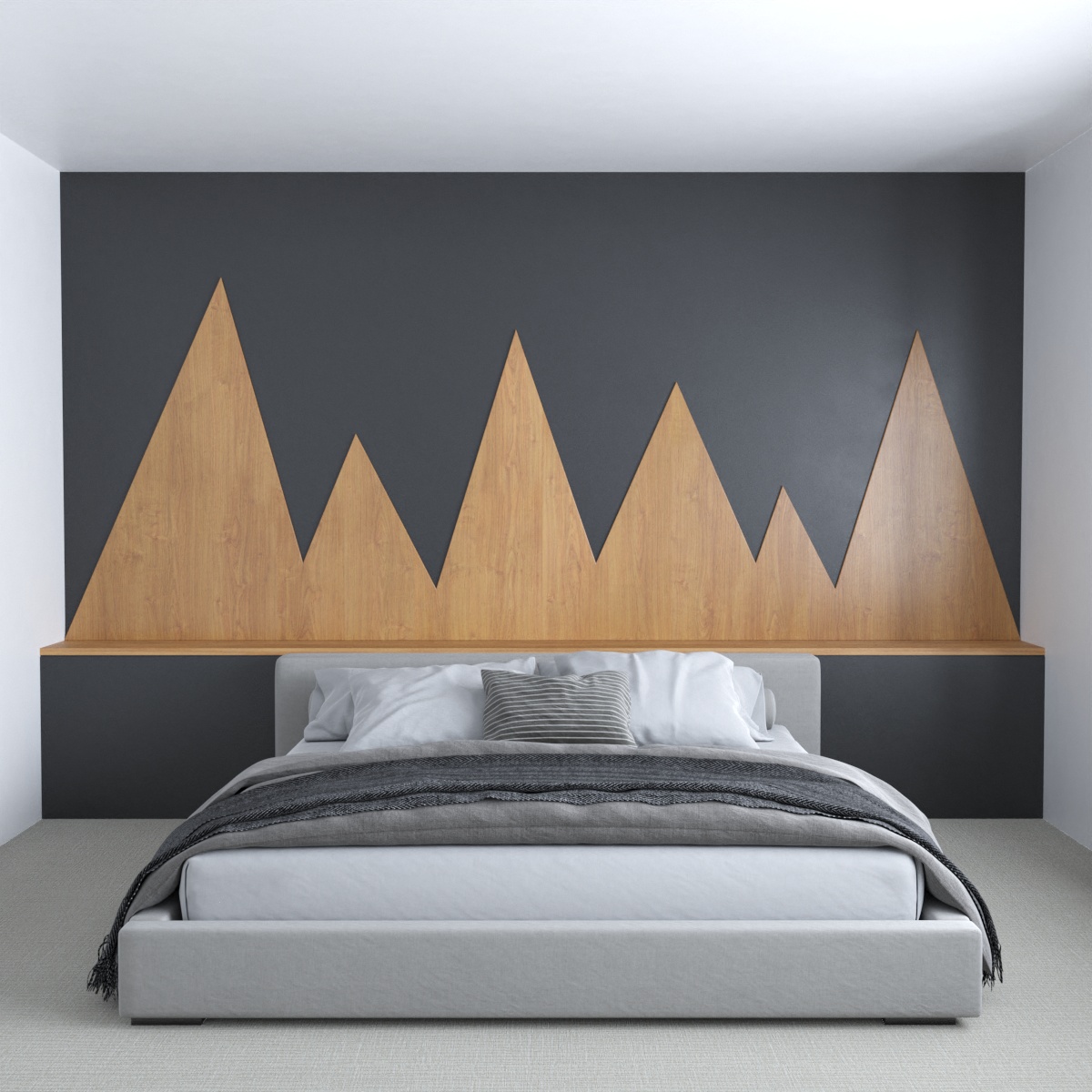 4. Moons
This design includes three variations that range from a single large round circle cut out of wood slats, to two half circles, and then a third design with 4 half circles.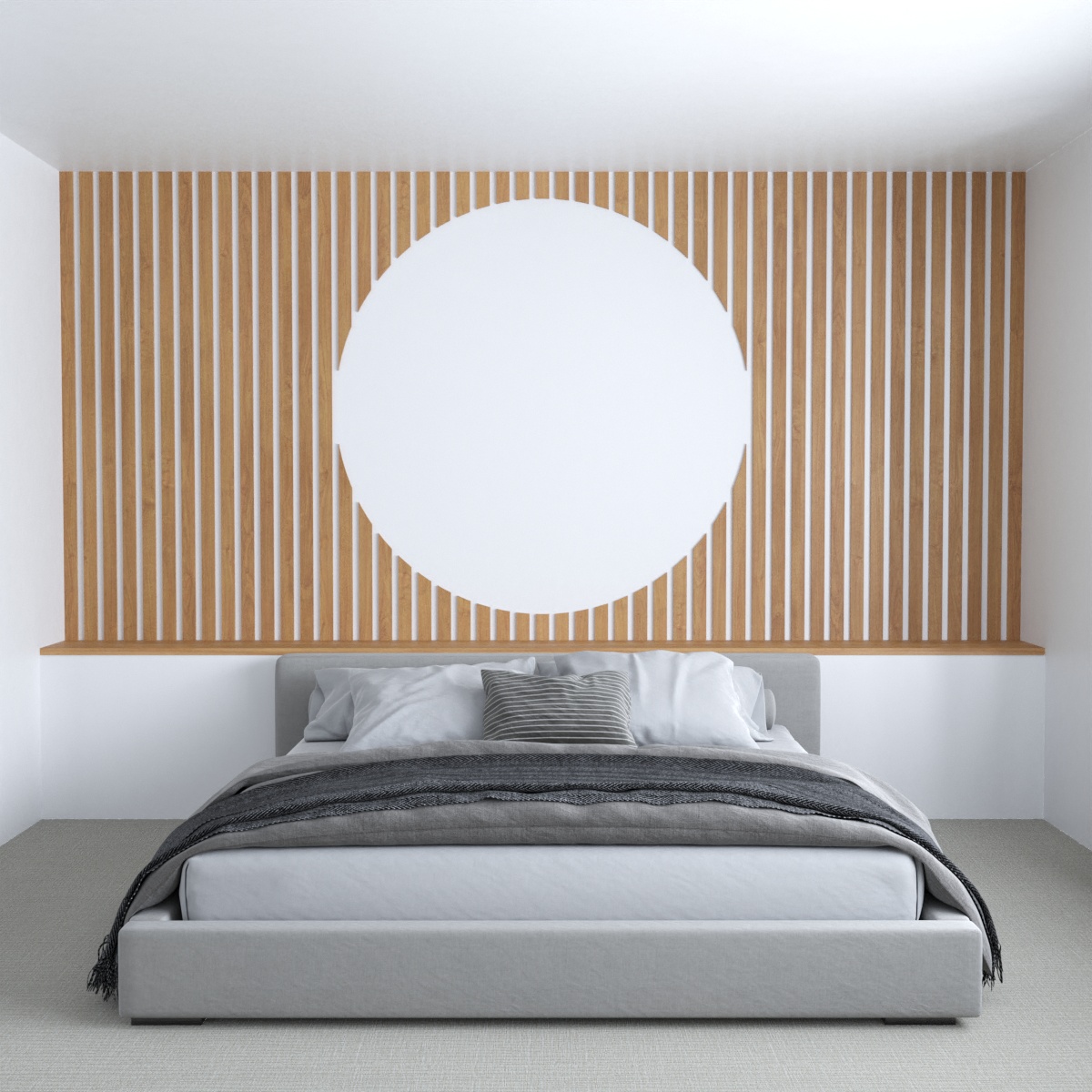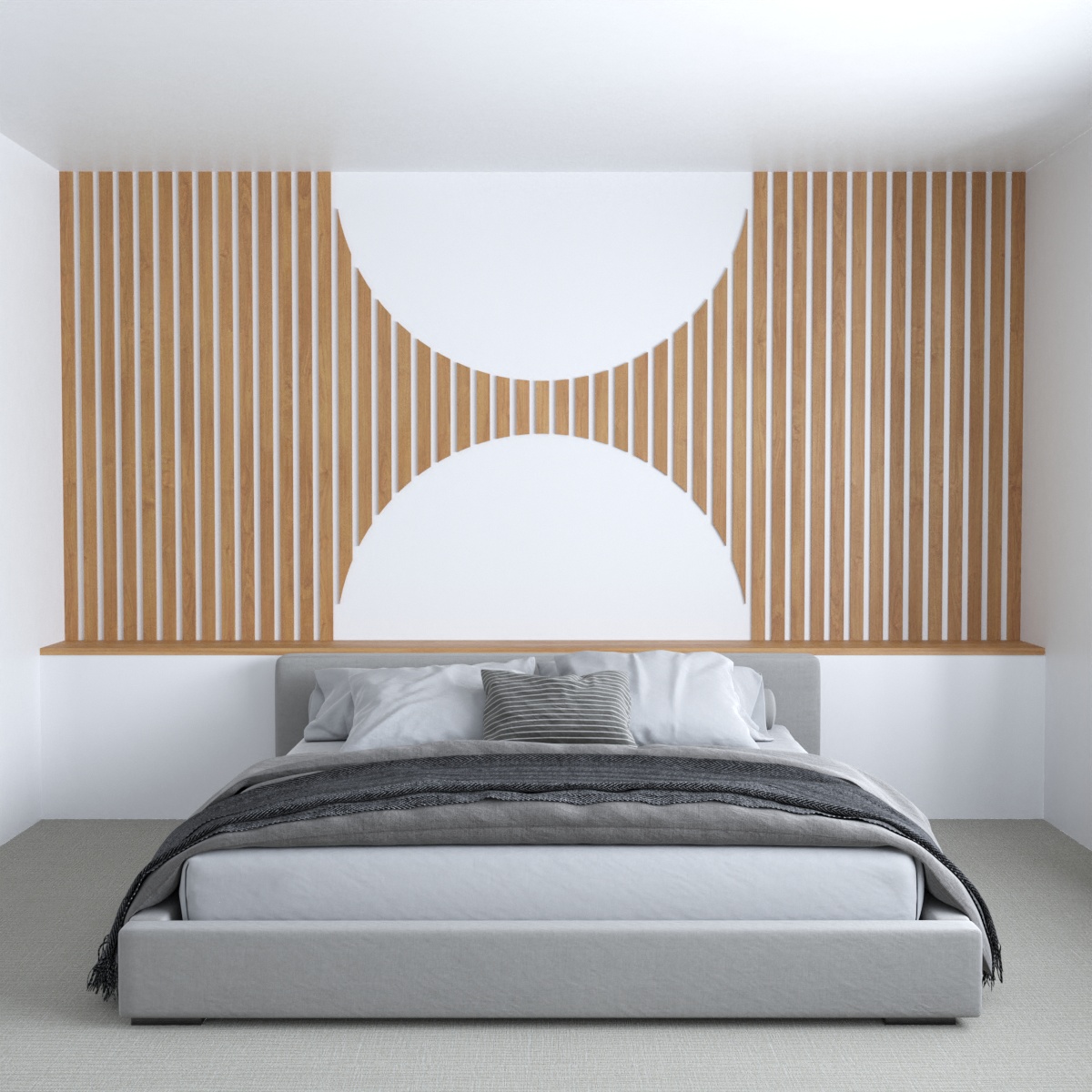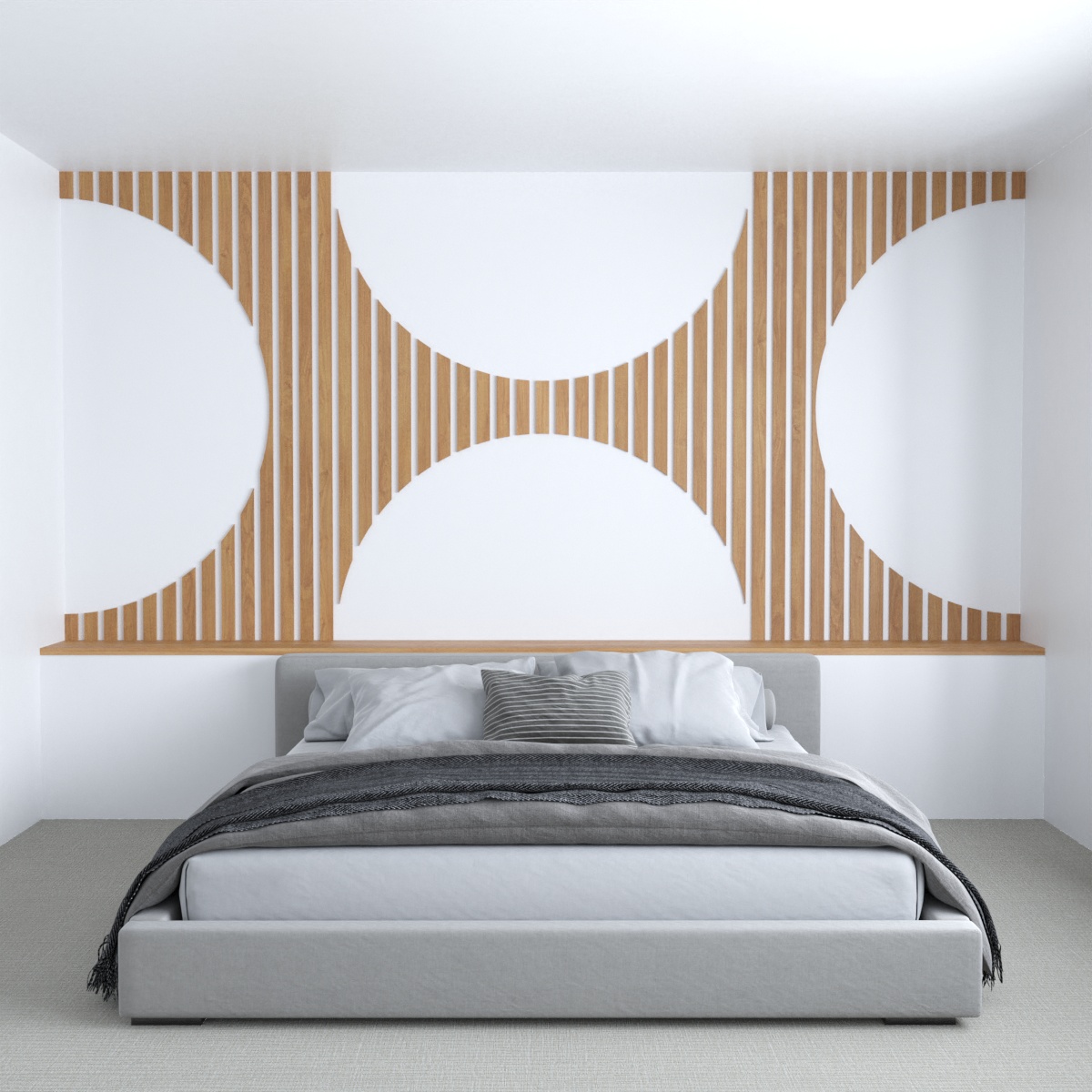 5. Cones
Triangle shapes with rounded ends, placed in an alternating up and down pattern create an interesting accent wall.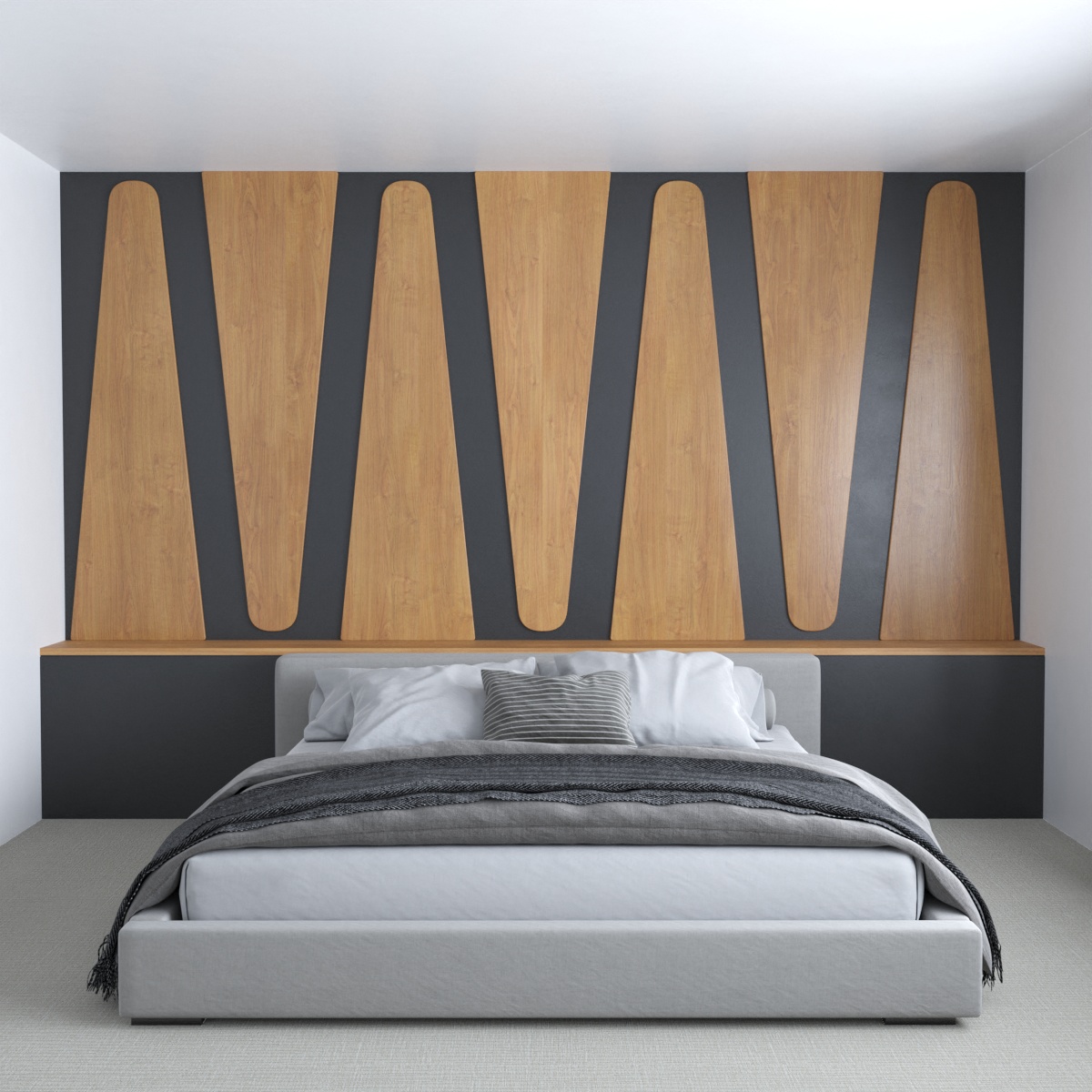 6. Diamonds
Diamond shapes made from cut pieces of wood and spaced out to fill the entire wall.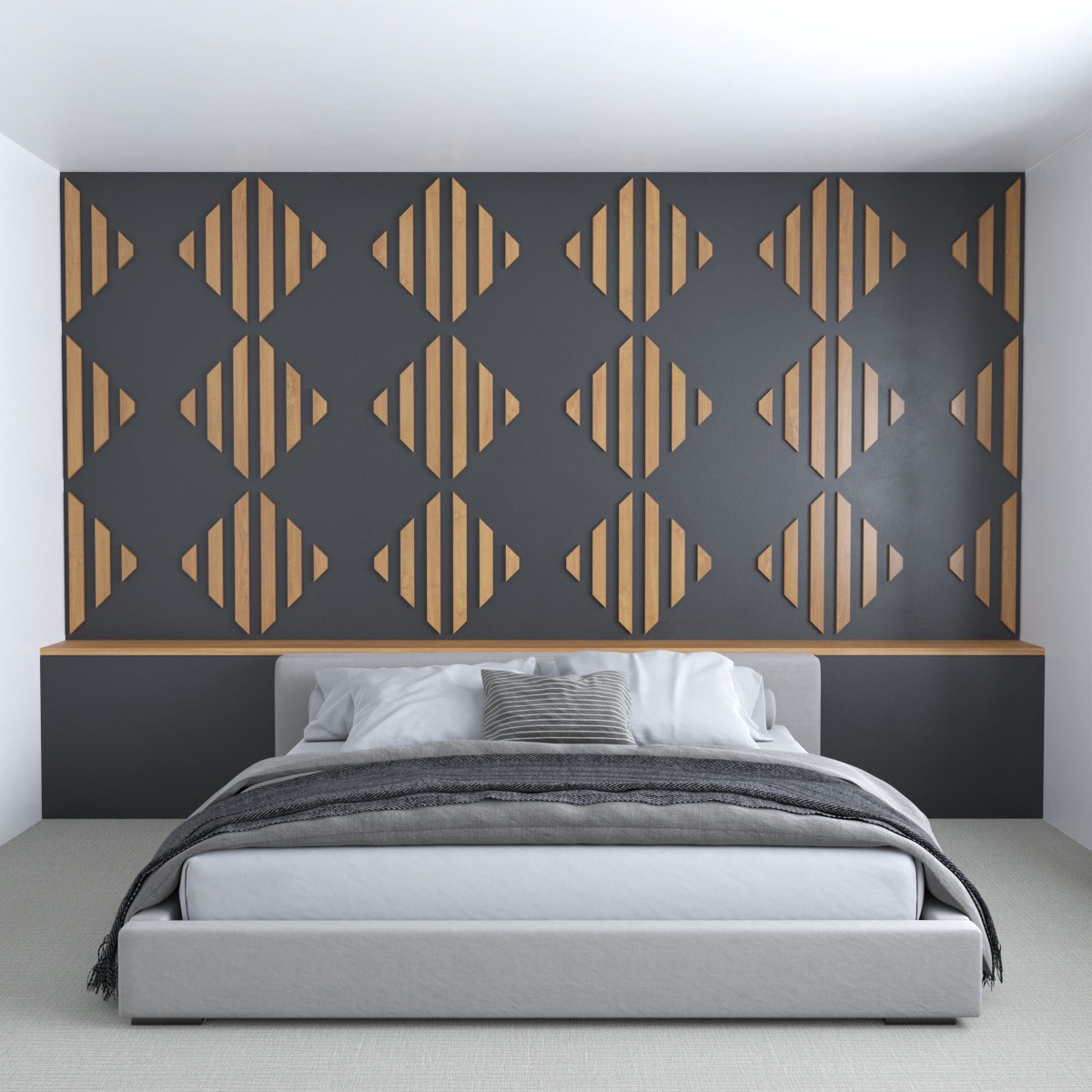 7. Swiss Cheese
Similar to the holes that can be found in Swiss cheese, this wood accent wall has cut-out circles, adding a whimsical touch to the bedroom.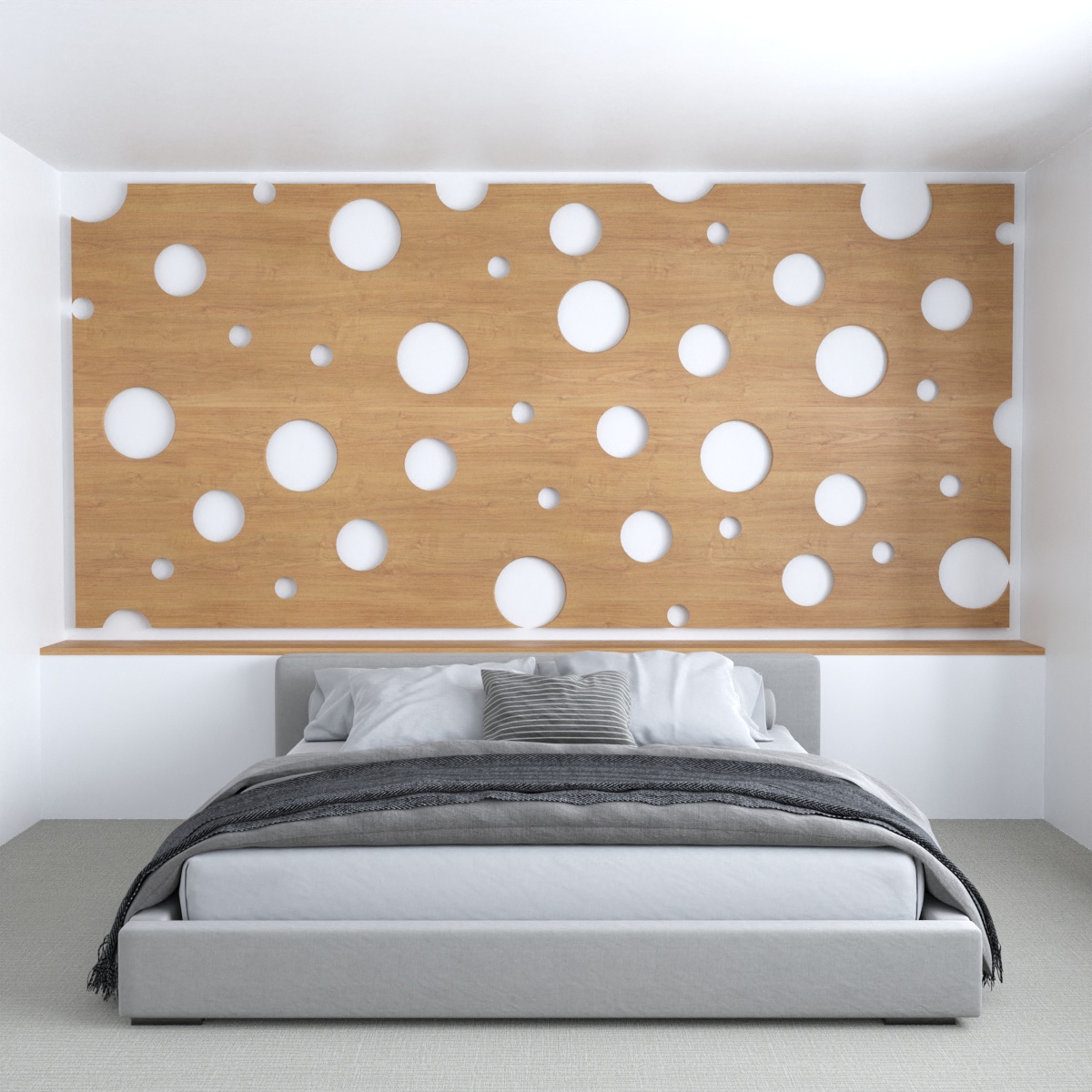 8. Connected Squares
For a modern geometric look, you can make wood squares that are connected with a small piece of wood between them. It only requires three different lengths of wood. Make enough to fill your wall and it will look like the one below.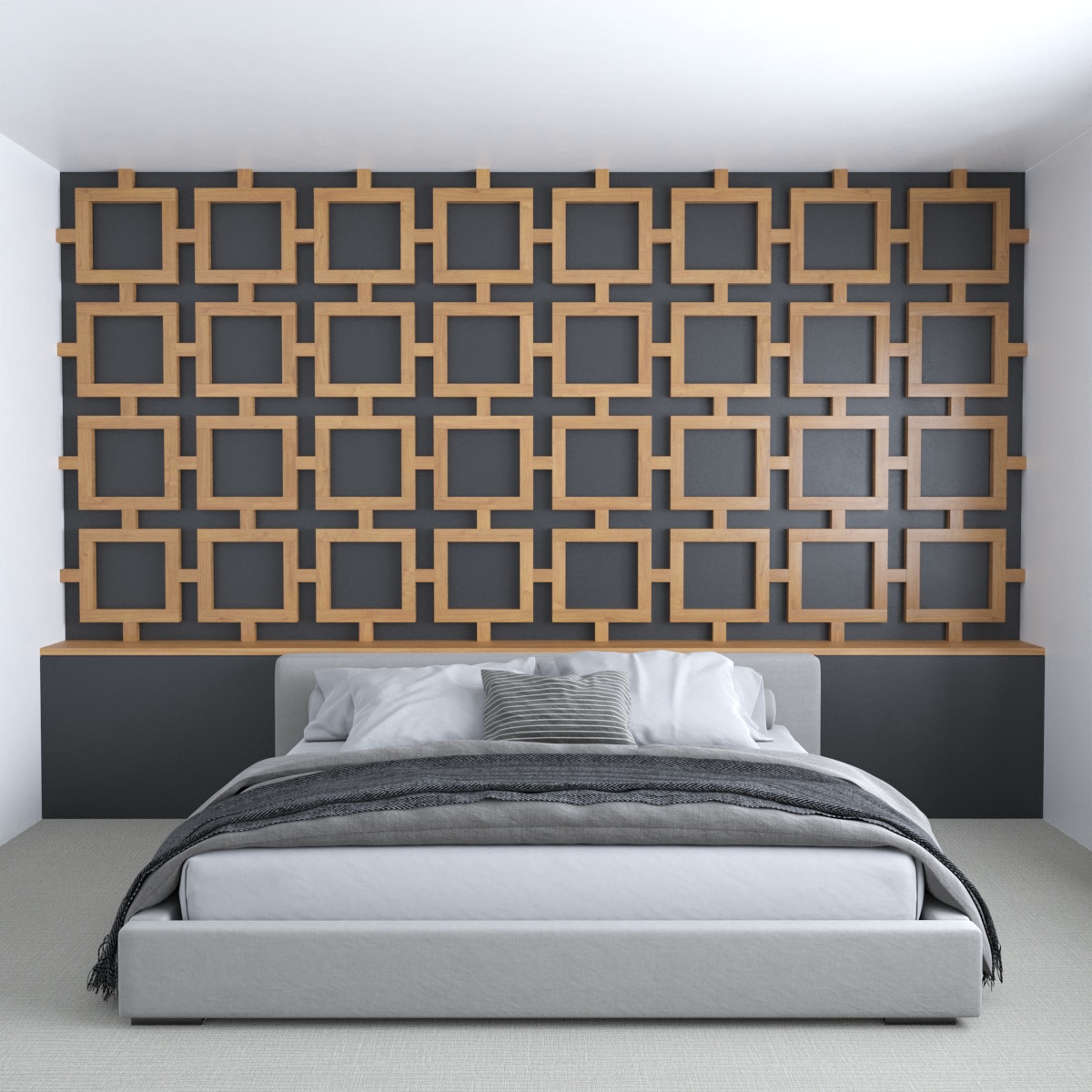 9. Shutters
Wood shutters, often found on the exterior of a home, were the inspiration behind this wood wall accent design, with a collection of frames filled with wood dowels making up the wall.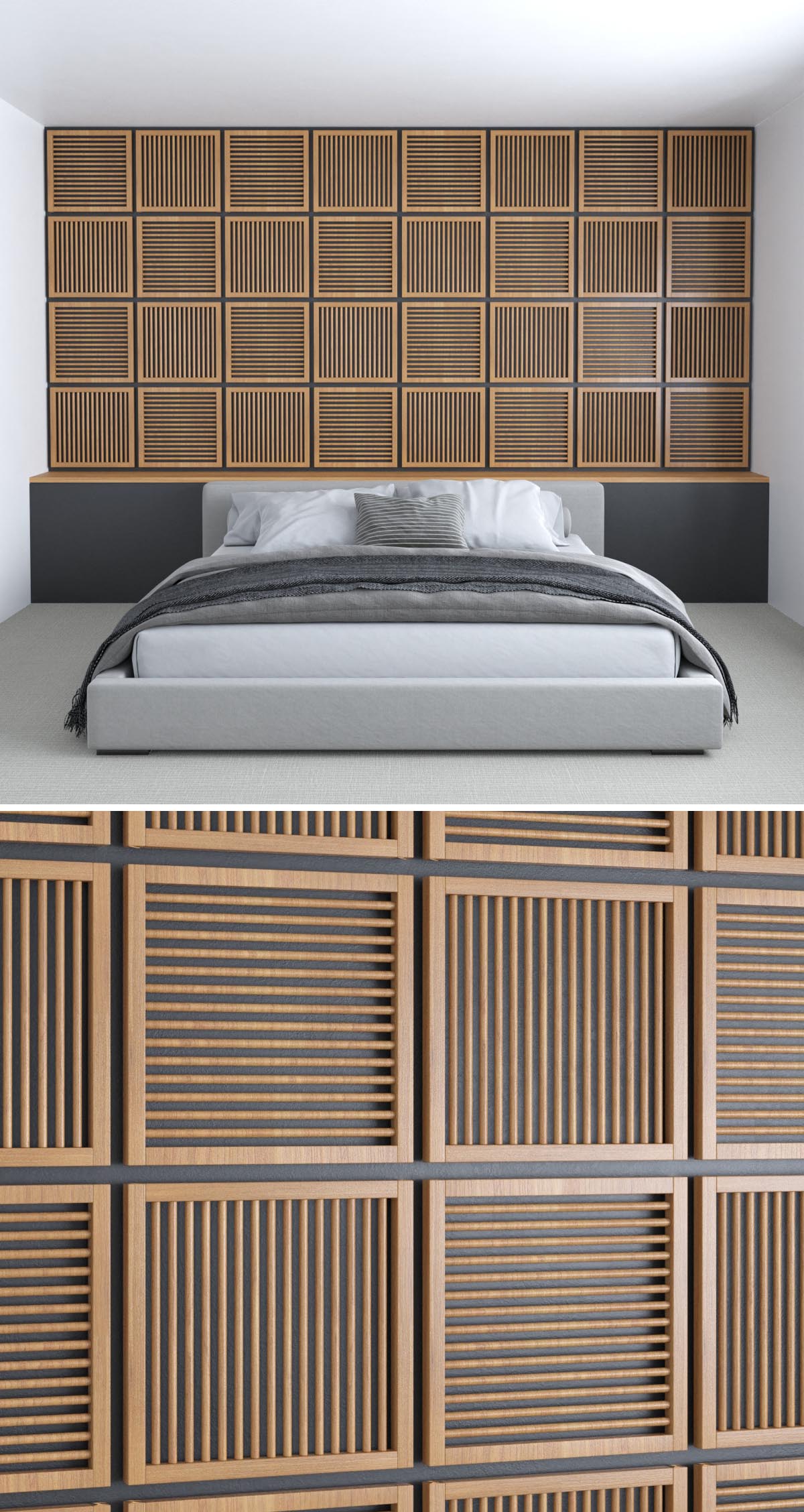 10. Get Creative With Circles
Using simple circles made from wood, you can get creative to combine them into an eye-catching design. For example, the design below only uses four sizes of wood circles, is loosely inspired by the solar system, and might be used in a teenager's bedroom.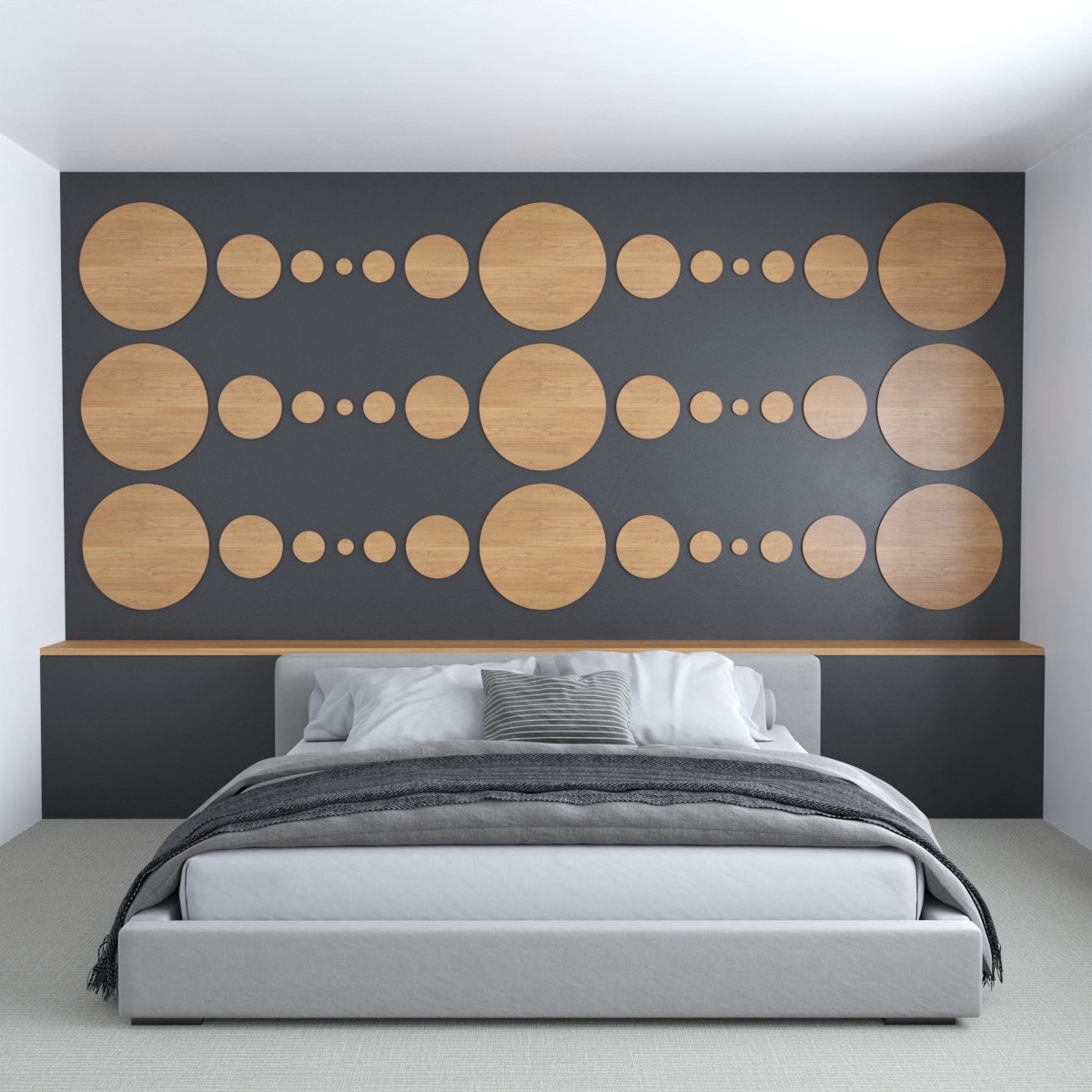 11. Screens With Unique Shapes
An accent wall could be made by combining a series of wood panels that have had various shapes cut out of them, creating a screen that shows glimpses of the wall behind them.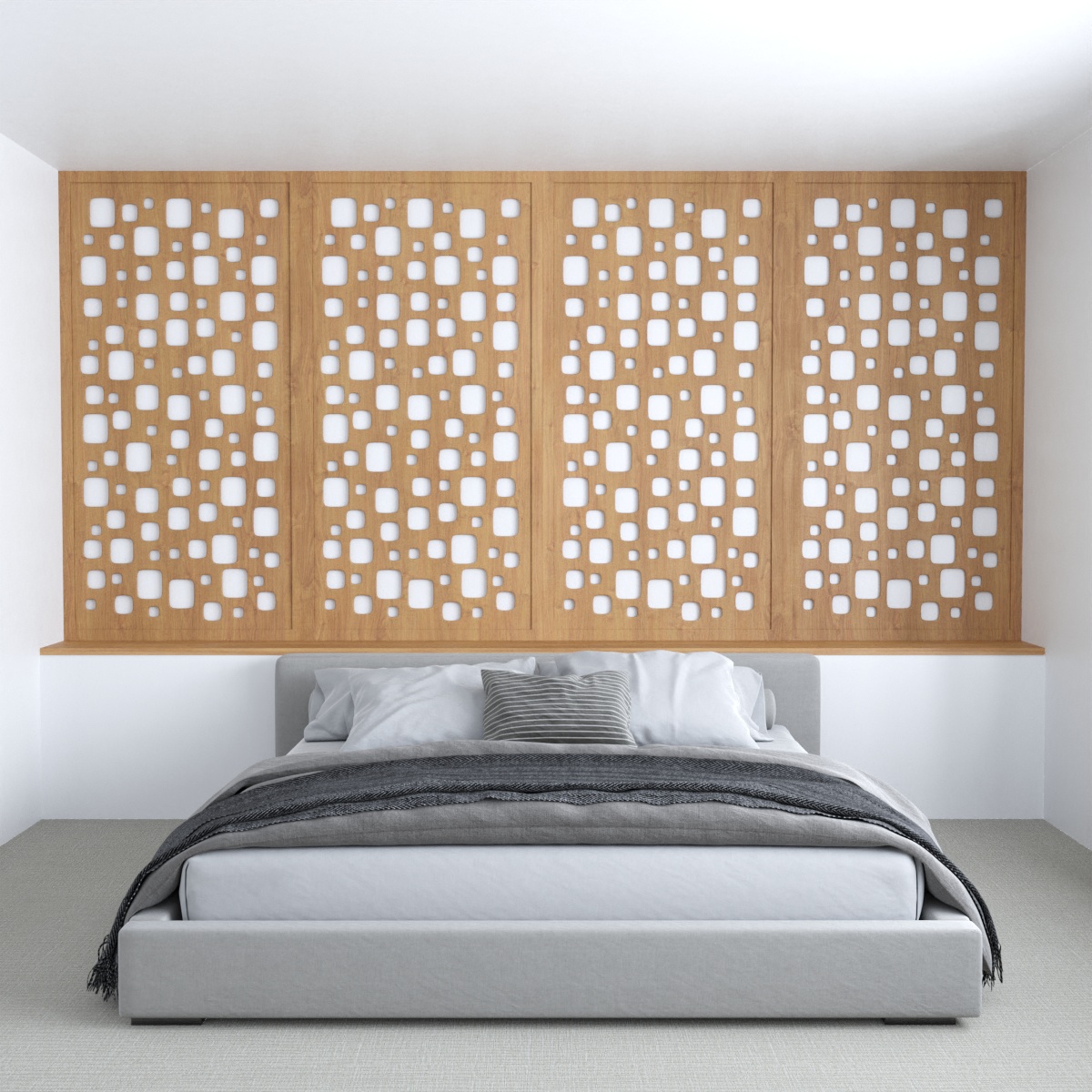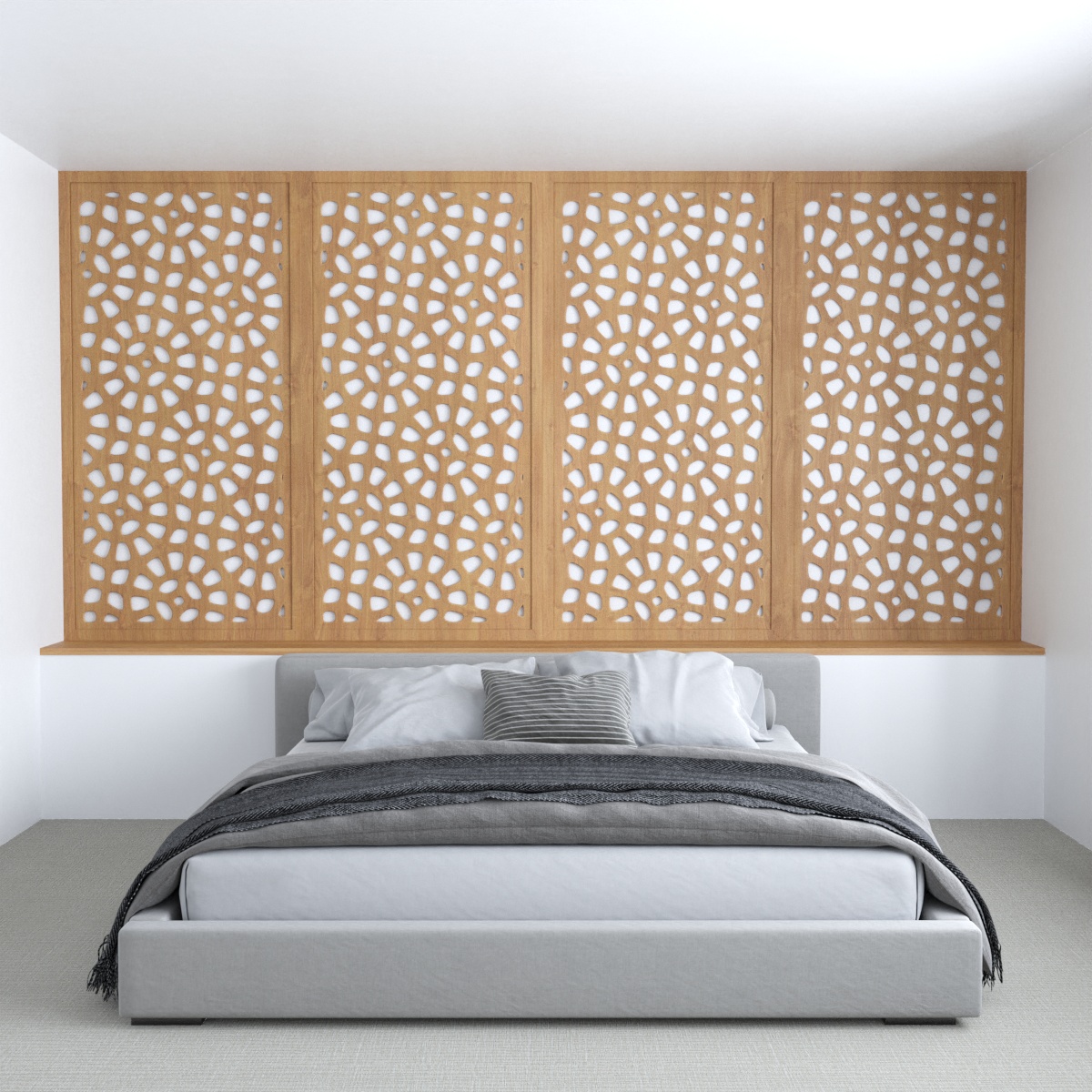 12. Rounded Rectangles
This wood accent wall is made up of a series of rounded rectangles, each the same length.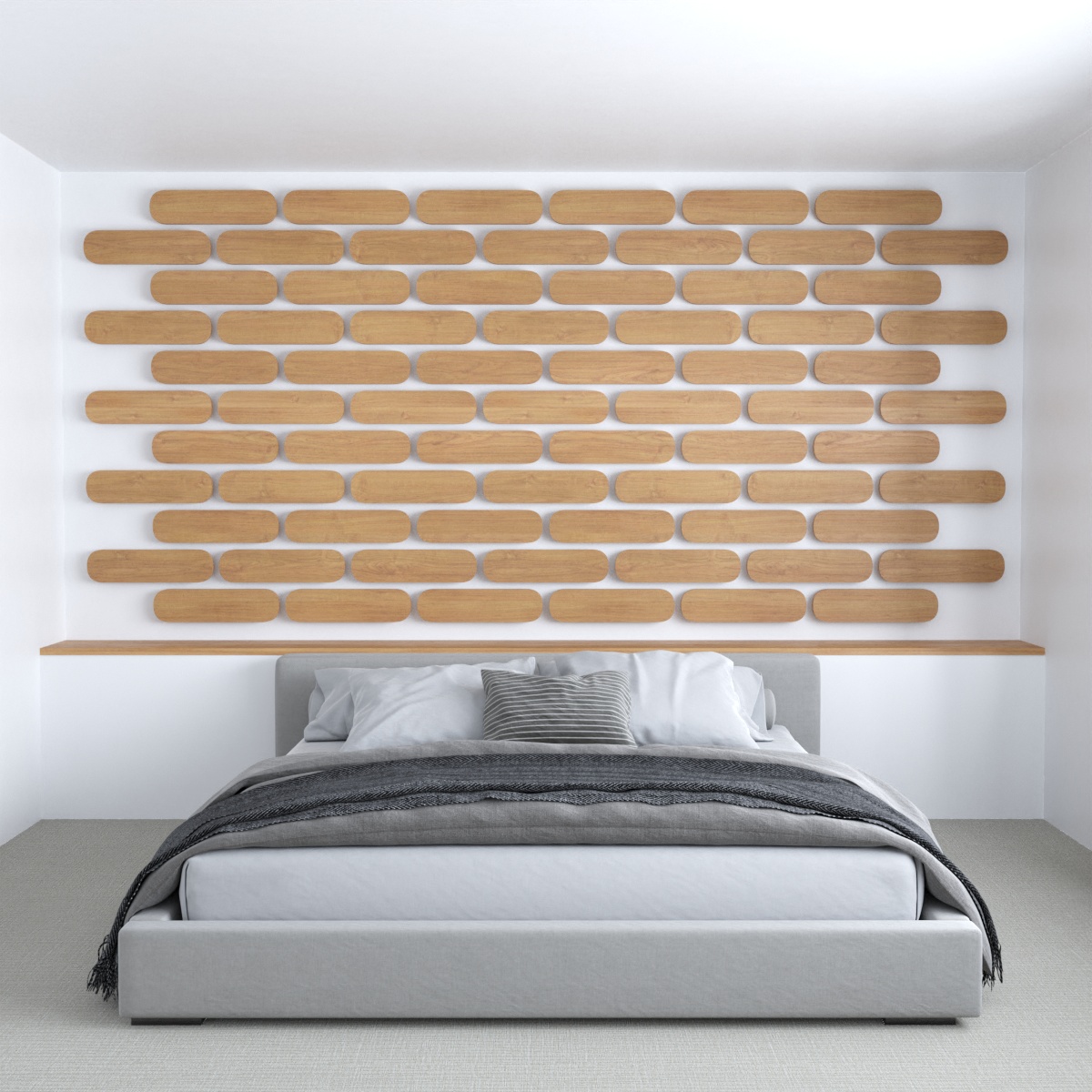 13. Zipper
Inspired by a zipper on a piece of clothing, this accent wall has black painted wood placed on top of a wall of wood veneer.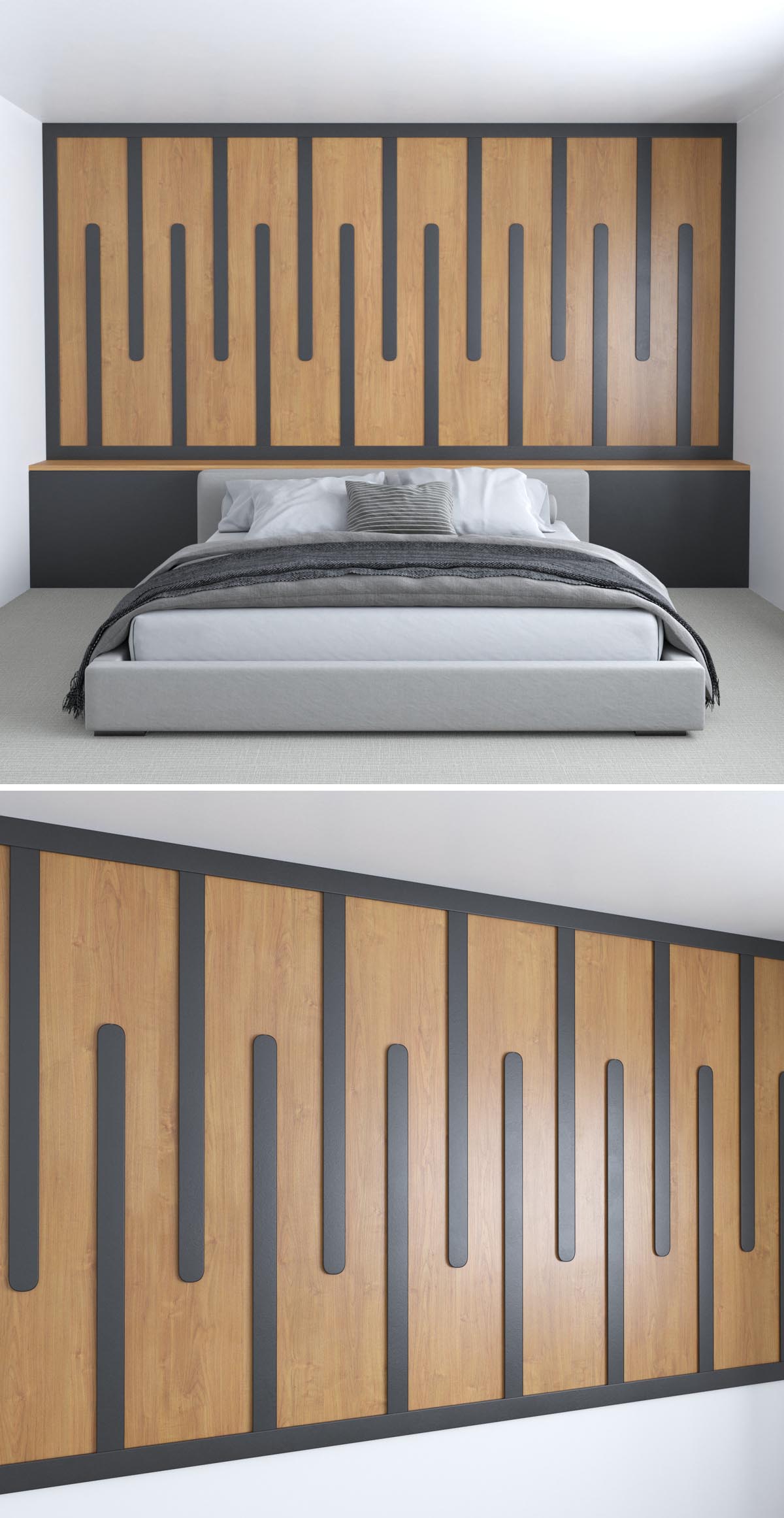 14. Rectangles
This simple wood accent wall design is made up of rows of rectangles. It's also possible to put LED lights behind the rectangles to make the spaces between them glow.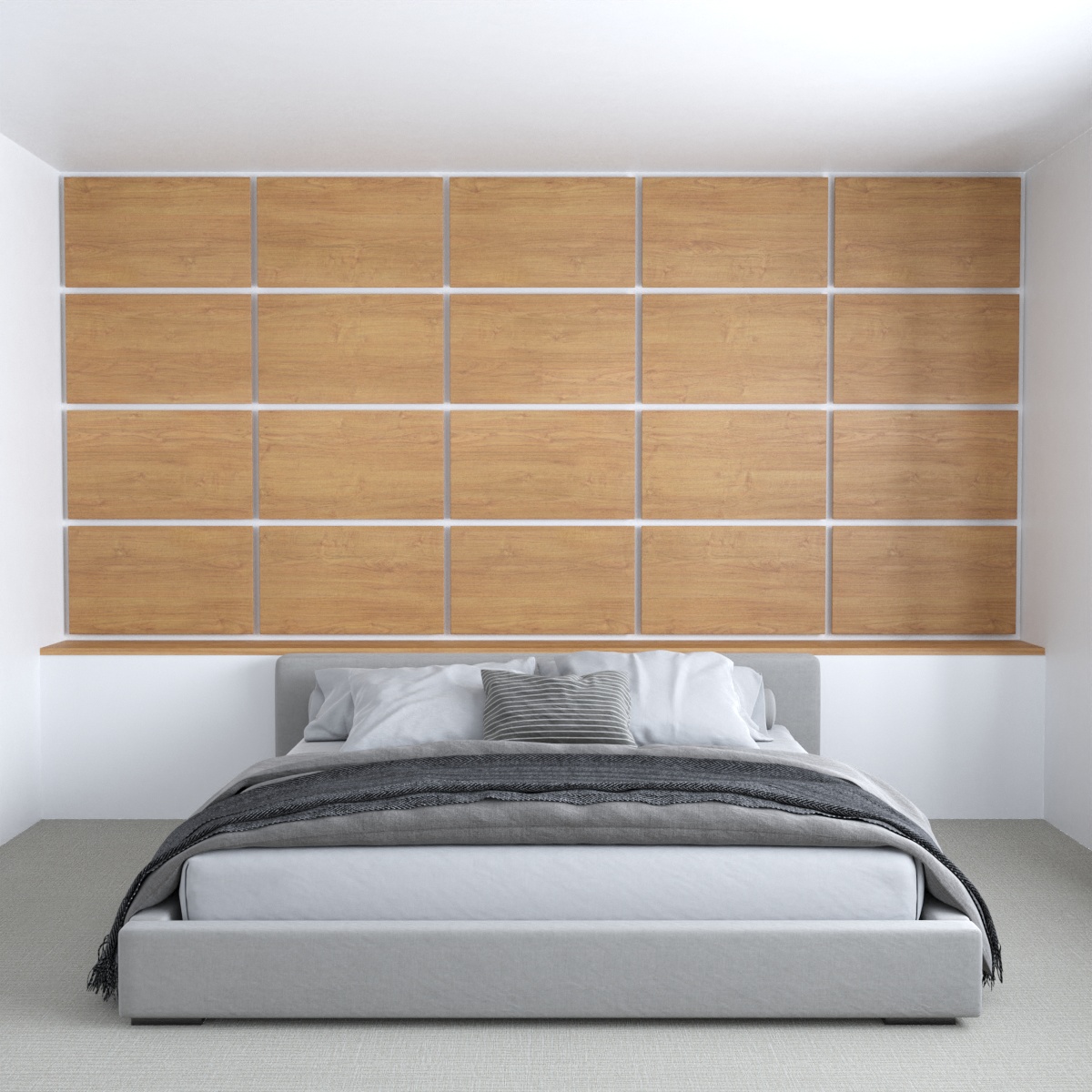 15. Parquet
Inspired by parquet flooring, this wood accent wall design uses the same length of wood for the entire wall, the only difference, is the way that it's installed, either vertically or horizontally.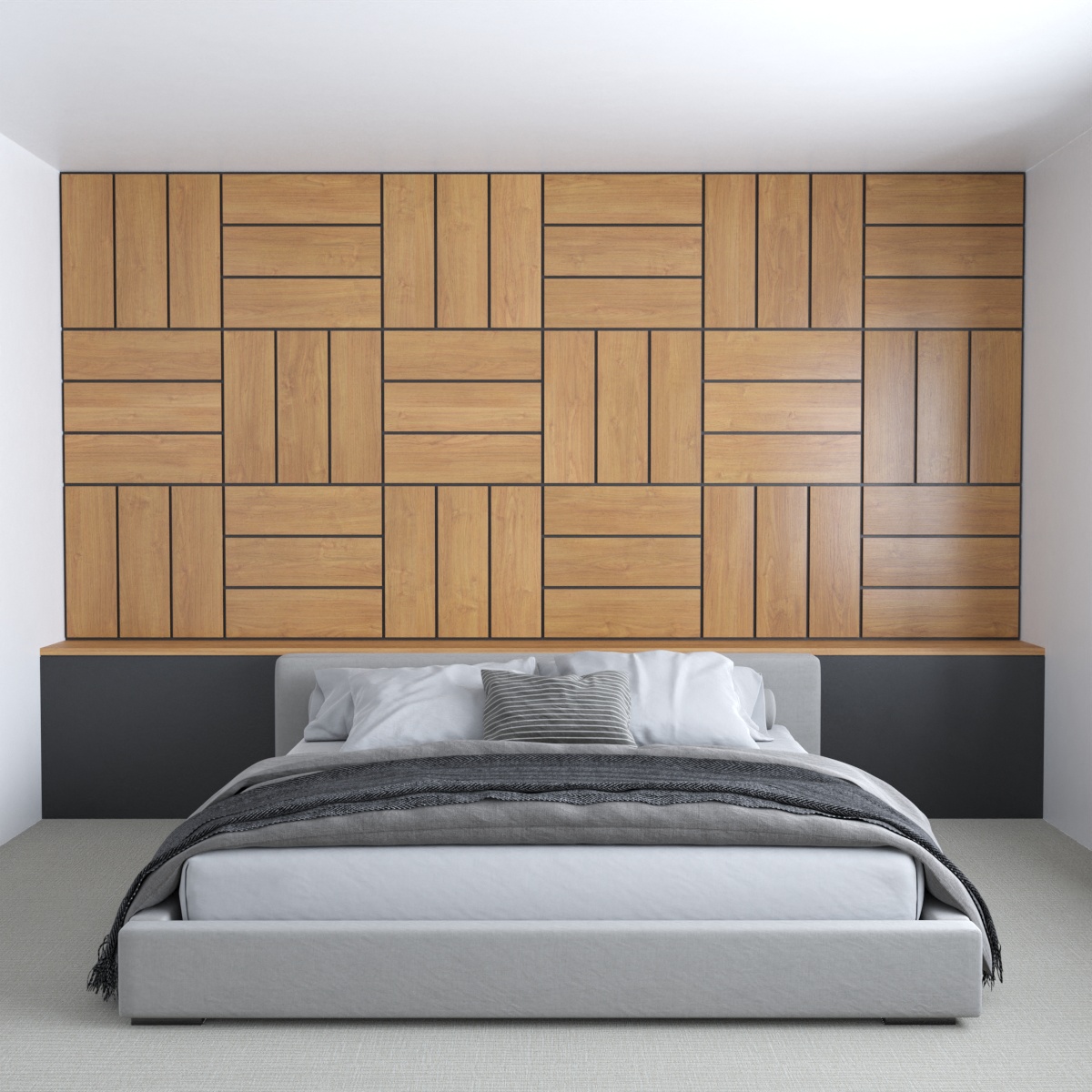 16. More Chevrons
Here's another chevron accent wall design. This one uses thin pieces of wood, each cut on an angle, and placed to create a six-panel design.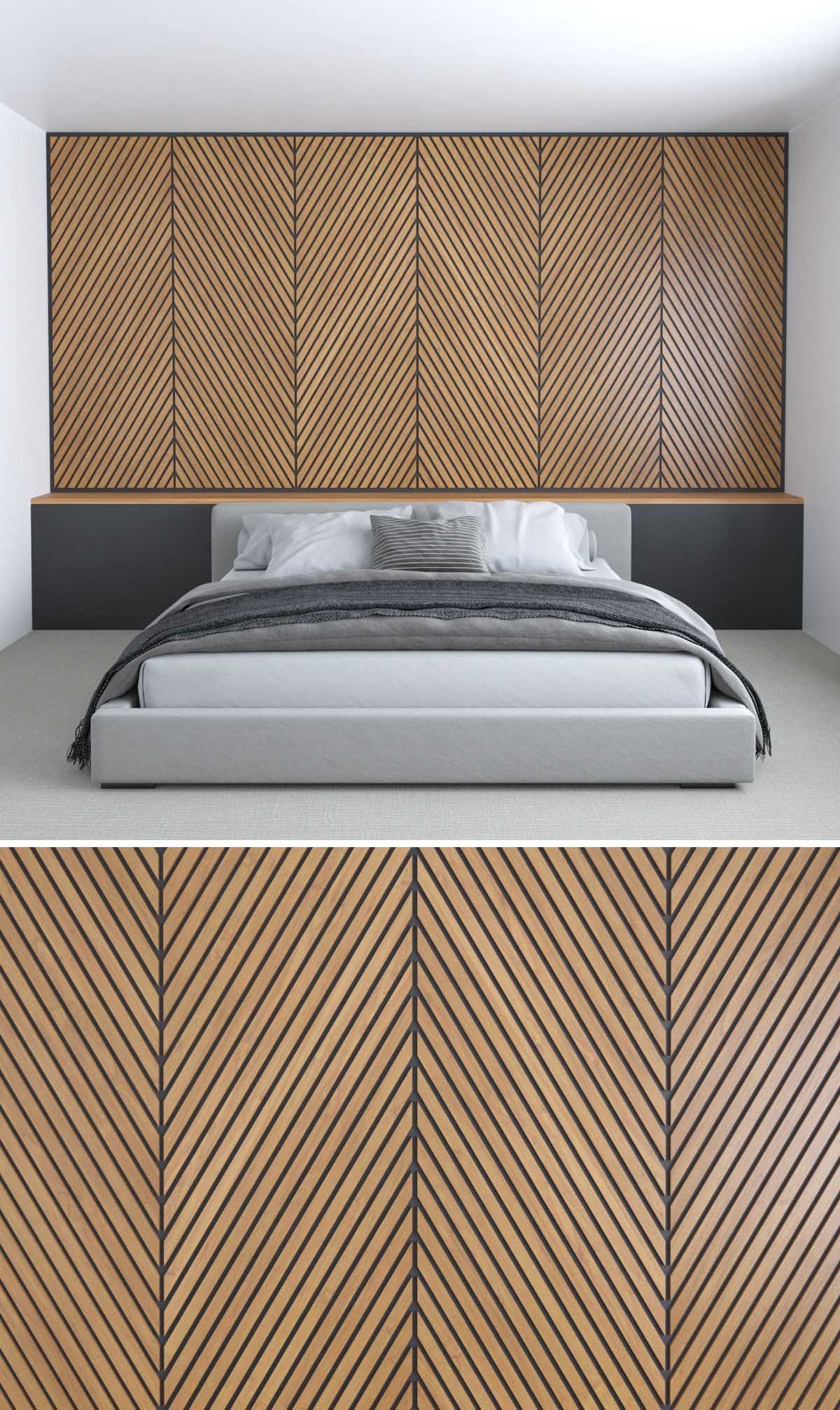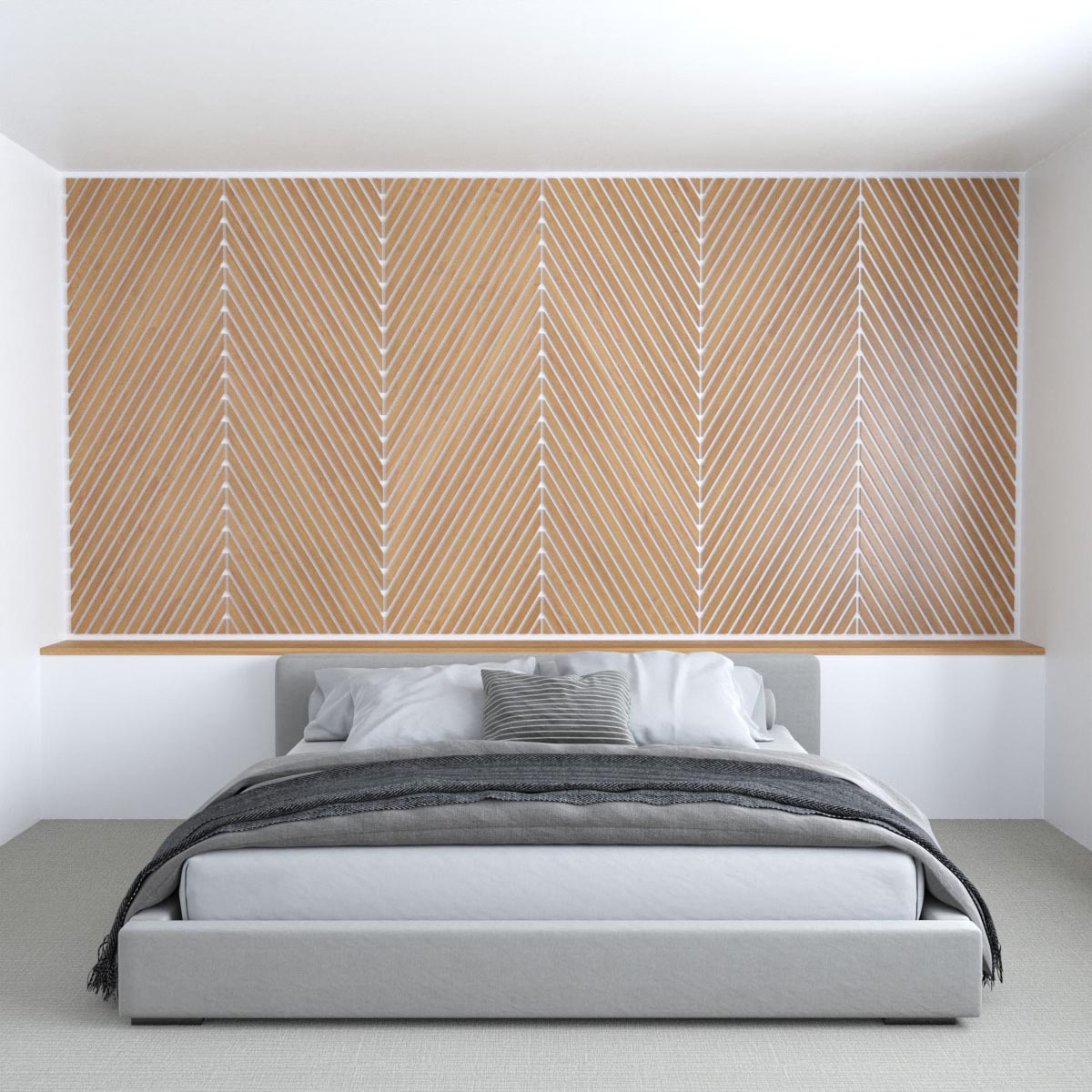 17. Dowels
This wood accent wall has been created using dowels, each of which has been cut in half so the back is flat, which allows them to be glued to either a backing panel or to the wall itself.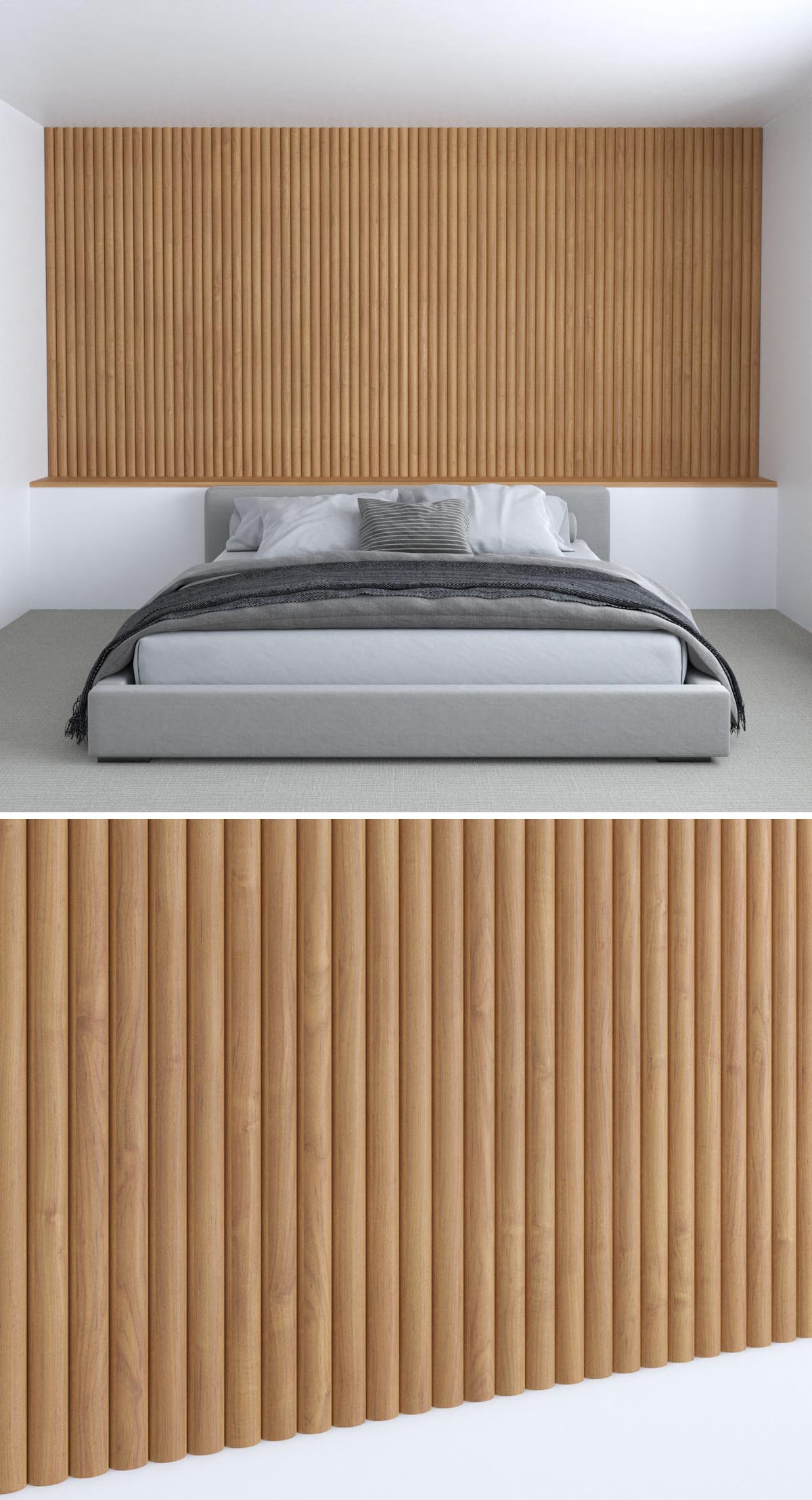 18. Milled Panels
This wood wall has been designed with four milled panels that combine to create a textured accent wall. Most local woodworkers with a CNC machine could accomplish this for you.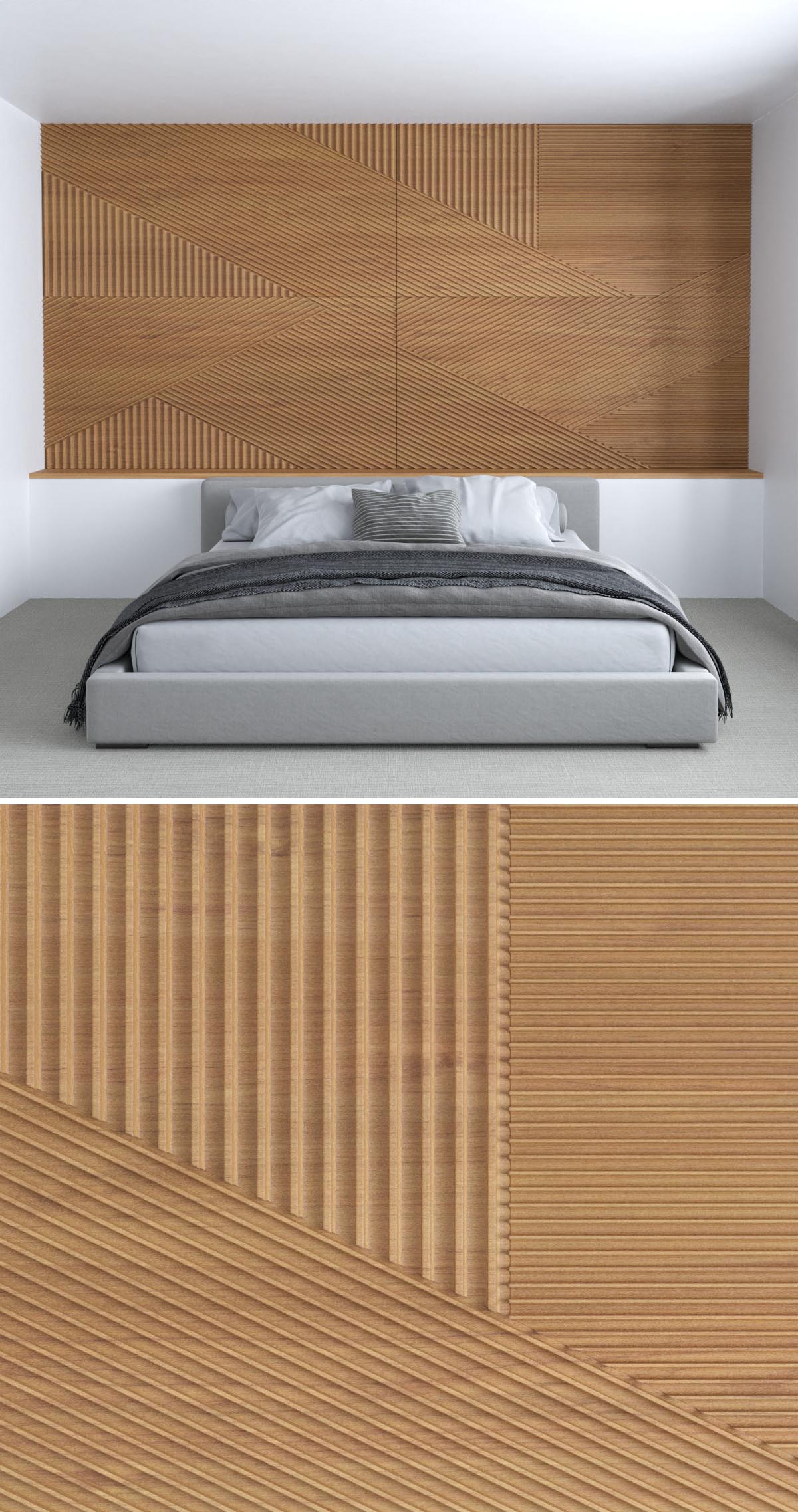 Source: Contemporist