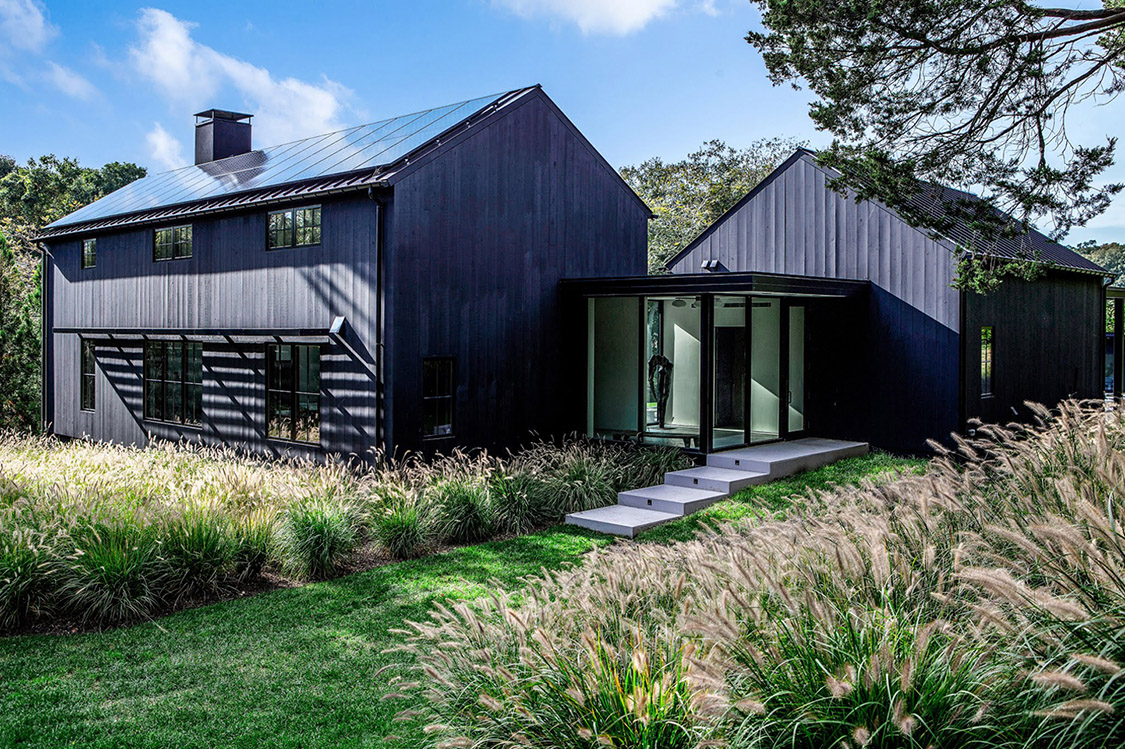 The three-bedroom, three-bathroom Hamptons residence has many of the features of a traditional clapboard barn, but it is in fact only a few years old. The owner of the house is antique collector and seller, interior designer Michael Del Piero, who with architect Kathryn Fee, created this finely balanced hybrid.
The property, overlooking a golf course in Amagansett, East Hampton on Long Island, consists of the 3,800-square-foot (350 sq.m.) principal house, a pool, a pool house and extensive lawns. The blue-grey boarded main house is connected to the pool house by a glass dome. The house is characterized by high ceilings, concrete floors, white plaster walls and mostly unadorned windows. It is a stunning, almost black-and-white backdrop for Del Piero's antiques and art pieces that she has sourced all over the globe.
Michael Del Piero Good Design is based in the Hamptons (Wainscott, New York) and Chicago, and she also has an antique shop/studio in each. She is known for practicing what she calls "object-based design," linking antiques and modern elegance effortlessly and skillfully.
In her case this means fewer objects and more space, sparse colour palette and highly selective textures. Her shops as well as her interior design work feature custom-designed pieces by Del Piero mixed with specific finds from around the world such as antler chairs from Germany, wooden furniture and bowls from Africa and Asia. She established her design practice in 2007 when she made the move from art and antique collector to designer.
The white walls of her home are ideal backdrops for some of Del Piero's favourite art pieces. In the all-white master bedroom three vintage Italian wood panels by Nerone Ceccarelli and Giancarlo Patuzzi for Gruppo NP2 and a one-of-a-kind gray-and-white goatskin rug provide the colour while a white Gervasoni bed and a white arm chair designed by Del Piero stay in the background.
Kathryn Fee, the Brooklyn-native architect of Del Piero's house, is the founder and principal of Kathryn Fee Architect based in Sag Harbour in the Hamptons. She is known for designing luxury residences infused with a warm and livable vibe by marrying modern and traditional elements.
It is obvious that the designer and architect of the barn house have understood each other perfectly and produced a home that feels like a real home for Del Piero. The designer and architect have both been featured in many of the major high-end residential design and architecture publication and collaborated on several other residences in the Hamptons and elsewhere, each having the distinctive feel of home rather than a show piece. Tuija Seipell
Source: The Cool Hunter