Serendipity, good luck and a great deal of trust and courage were all needed to make this elegant restoration of a century-old traditional Mallorcan possessió or rural estate happen.
The architectural refurbishment was directed by Bernat Oliver and Javi Márquez, and interior design by Feliu Rullán and Victoria Vidal, the owners of the Mallorcan interior design and accessories store Bon Vivant Concept.
Feliu Rullán and Victoria Vidal had never designed a house before, so when a client fell in love with their store and asked them to design his estate, they were stunned. The 800 square-metre (8,600 sq.ft) estate was partly in ruins, and the owners – an Austrian family that spent its summers on the estate – wanted as much restored as possible but also had cosmopolitan ambitions for it.
With the owners trusting their own instincts and the designers, and the designers trusting both themselves and the owners, the painstaking process took two years. In the harmonious and unpretentious finished project, local historical and contemporary lifestyle considerations are clearly evident.
Cases de Son Serra is located at the south end of the UNESCO World Heritage Site-designated mountain range of Sierra de Tramuntana in the Bunyola municipality of the island of Mallorca. It is a typical Mallorcan structure that was originally a residence, storage and production facility surrounded by productive agricultural land.
The estate is from 1773 and it is divided into two parts. The designers and architects kept the division intact. The main segment's façade is adorned by a solar clock from 1867. Inside, a traditional Mallorcan stove was transformed into a fireplace. Original stone was used to create the base of the fireplace but newly-created 12-centimetre-thick (4.7 inches) slabs of Binissalem stone (also known as Mallorca's marble) were created to finish the area's floor in homage to the fact that this passage was used by donkeys to access the estate's tafona or oil mill.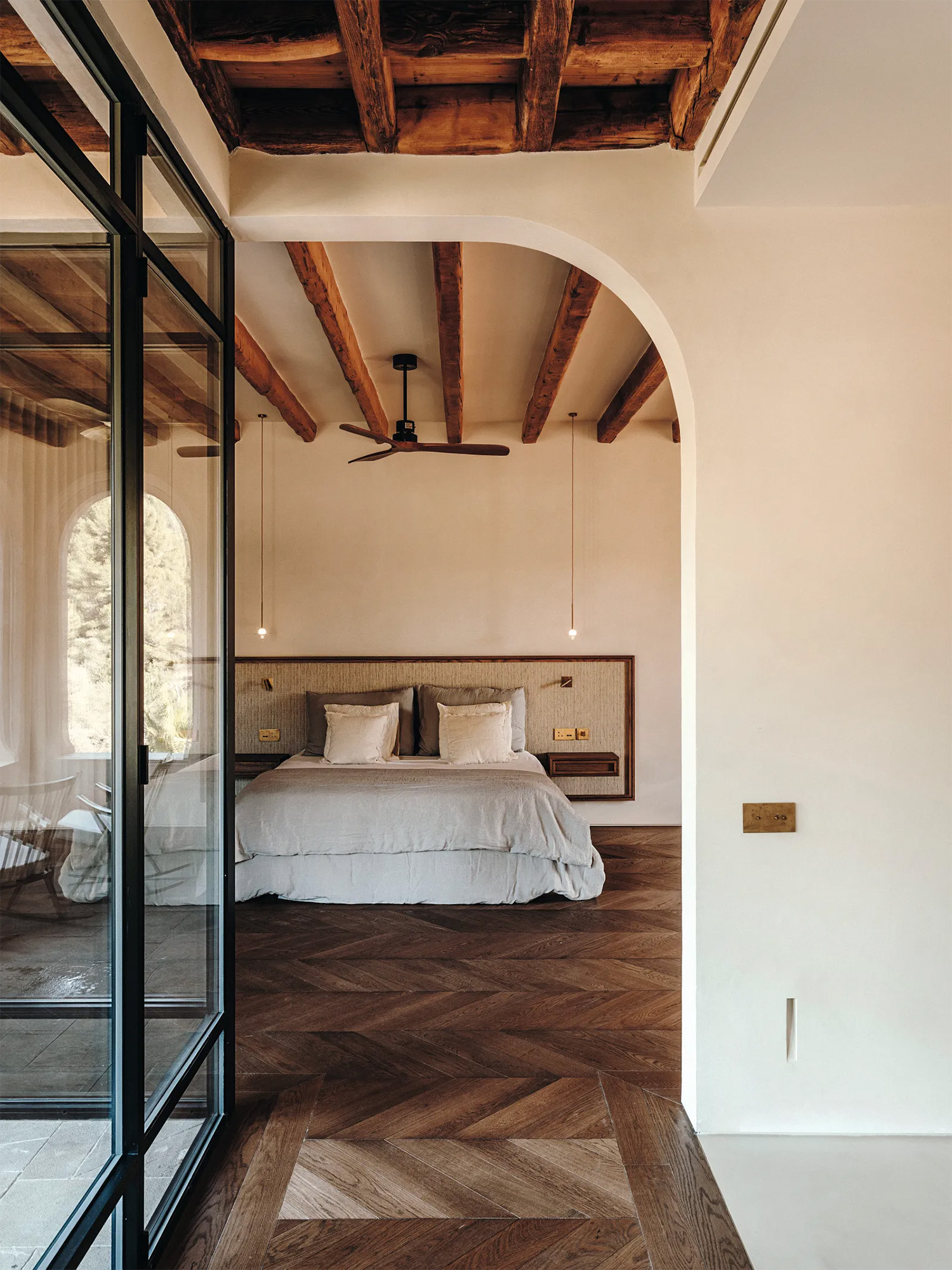 The second part of the estate dates back to 1909. Its style is more elaborate  and includes neo-Gothic and modernist elements. The possessio's chapel was also located in this part but it was too dilapidated to restore. The chapel site was transformed into a spa area, a sanctuary of the body.
Throughout the interior, the designers used traditional, local materials including solid wood, Binissalem stone, iron, brass and ceramics. They also used Trespol, a terrazzo-like flooring made of powdered local mares stone, cement and small pebbles.
The contemporary and cosmopolitan feel of the project comes from the furniture, art and furnishings. The furniture was mostly created by Bon Vivant Concept, including the bathtub, bathroom counters and the curving dining room table, or they are modernist-inspired replicas such as the Modern Mackintosh chairs by Lasanta & Co.
Mallorcan creators of objects and art include Toni Salom, Jaume Roig, fabrics by Adriana Meunie and lighting by Tonia Fuster and Contain Estudio. Tuija Seipell
Source: The Cool Hunter