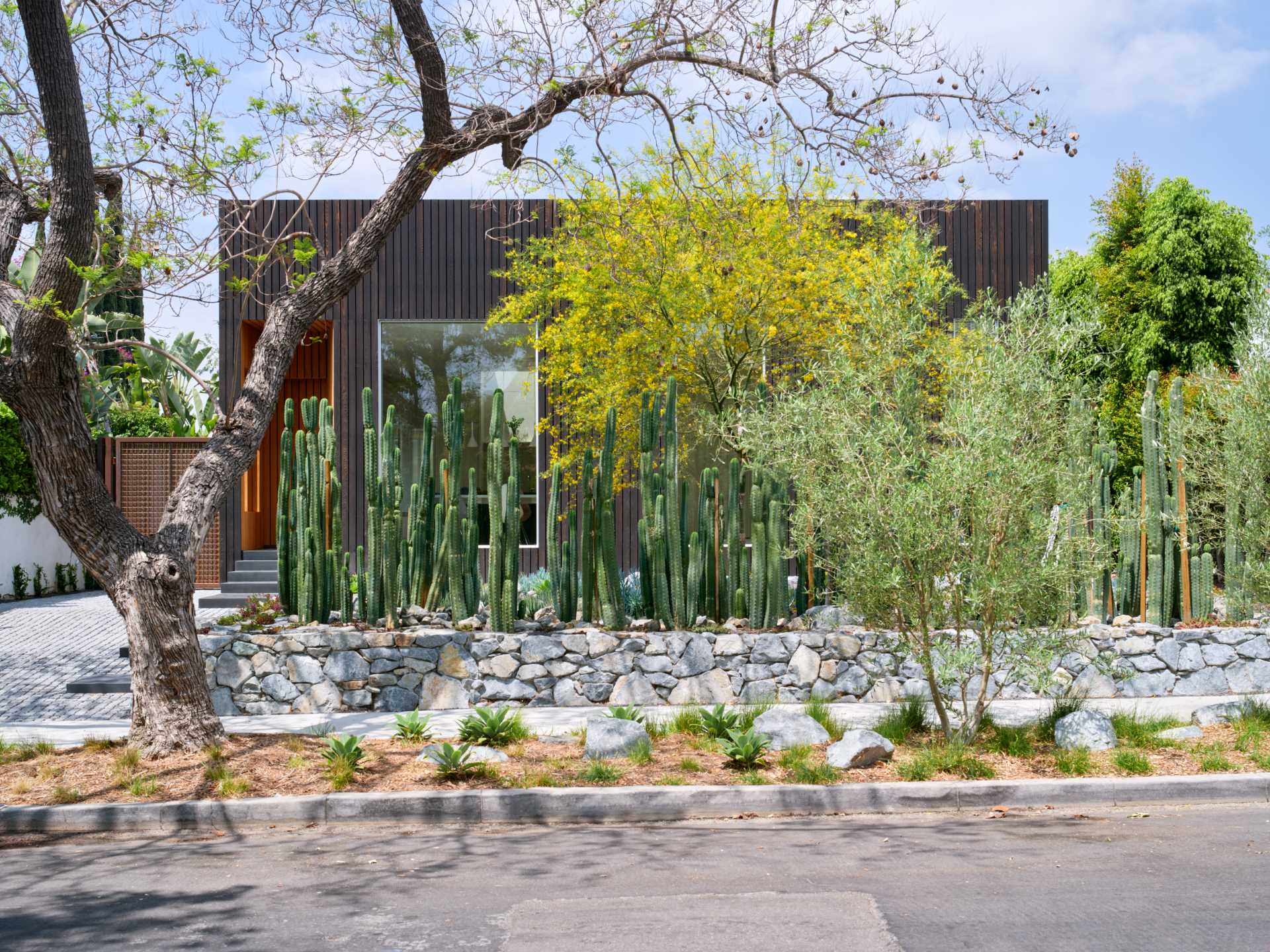 Architects Annie Barrett of aalso architects and Hye-Young Chung of HYCArch have completely transformed an existing Spanish-style house in Los Angeles for a couple anticipating semi-retirement.
Working together with Landscape Architect David Hocker of Hocker Design, the front garden has been created with a dense screen of San Pedro cacti, replacing the need for a front fence.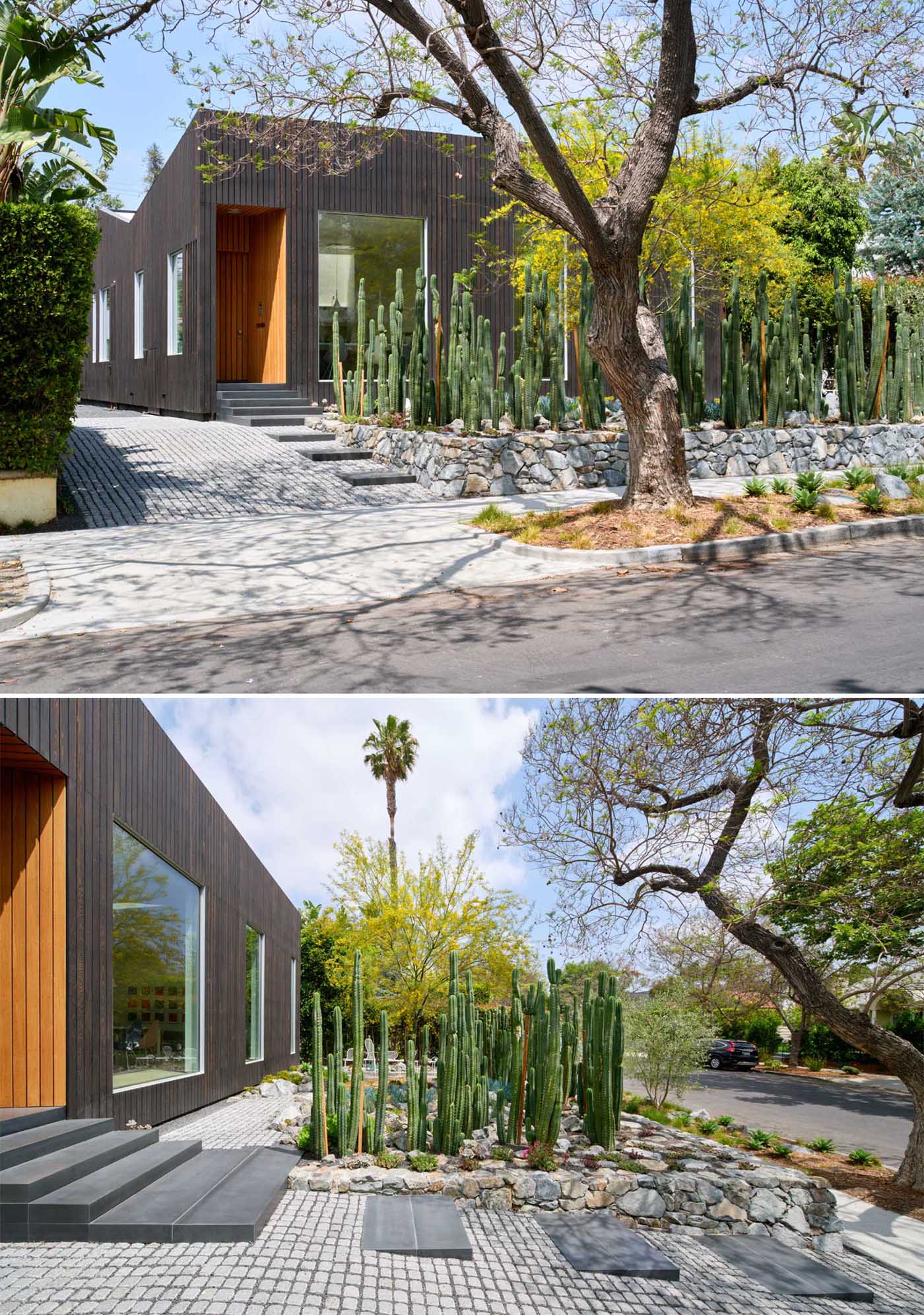 The cactus garden, which also includes some succulents, provides privacy for the home, without hiding the view of the street. A small patio with seating makes use of the low-maintenance front garden.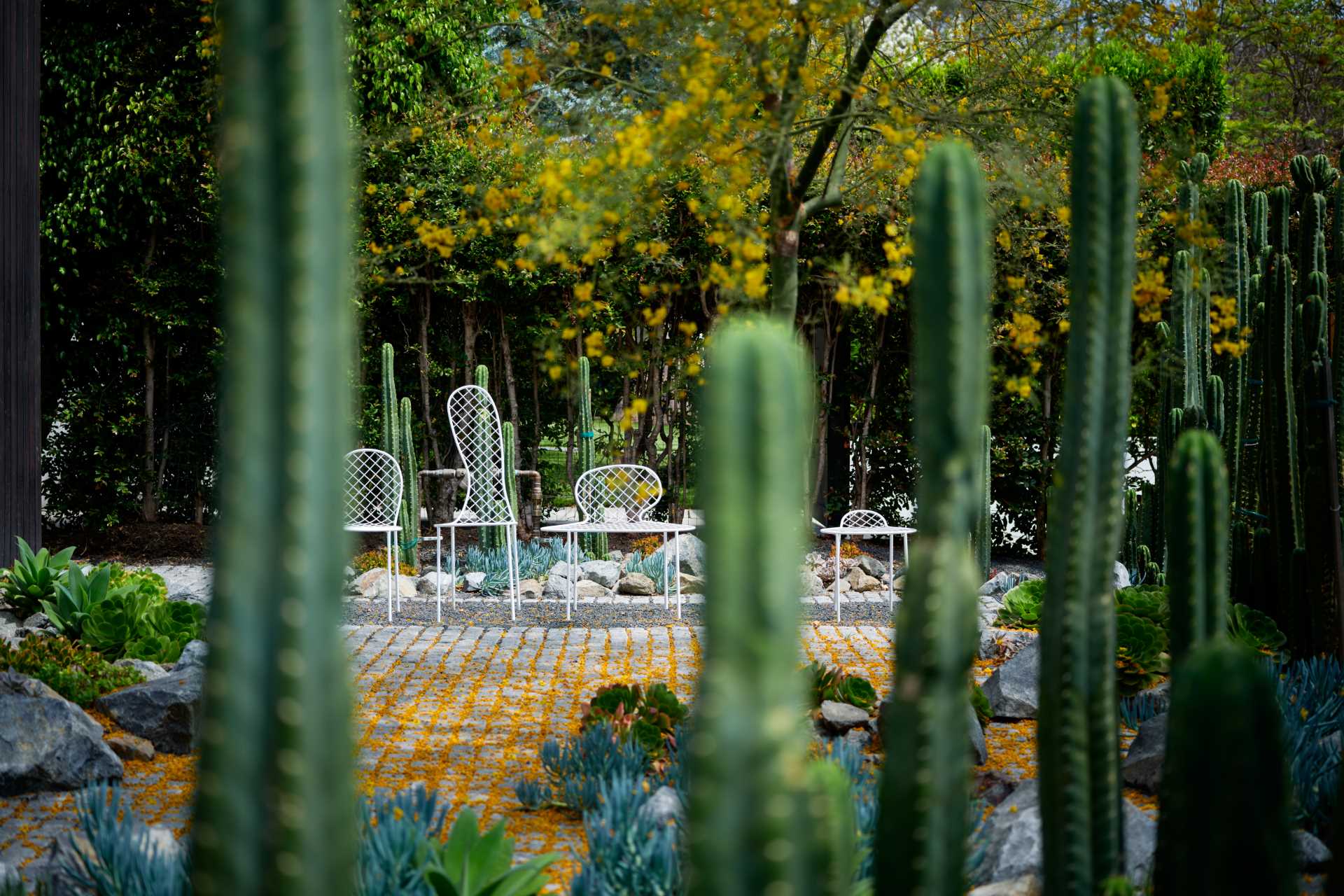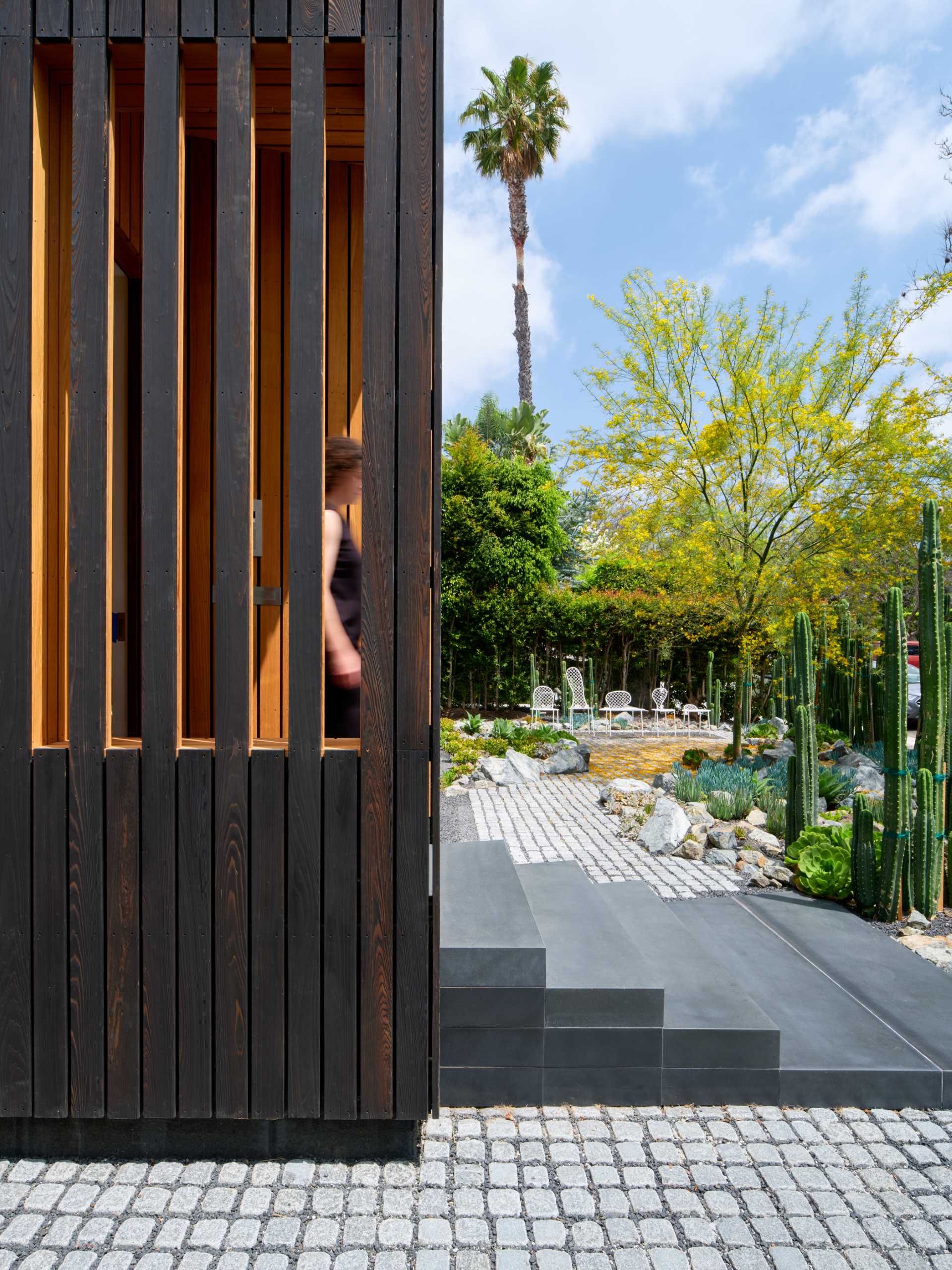 The house has a minimalist rectilinear form clad in charred shou sugi ban rainscreen siding.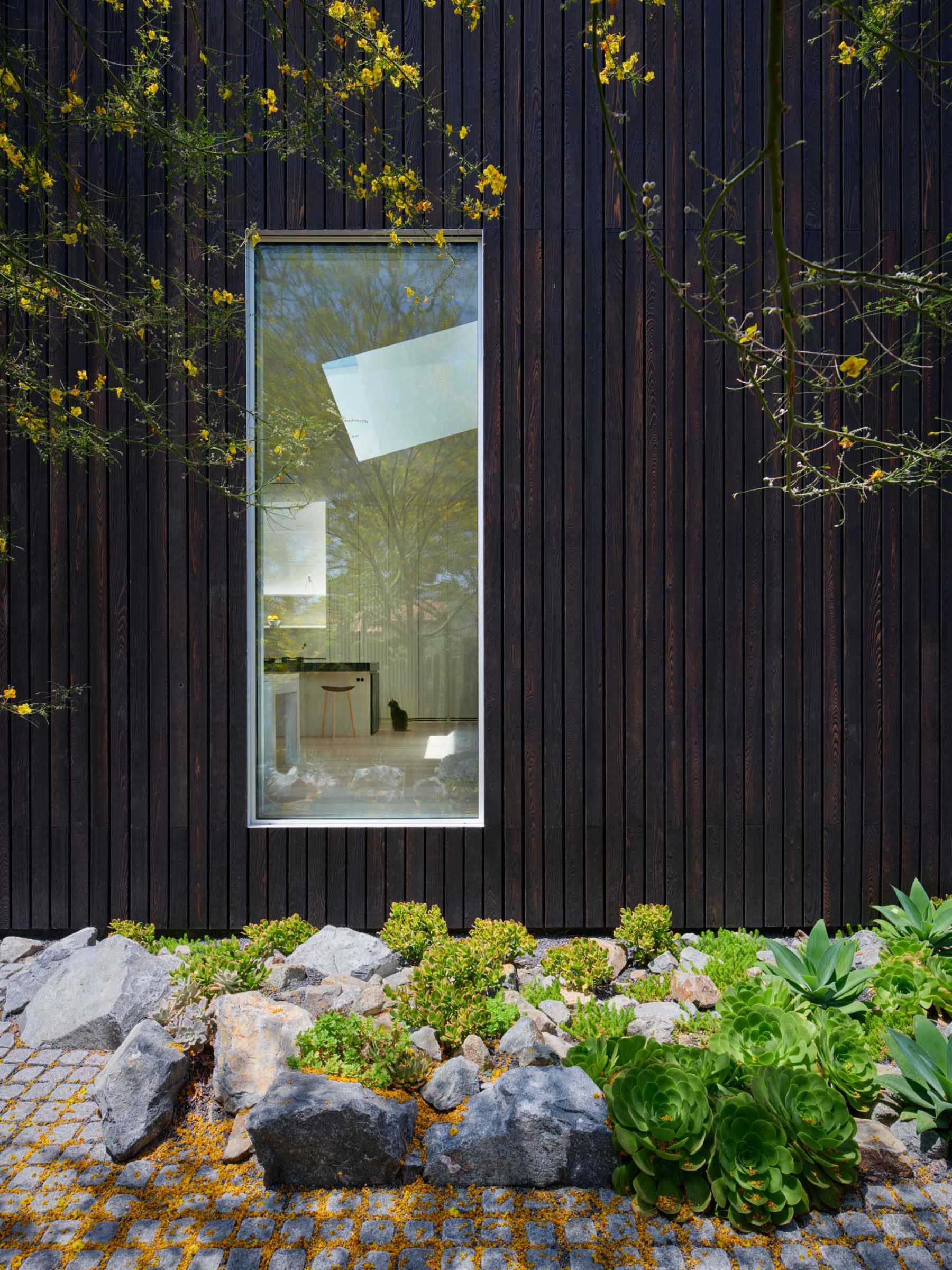 At night, lighting highlights the tall cactus and the wood front door.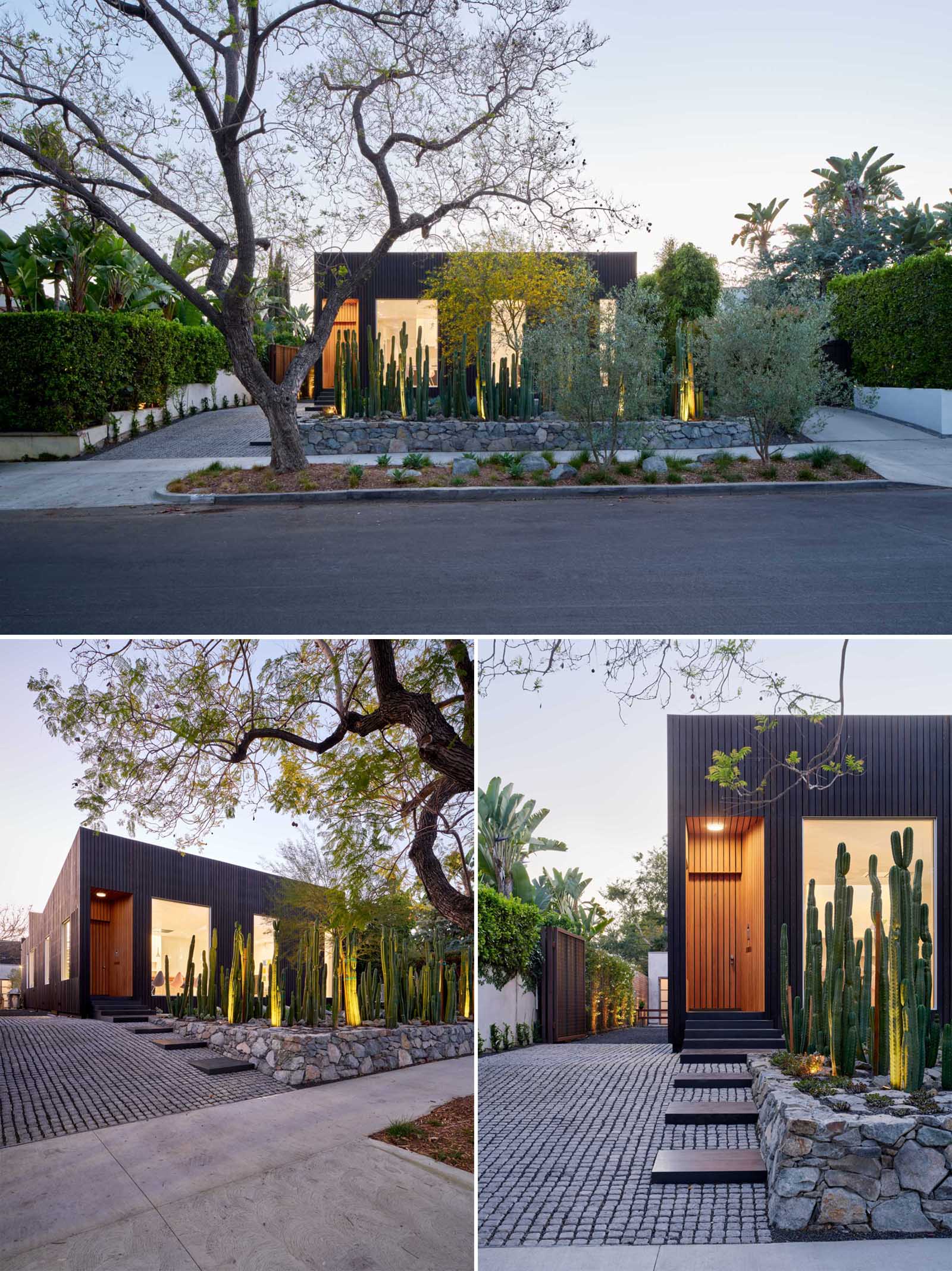 The wood-lined entry has lines that match the charred wood siding of the exterior.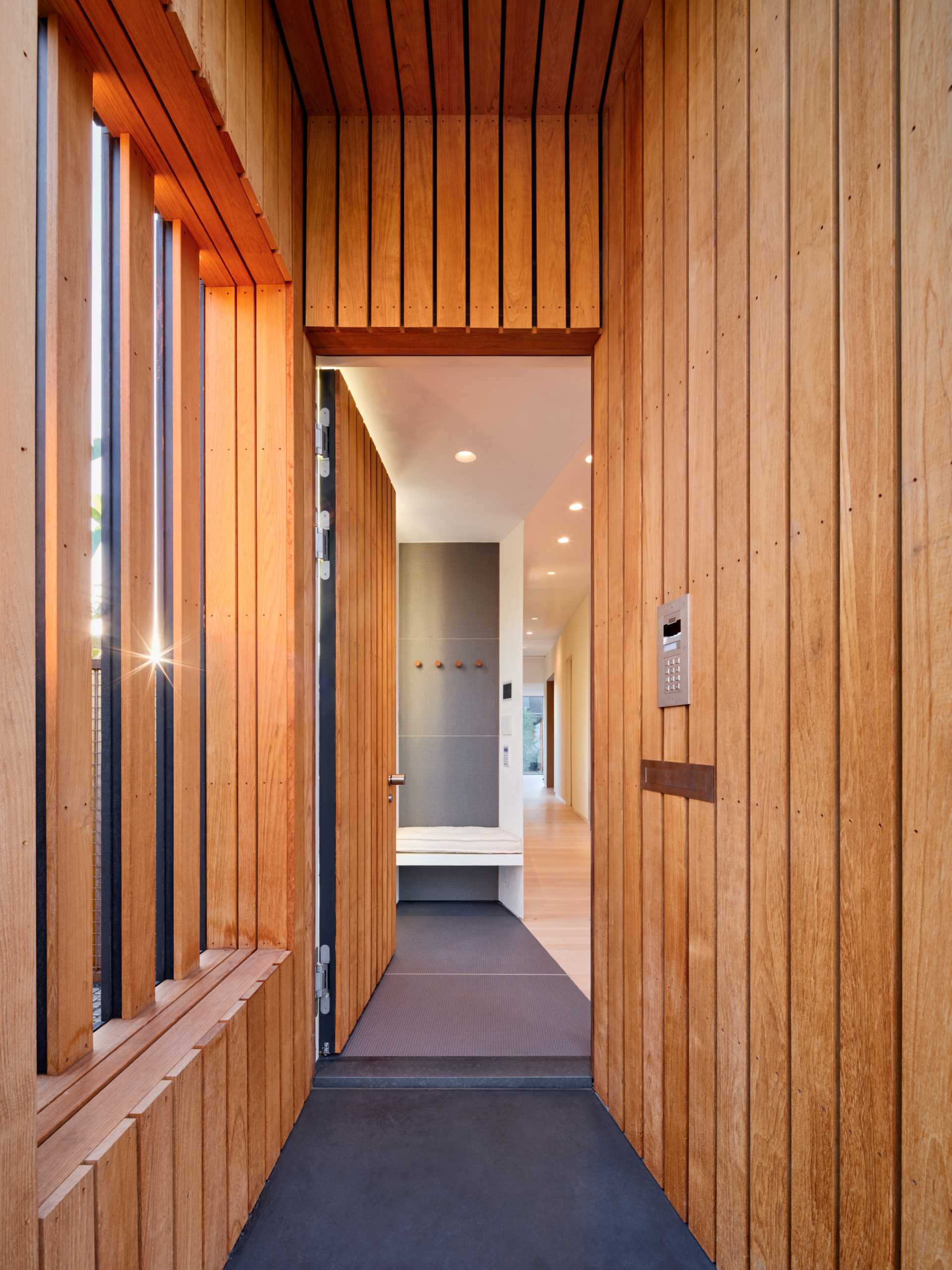 Stepping inside, there's a spacious, light-flooded living room with colorful artwork by Sol LeWitt and a Cocoon Aeris suspended black fireplace.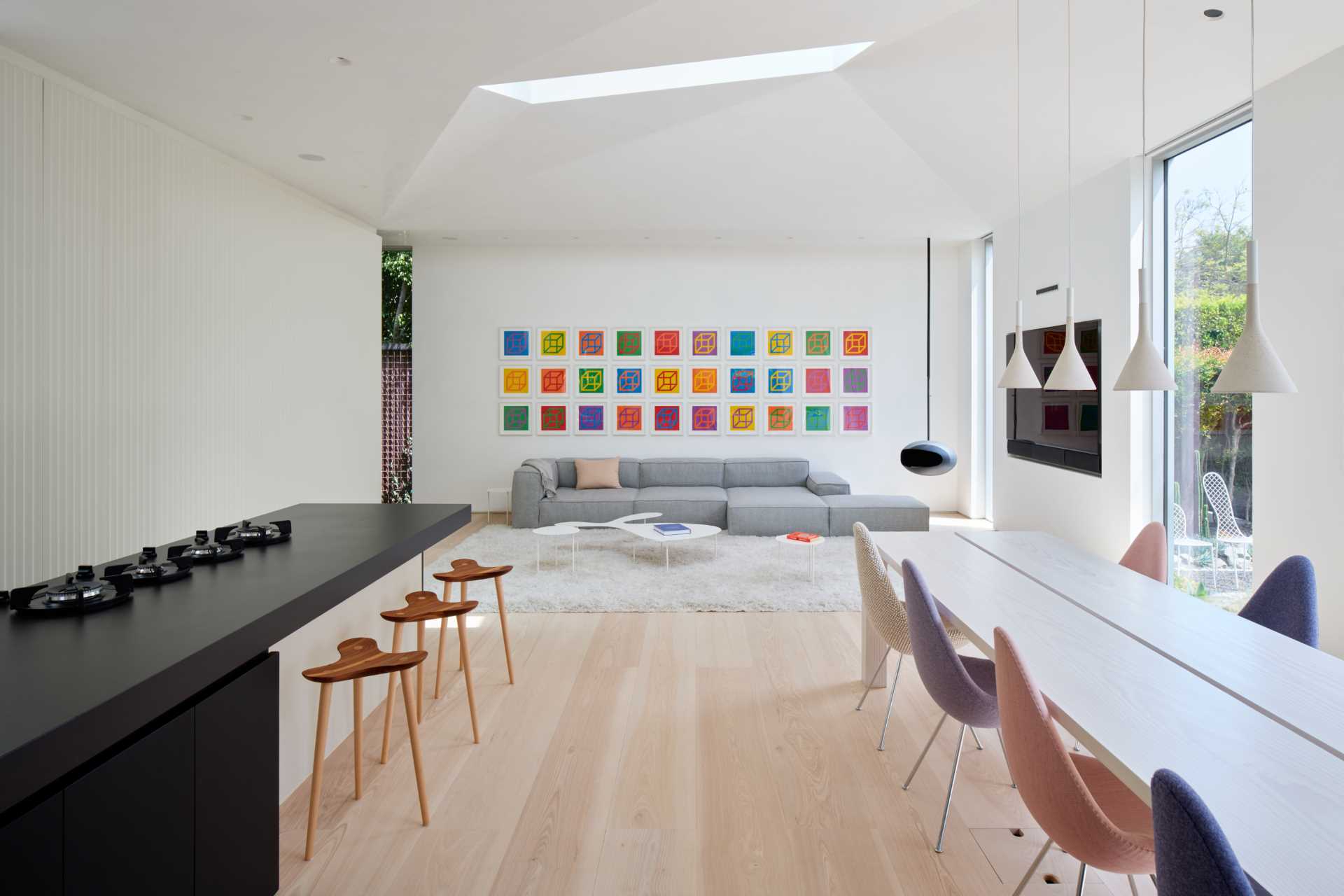 The adjacent open plan dining area has a custom table design by Annie Barrett that showcases Dinesen Douglas Fir planks with a whitewash finish. Above the table, there are Foscarini Aplomb pendant lights, and the dining chairs are the Fritz Hansen Drop Chairs with custom upholstery.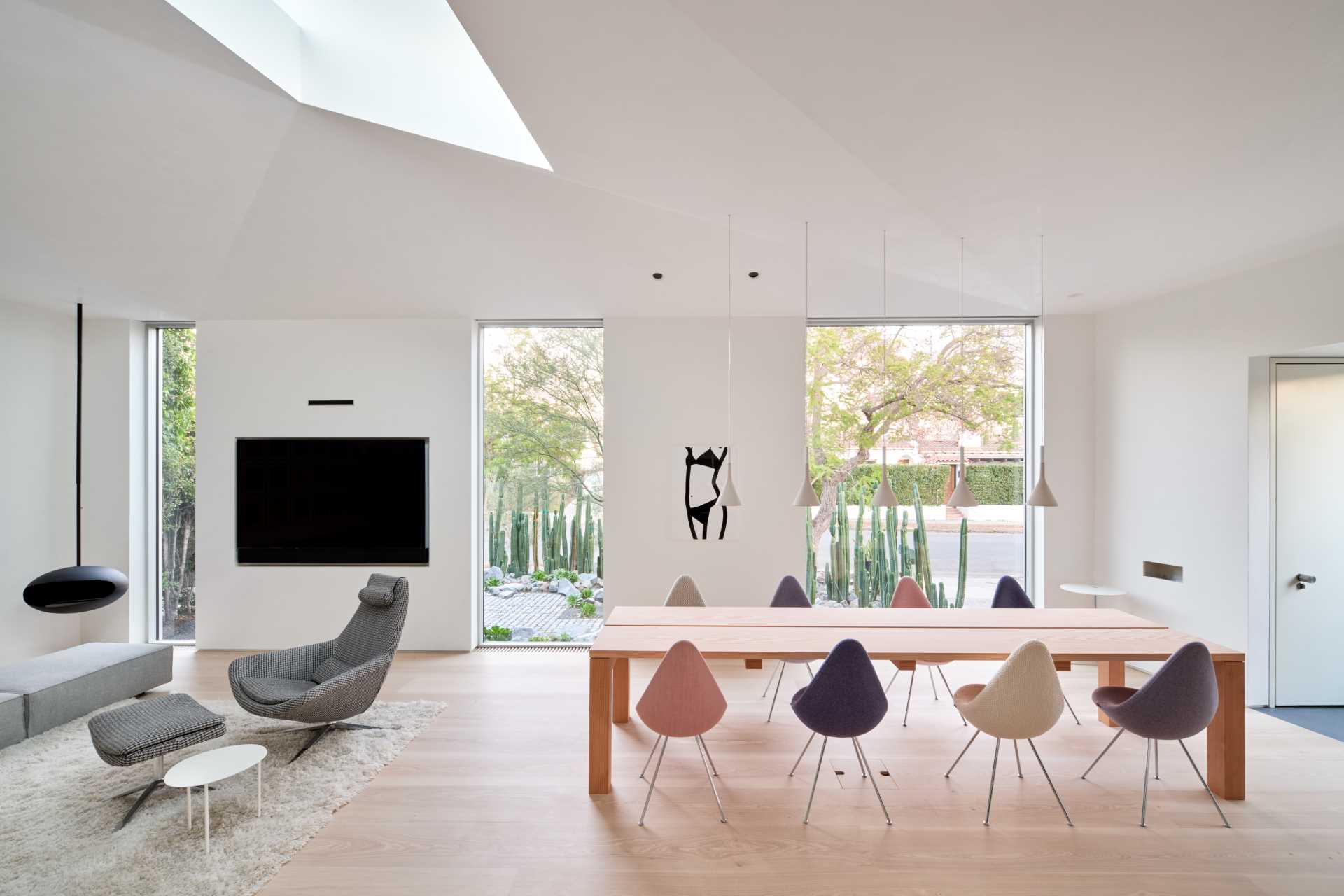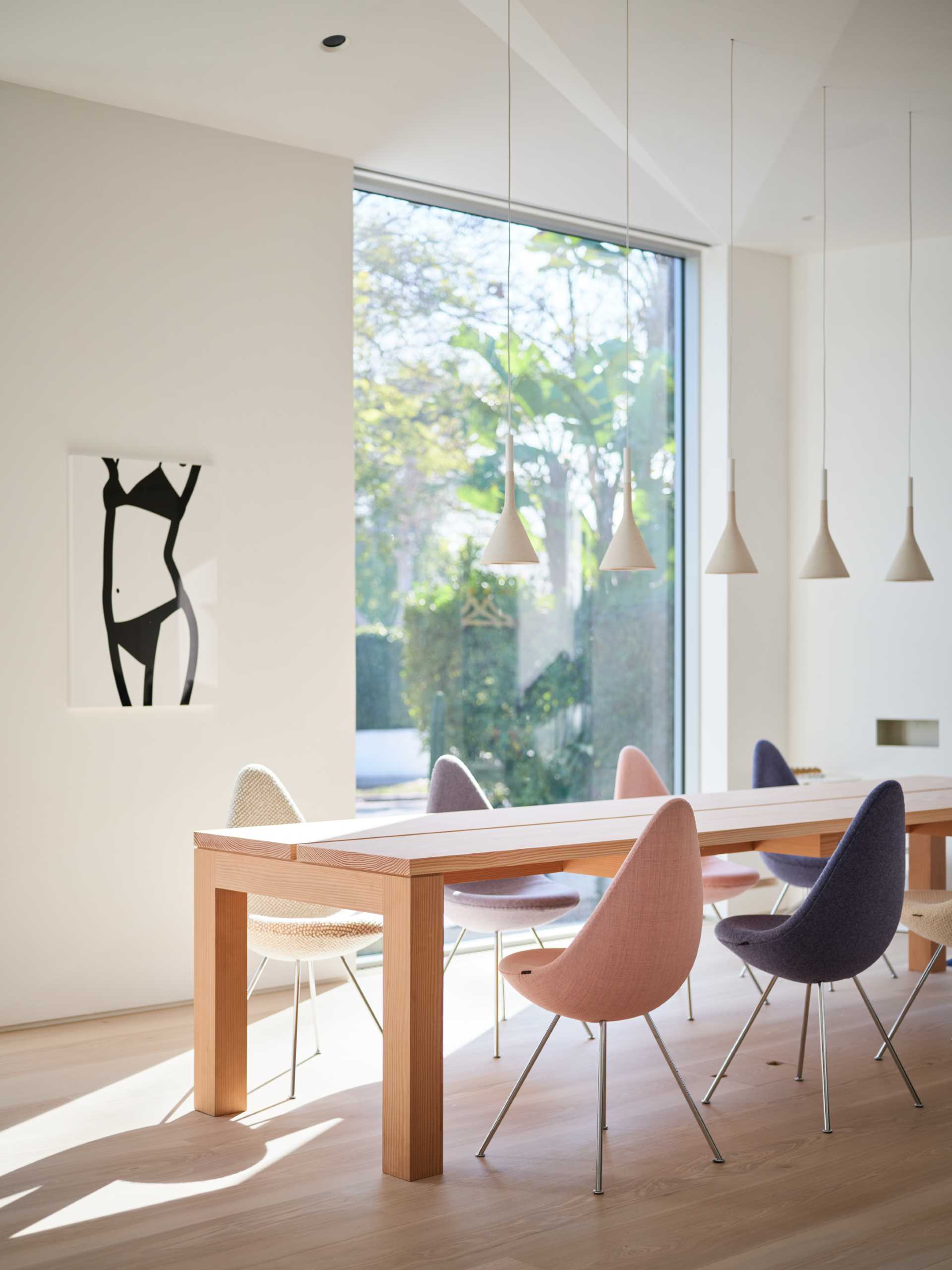 Nearby, the kitchen includes a large 11-foot island with a Neolith sintered porcelain countertop. A trio of stools made from walnut and maple add a natural element.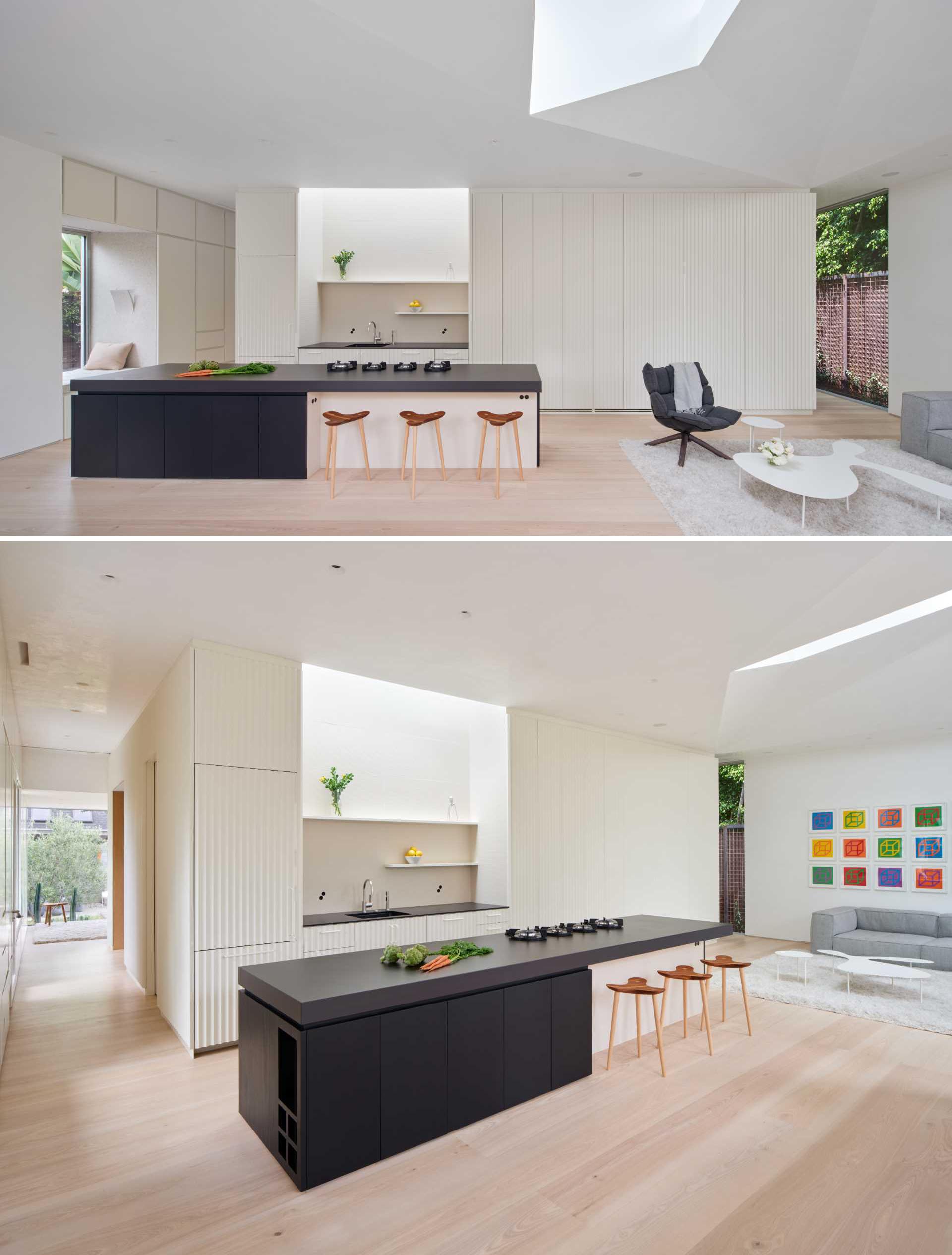 At the rear of the home, there's a wood deck that steps down to a small pool and hot tub. Small dedicated planters are filled with easy-to-care for plants.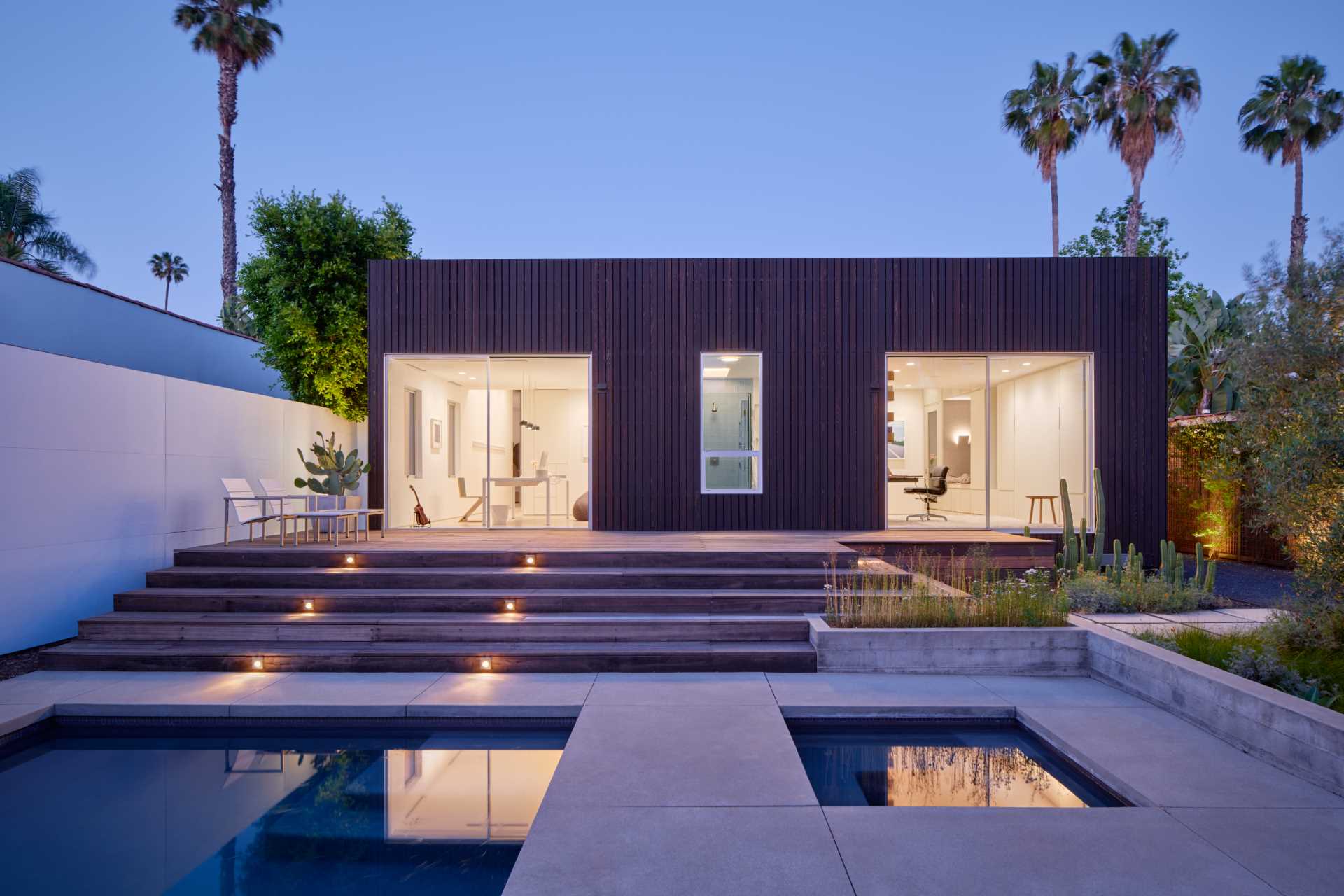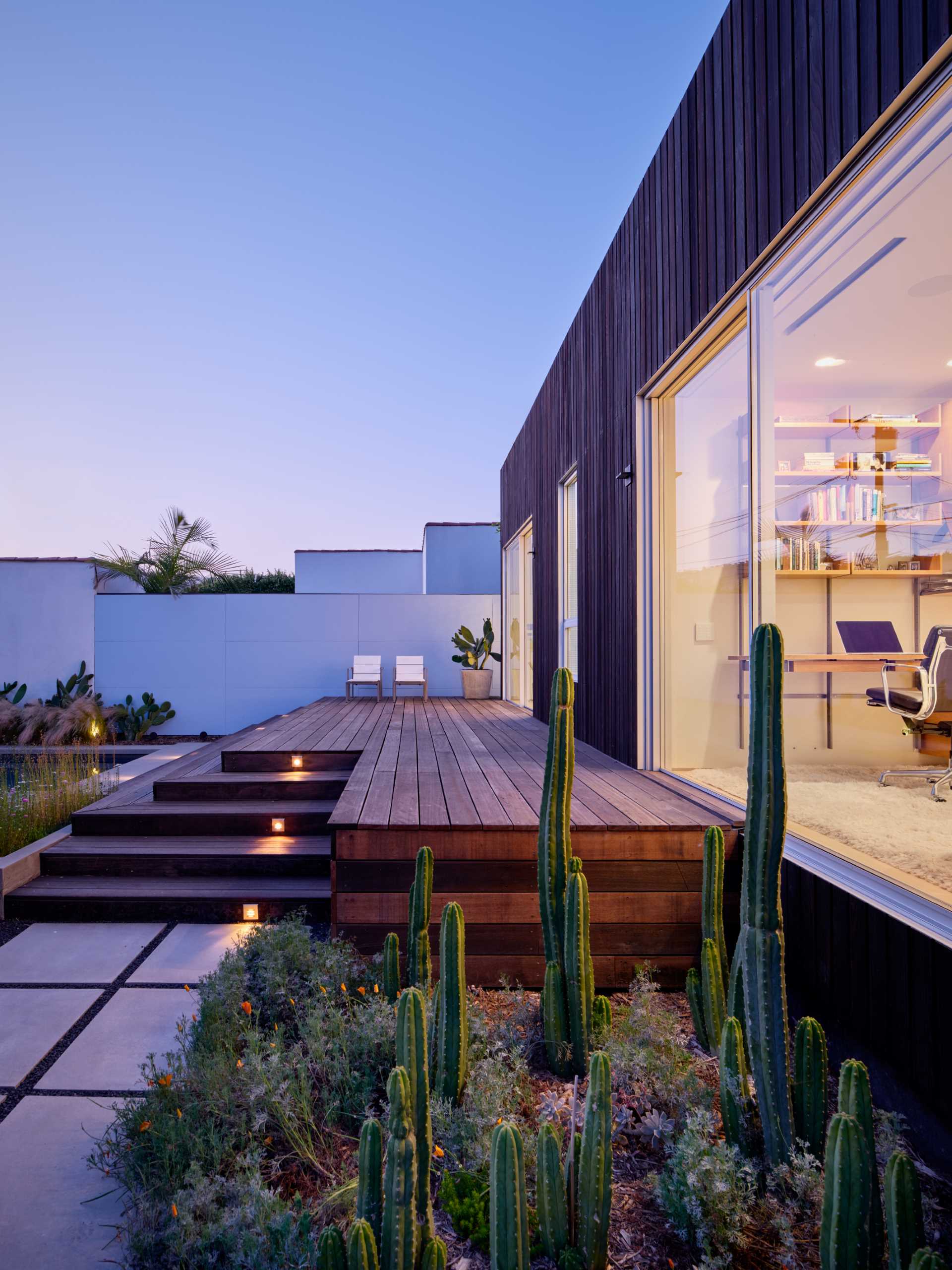 Back inside, we can see the hallway connects the various areas of the home and showcases wide-plank Dinesen flooring, that also runs throughout the interior. An interesting design detail in the hallway is a small section of the cabinets dedicated to a cat's food station and built-in litterbox.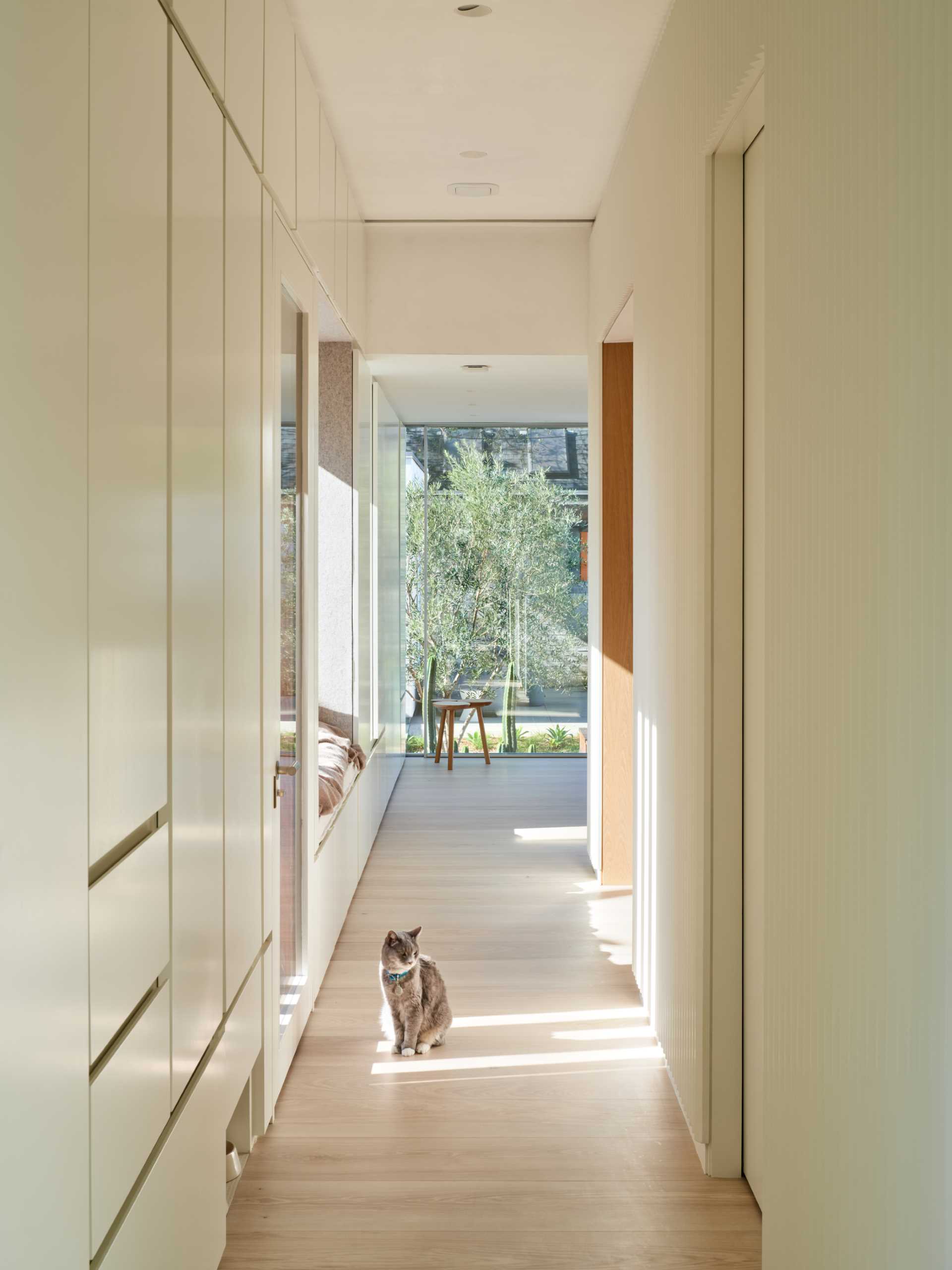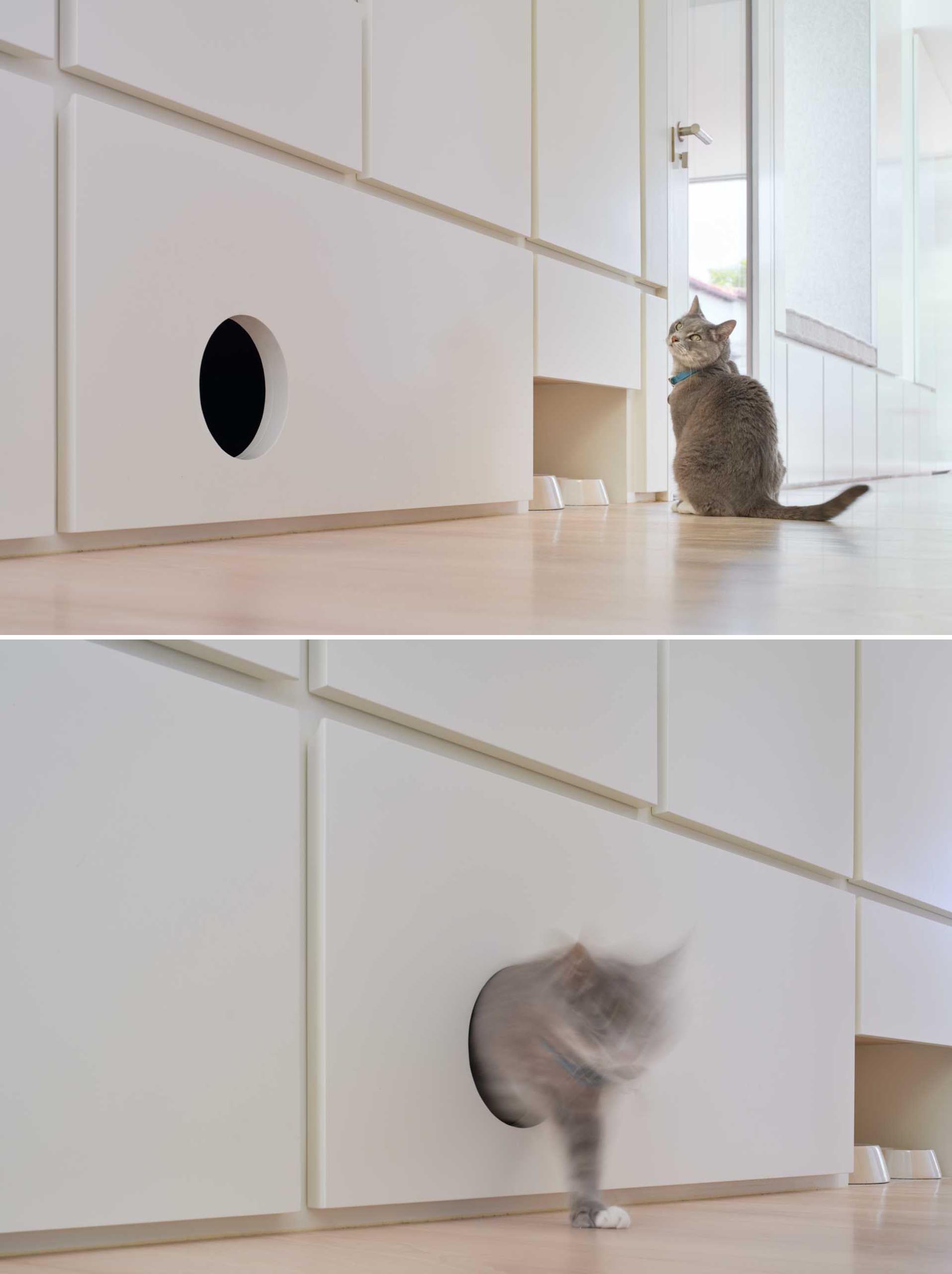 The home has two offices, each with its own look. One has wall-mounted wood shelves and a desk, while the other has a white desk and a large black and white mural on the wall. Both offices overlook the backyard.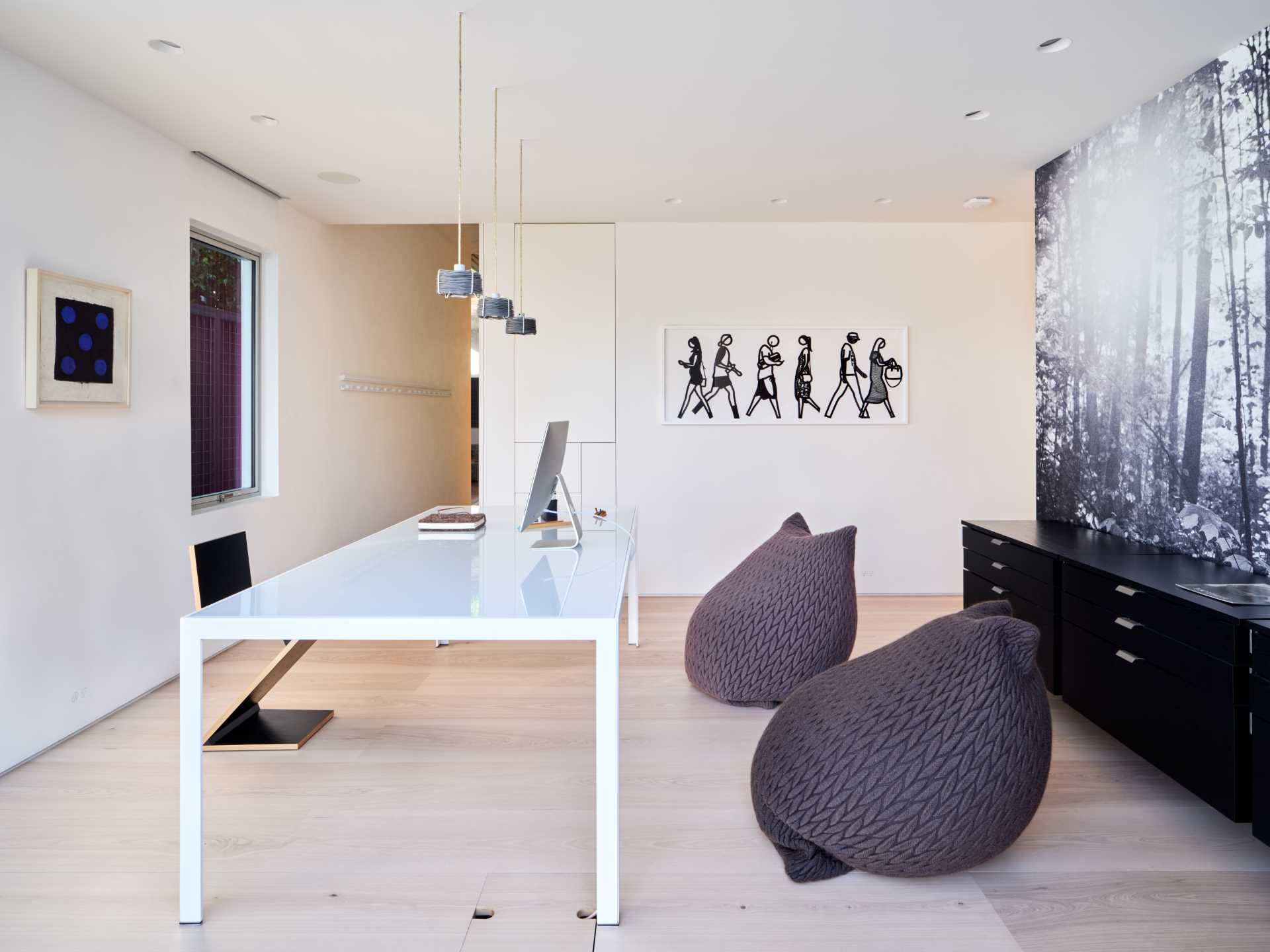 The primary bedroom is characterized by a white oak vaulted ceiling whose skylight pulls morning light down into the space.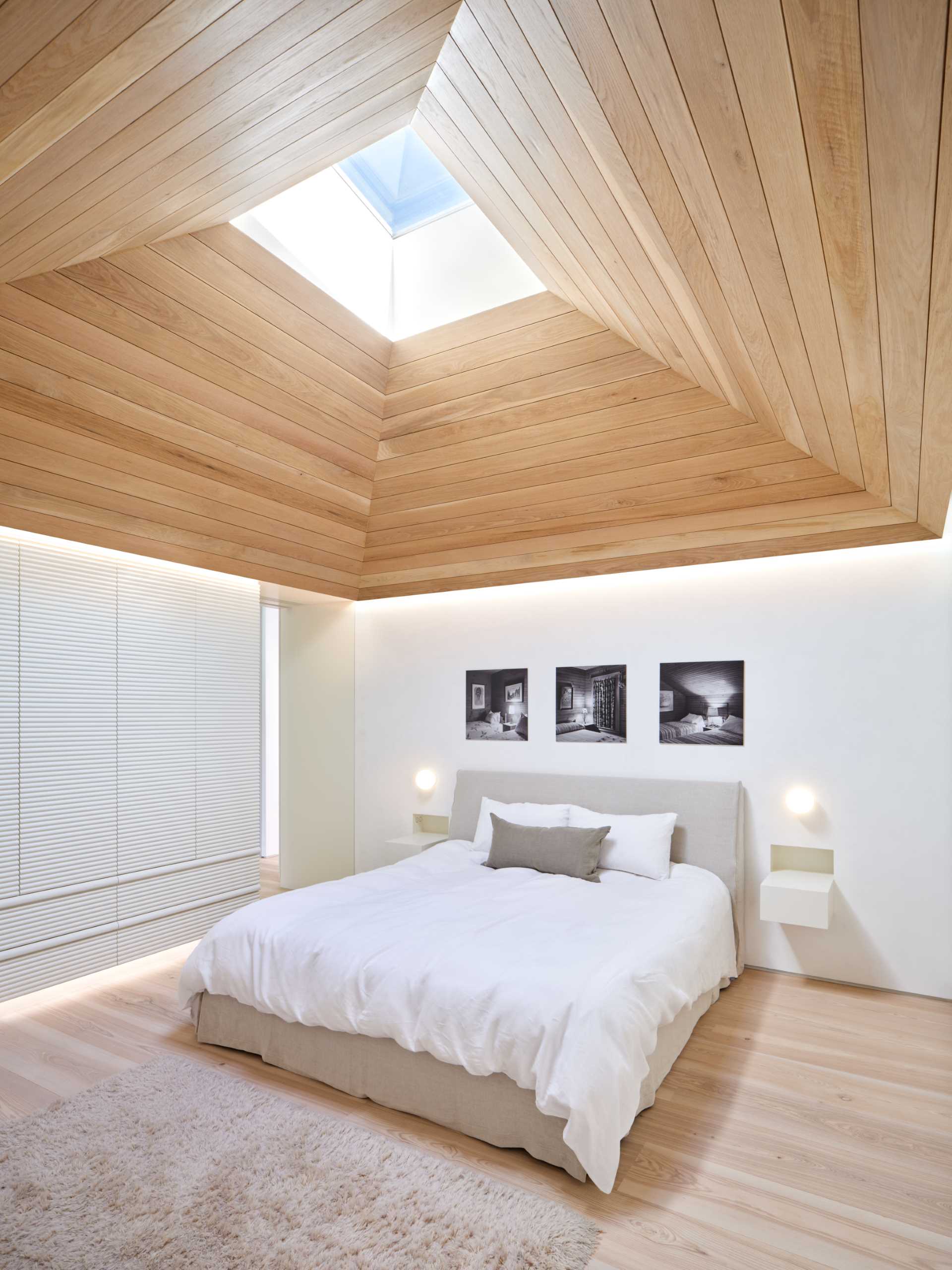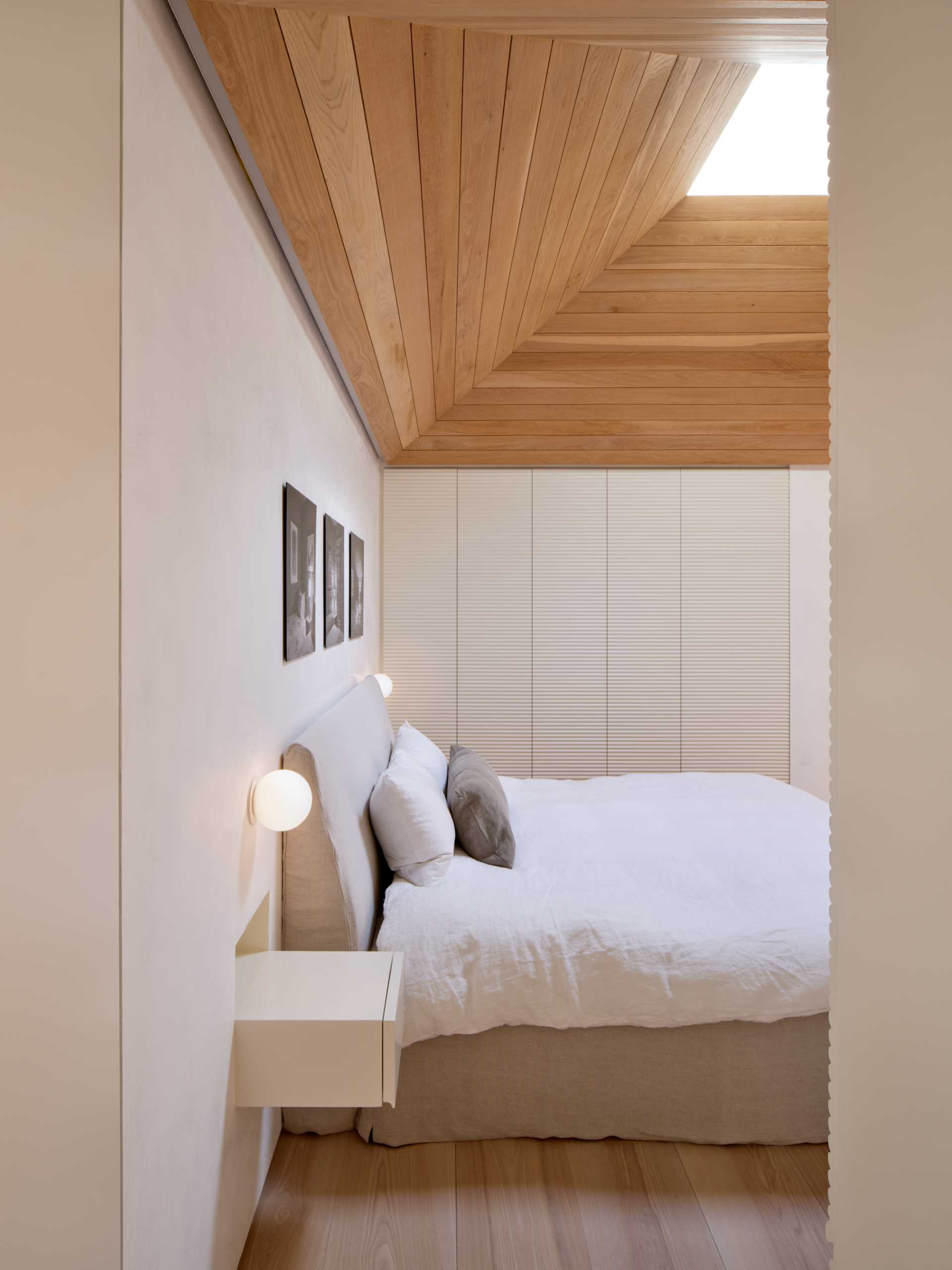 On one wall, custom CNC-milled panels with soft grooves create a crenulated texture of shadows.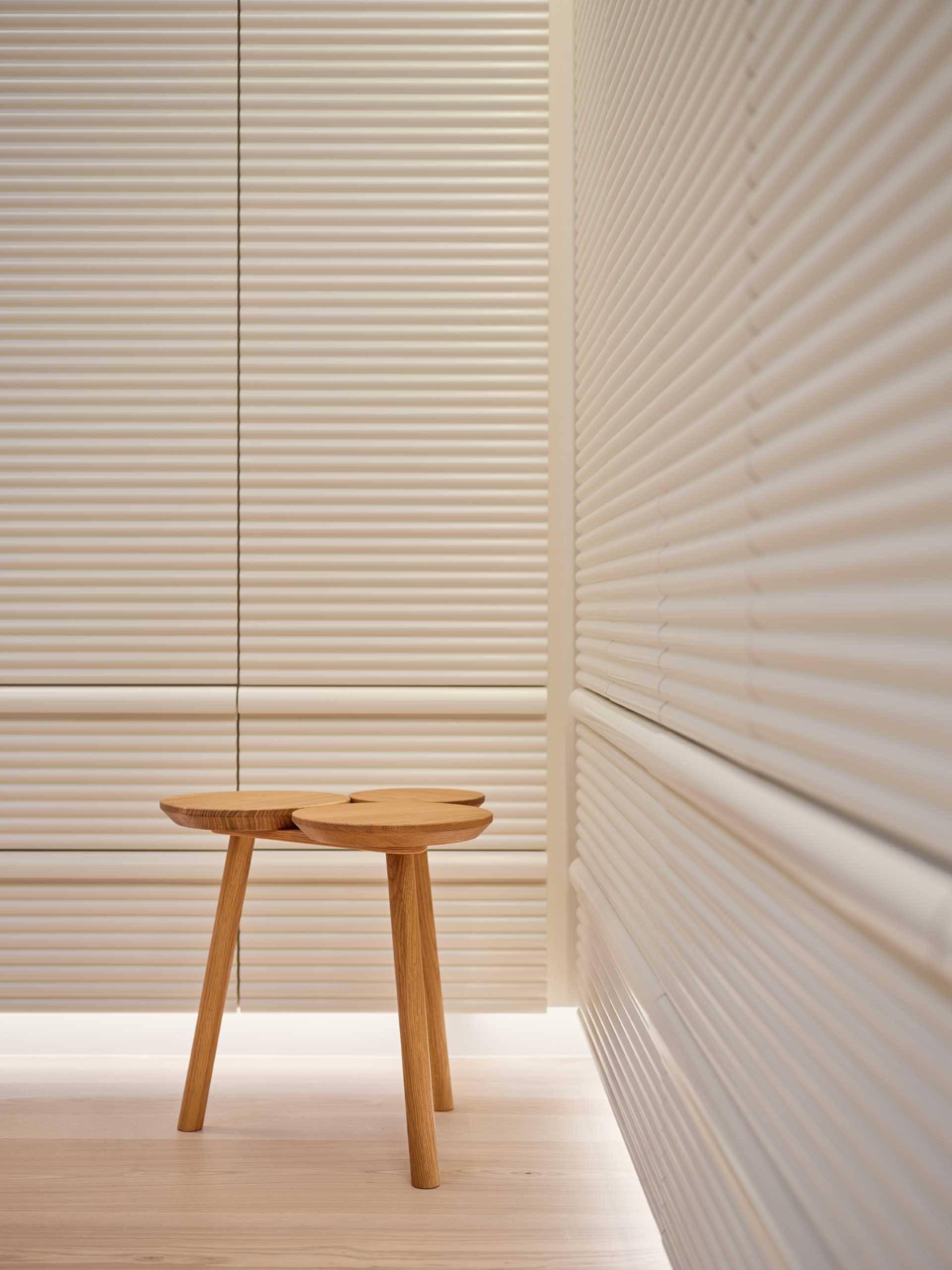 The home also has a room for stretching and meditation, that's lined with softly ridged millwork that conceals a storage cabinet to accommodate yoga equipment, while white oak and felt wall panels and a custom ladder/peg system complete the space.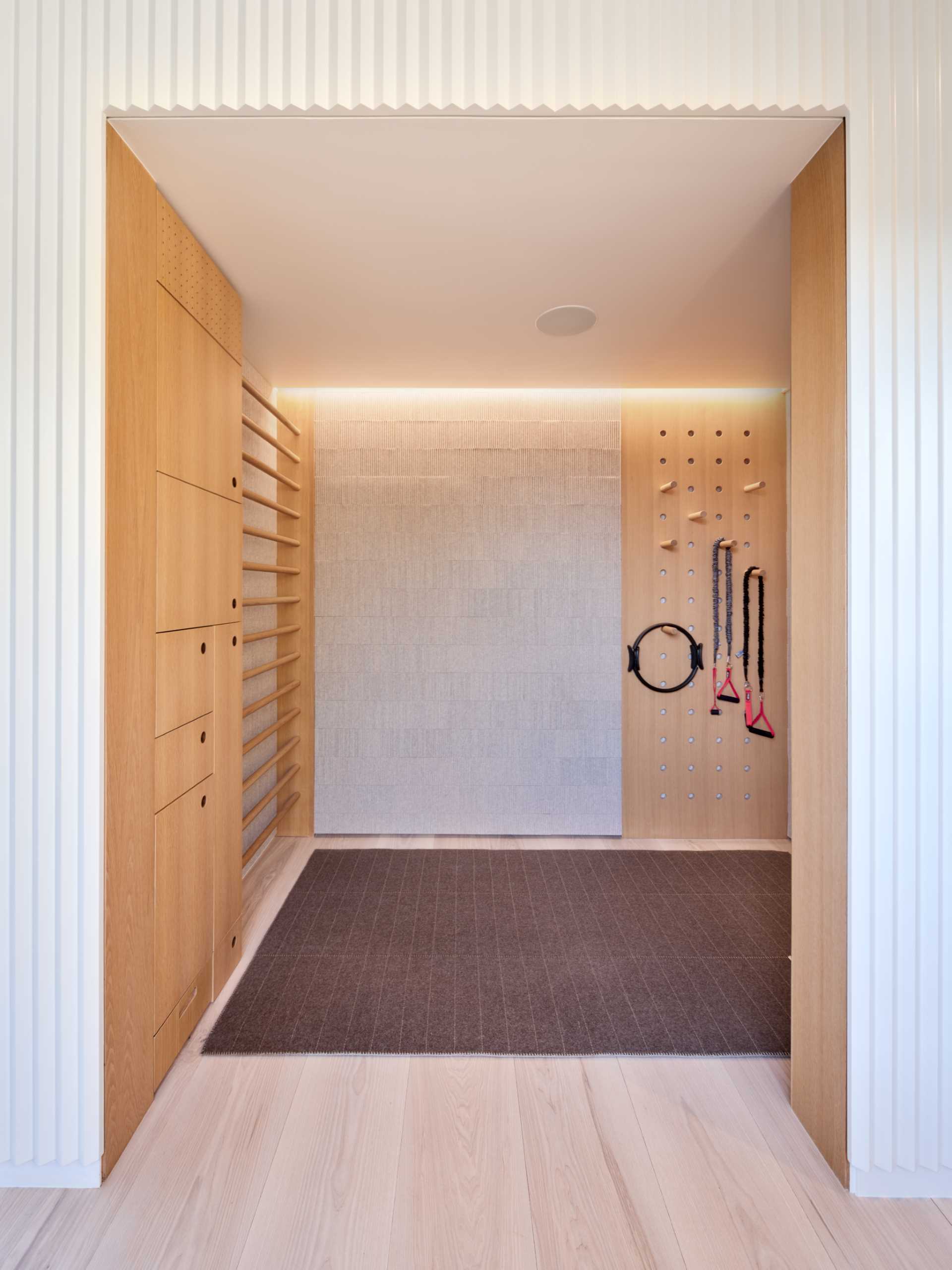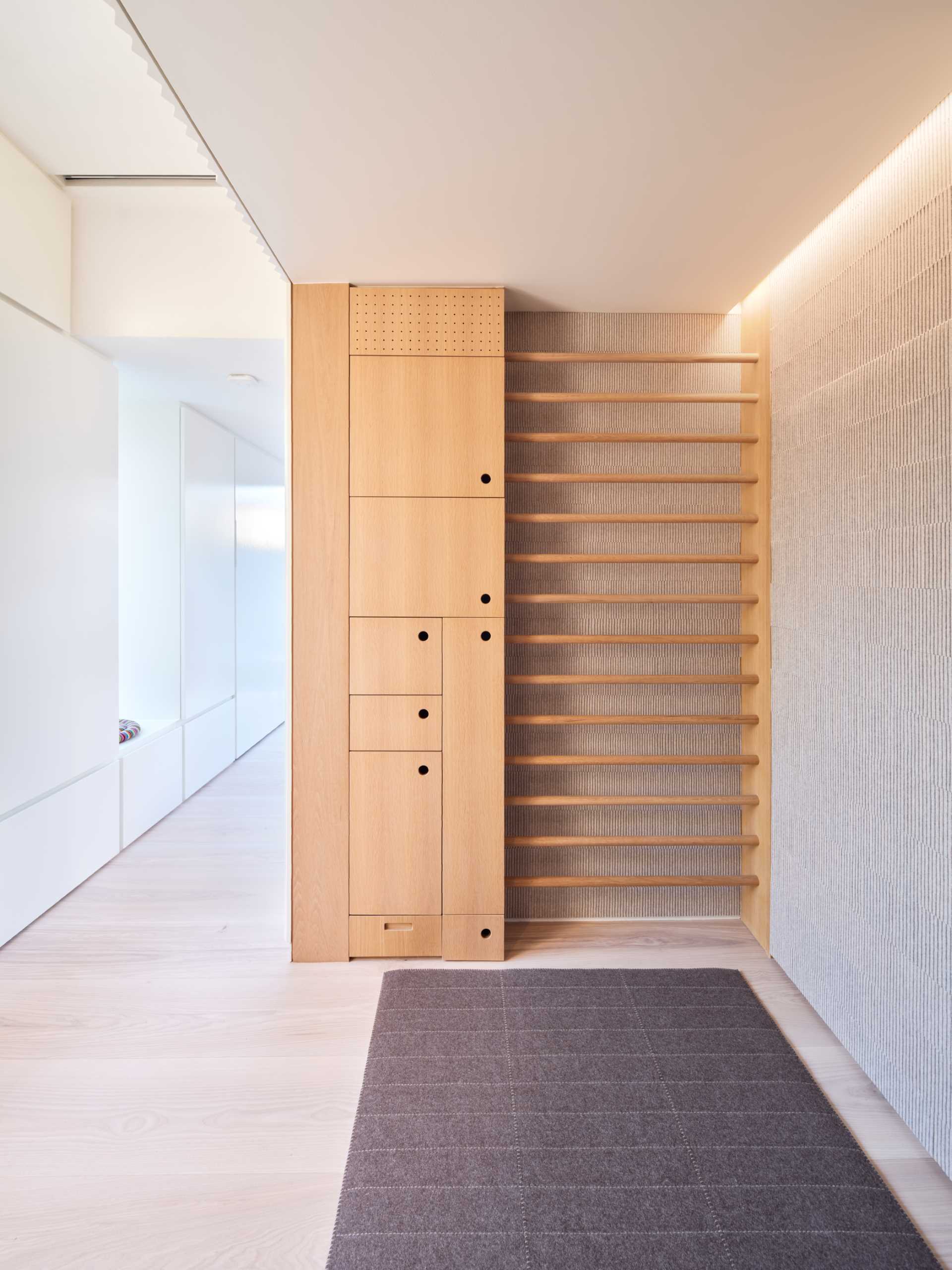 To complete the wellness room, there's a steam room that's been designed with a custom teak bench and an integrated toilet seat.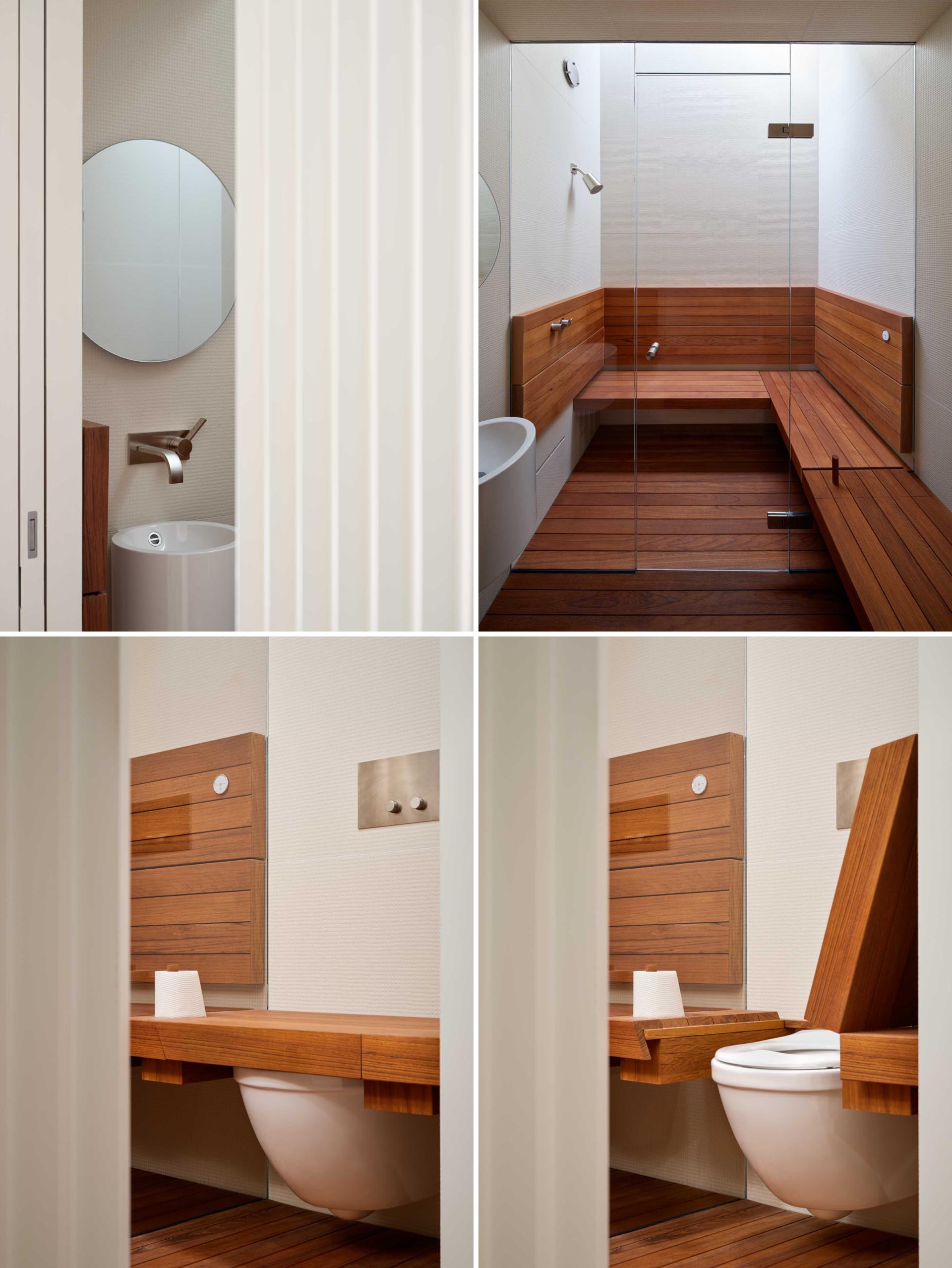 Photography by Brandon Shigeta | Design Architect and Interiors: aalso architects (team: Annie Barrett – Principal Architect, Alex Collier – Project Manager) | Architect of Record: Hye-Young Chung Architecture (team: Hye-Young Chung – Principal Architect, Meaghan Pohl – Project Manager) | Construction: GHBW | Structural: Ibarra / Marco Ibarra Lighting: Theia Lighting / Kathryn Toth | Landscape: Hocker Design – Landscape Architect / David Hocker
Source: Contemporist