In the landmark-laden Graben District at the heart of Vienna, the interior architecture of a newly renovated and expanded Hermès store in an 18th-century building honors the arthistorical riches of its city. Centred around a show-stopping travertine staircase in a delicate blend of architecture and craft, tradition and modernity, the store's renewal was spearheaded by RDAI. The Paris-based architecture firm was founded in 1972 by the late Rena Dumas, whose long-standing partnership with Hermès commenced four years later. Today, the firm is led by Denis Montel and Julia Capp. The project marked their first collaboration with fellow Parisian artist and interior decorator Pierre Marie, who applied his trademark opulent ornamentality to the store's crown jewel, the salon privé.
Given the significance of the store's setting to the historic legacy of European art and architecture, it was only natural for RDAI to draw on the vocabulary of Art Nouveau and the Vienna Secession in their design concept. "The beginning of the 20th century set the stage for what would become modern architecture. We had Arts and Crafts in England, Art Nouveau in France, Jugendstil in Germany and the Netherlands, and the Vienna Secession in Vienna," Denis Montel notes. "Vienna was something of an epicenter for this, but above all, it was all rich in the heritage of the Vienna Secession. It was inspiring to borrow that spirit."
The result is a warm and richly textured spatial experience that subtly alludes to facets of the Hermès story, which Montel aspired to translate through "quality, materiality, sensibilities, associations—and fantasy." Across three levels, a sequence of distinct spaces set the scene for products of the house's sixteen métiers. Upon entering at ground level, molded glass globes and art nouveau-style stucco moldings adorn the ceiling and gently illuminate the mosaic floor, in which the classic Hermès Greek motif is embedded amongst tones of green and flecks of gold.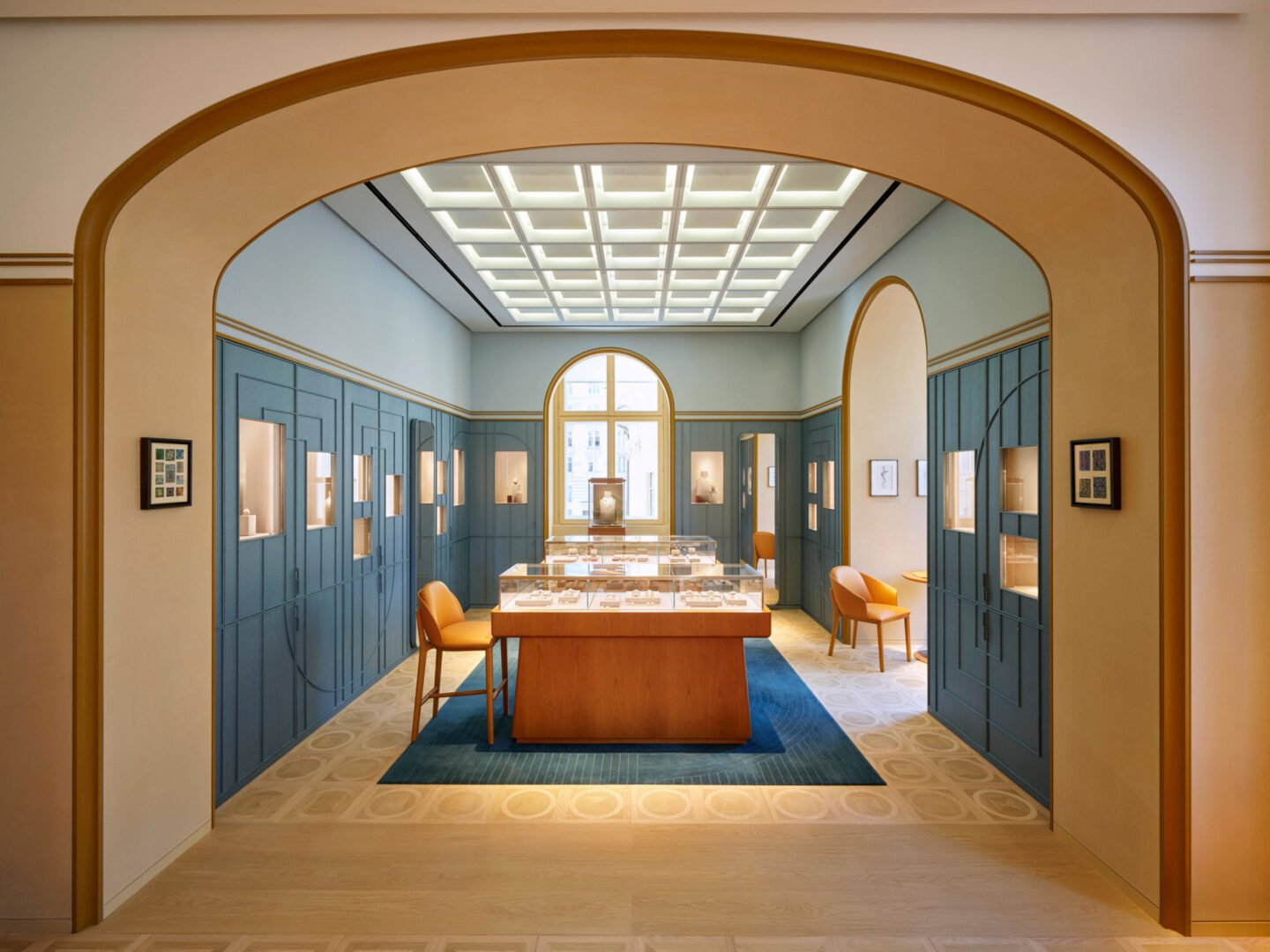 Image © Christian Kain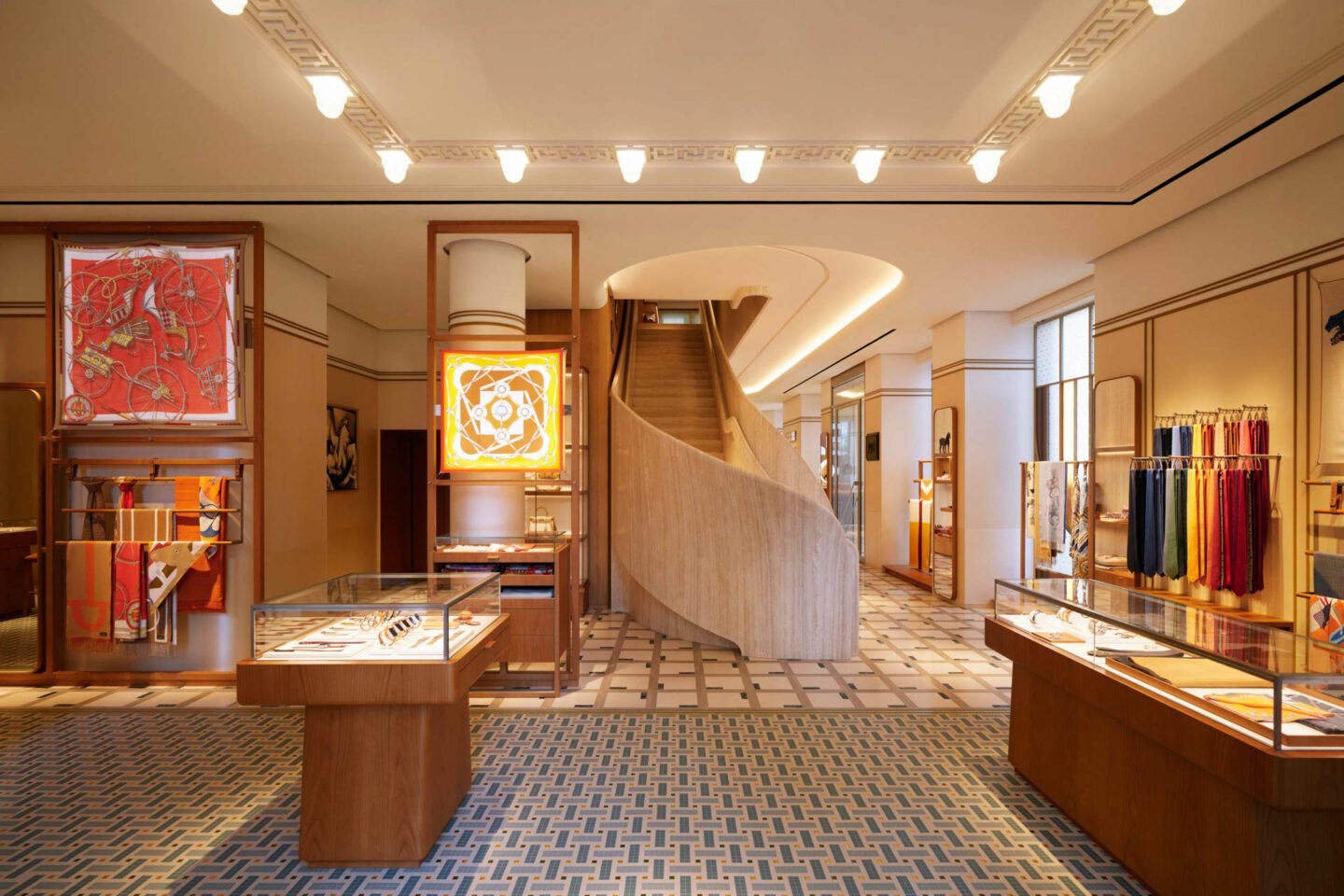 Image © Christian Kain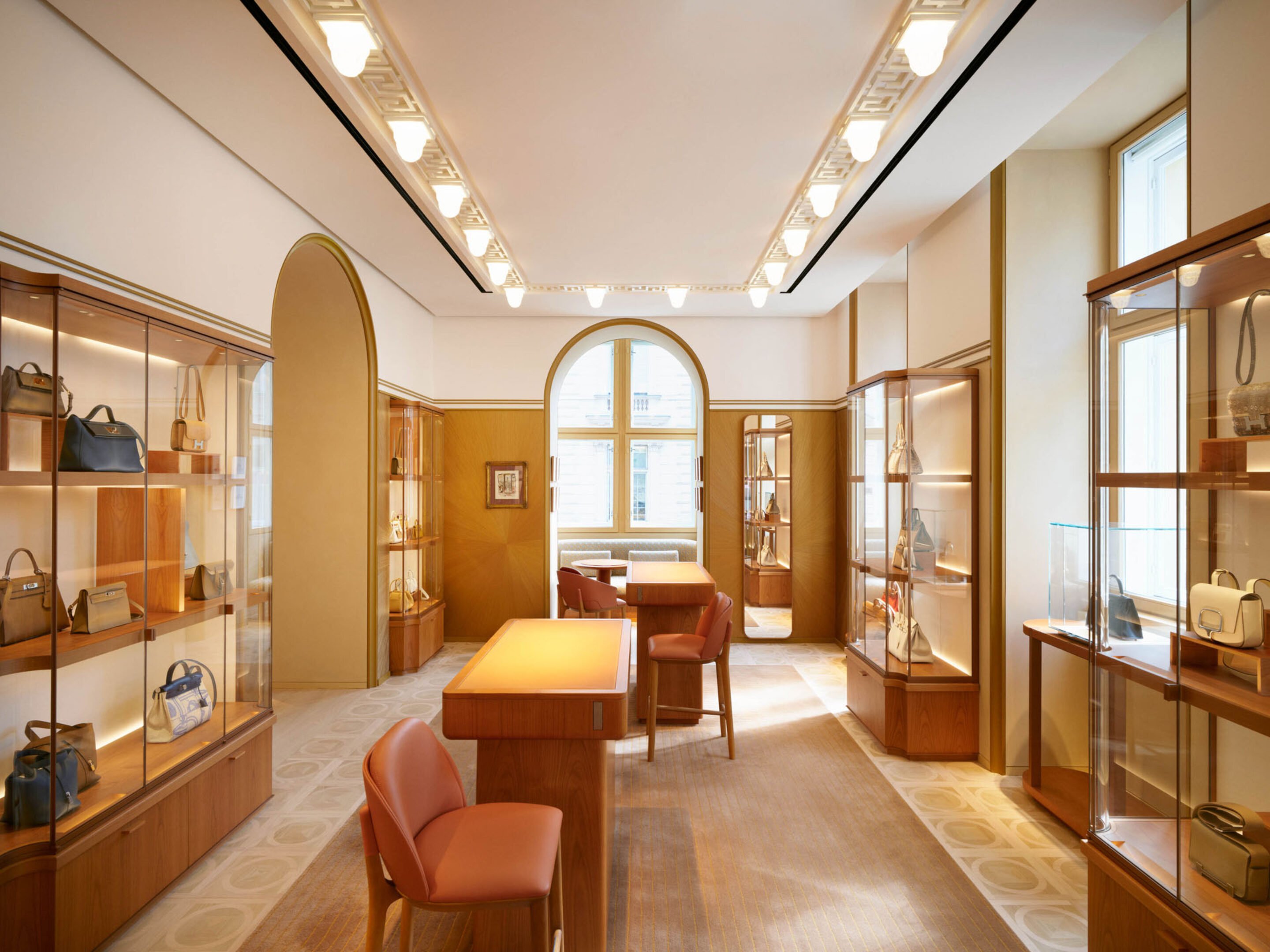 "We wanted to create complementarities or oppositions between warm and cold colors."
"Our approach to materiality emerged in parallel with our research on architectural references for geometry, structure and the dominant color palette, like shimmering gold and ochre. We wanted to do something excessively warm—to express warmth as a kind of radiant solar warmth, almost in a caricatured way, around variations of gold," says Montel. "We wanted to create complementarities or oppositions between warm and cold colors. There's a room in the store that's entirely in shades of blue. Applying the color just wasn't enough. We had to give it a golden mood, so we developed our own material, which is actually wood, but which reflects a blue patina. So we developed a whole palette and pattern around these contrasting tones."
Stained glass windows in panes of amber, caramel and copper further enhance the space's radiant warmth. Against a backdrop of stylobate and cornice-bedecked walls—a nod to the elements favored by Vienna Secession artists—visitors are invited to explore silk scarves, accessories, and home goods. On the first floor, men and women's ready-to-wear is presented alongside footwear in a setting of exuberant tones and patterns. Wallpapered dressing rooms quietly convey stories to the observant while molded windows offer a rare view out to the Baroque St. Peter's Church. "We wanted to invite a stroll through different types of spaces within the store. Their configuration—their geometry—is quite diverse. The first story is quite low, so it feels compressed. By contrast, the second is very high. We tried to accentuate the difference in the feeling of each," explains Montel.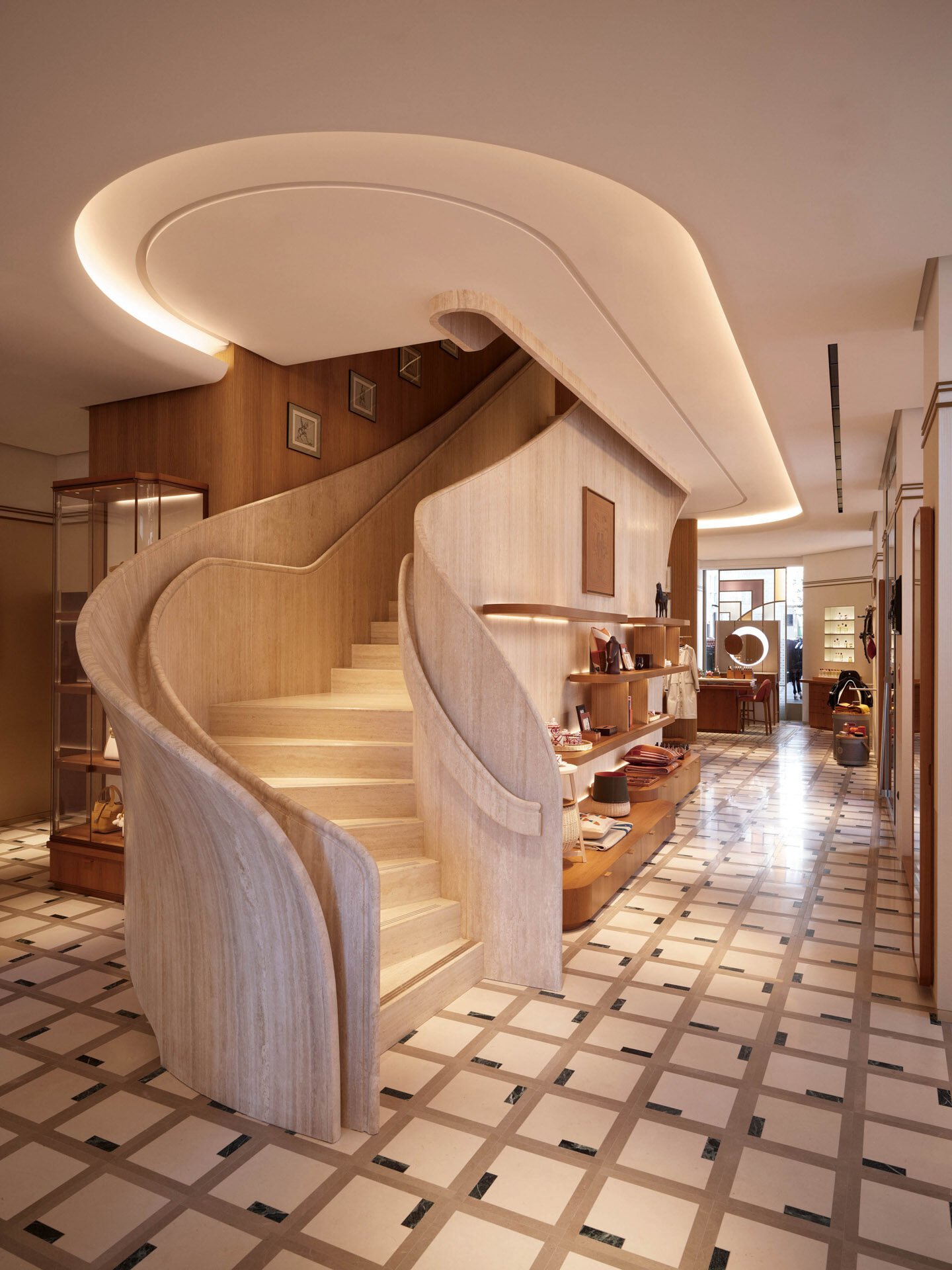 Image © Christian Kain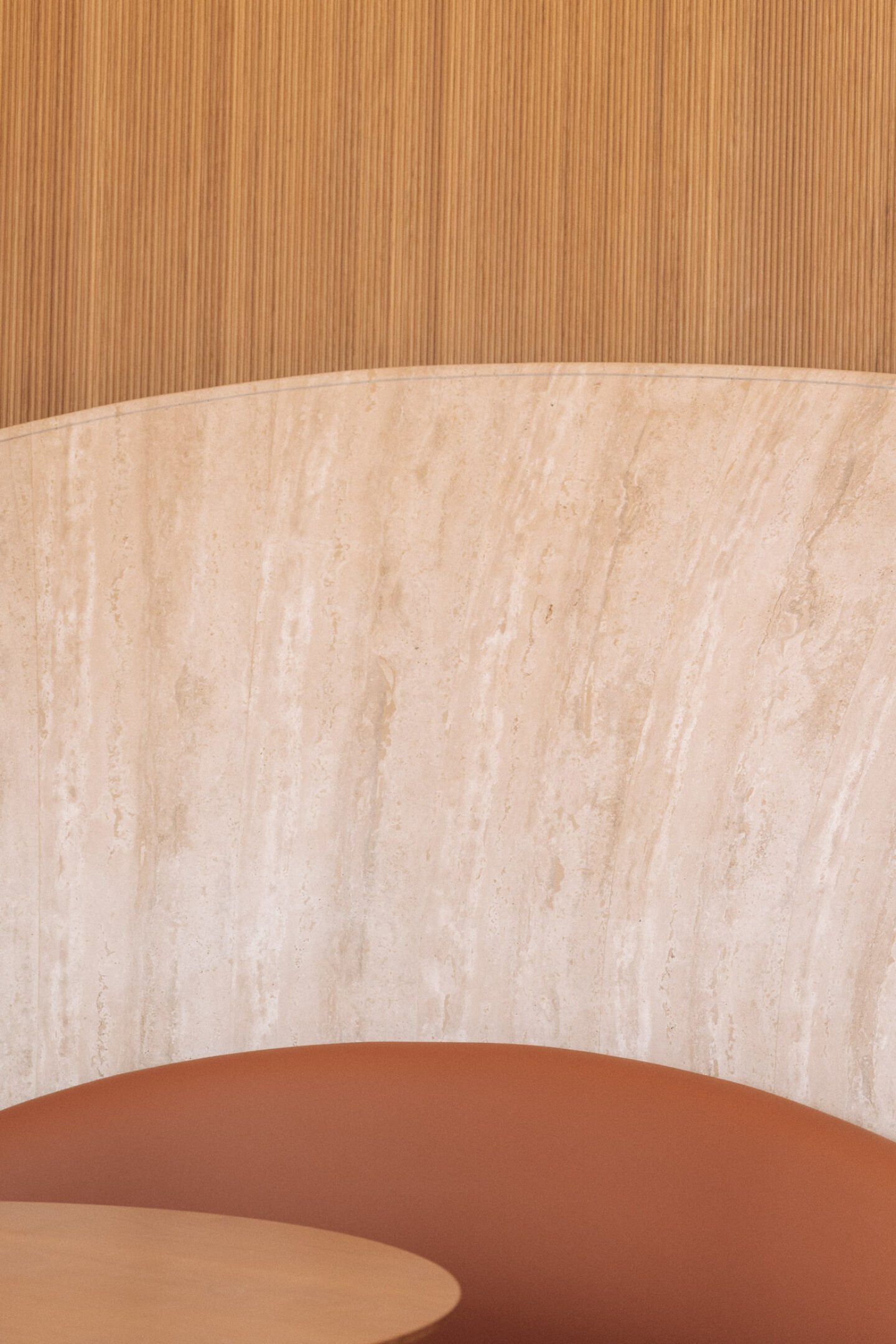 Image © Clemens Poloczek
"The staircase is an articulation not only for ascending and descending, but for opening perspectives."
Their unifying element—the store's centerpiece, and the anchor of its scenography—is a sculptural travertine staircase that gently curves toward the store's upper floors, seemingly a paradox in its simultaneous solidness and spiraling ethereality. "The staircase appears as a block of stone—a monolith. We turned it around and positioned it in the opposite way. It's intended to create a kind of loop, to invite visitors to follow a certain path. You enter, you ascend, you look up, you're interested in where it leads, what happens when you come down," says Montel. "The staircase is an articulation not only for ascending and descending, but for opening perspectives. As important as the structure itself is what it reveals when you climb and descend it. It offers a moment of surprise. There's a formal eclecticism and a material eclecticism. A richness in the sense of abundance, to an extent that is rare in our store designs."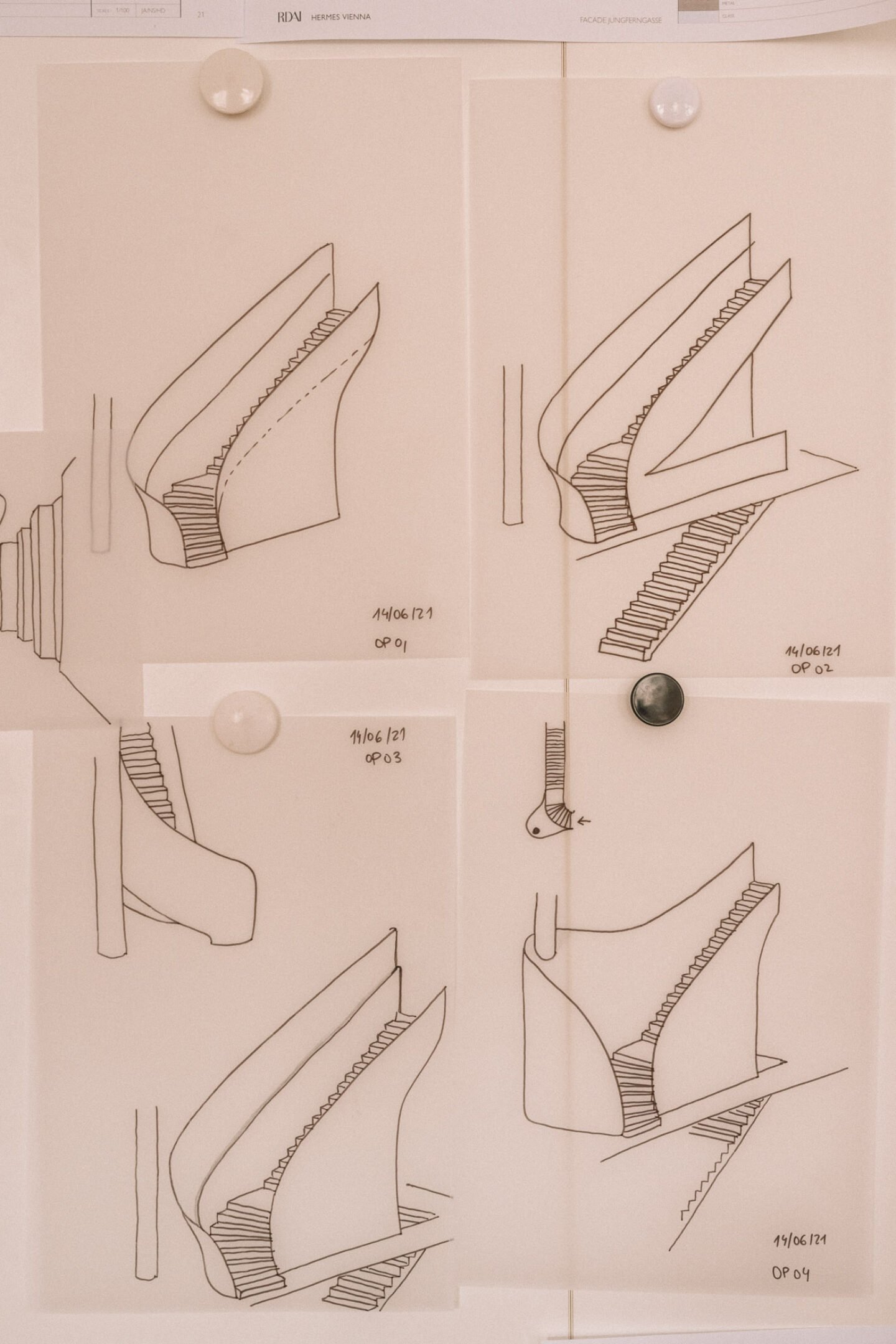 Image © Clemens Poloczek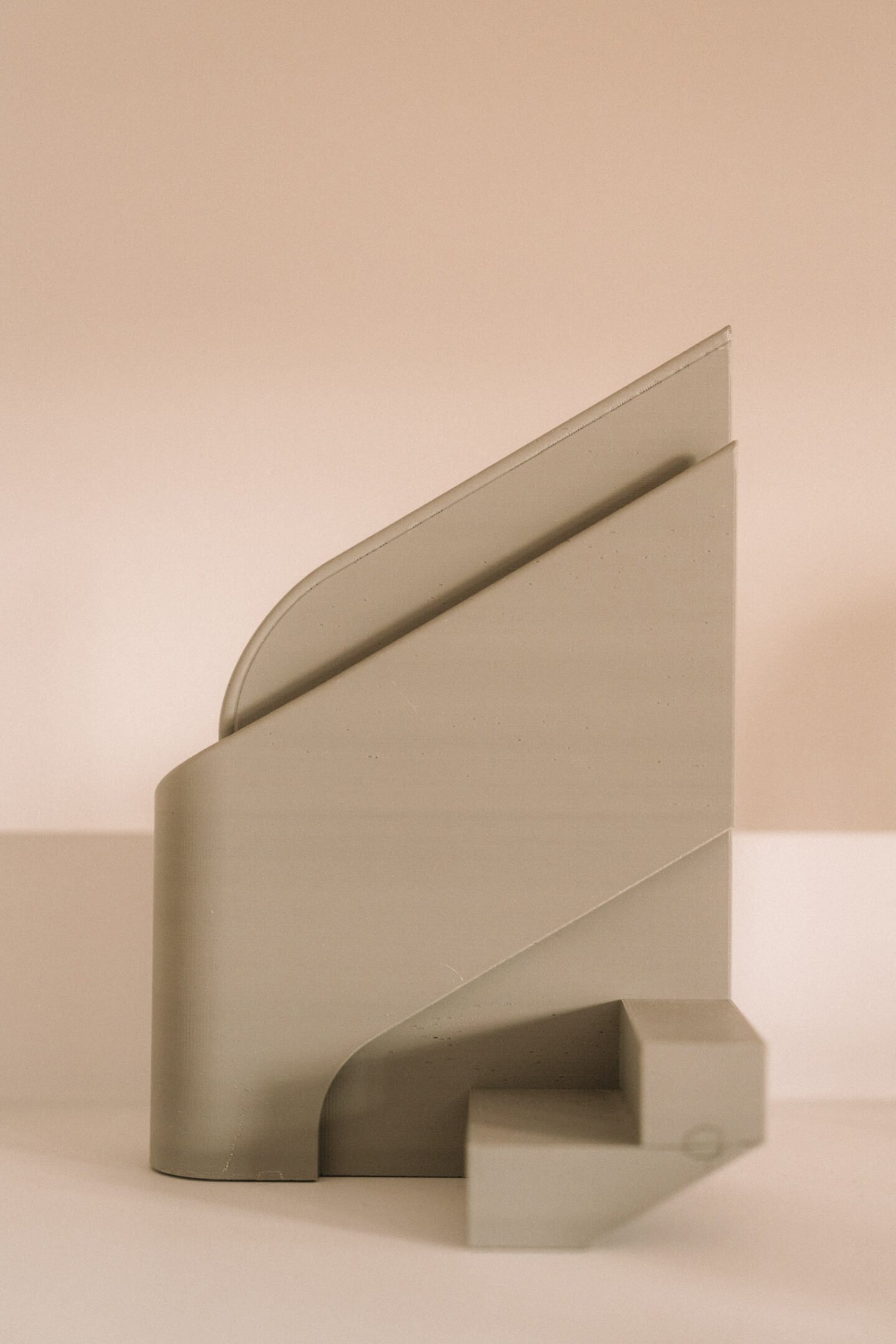 Image © Clemens Poloczek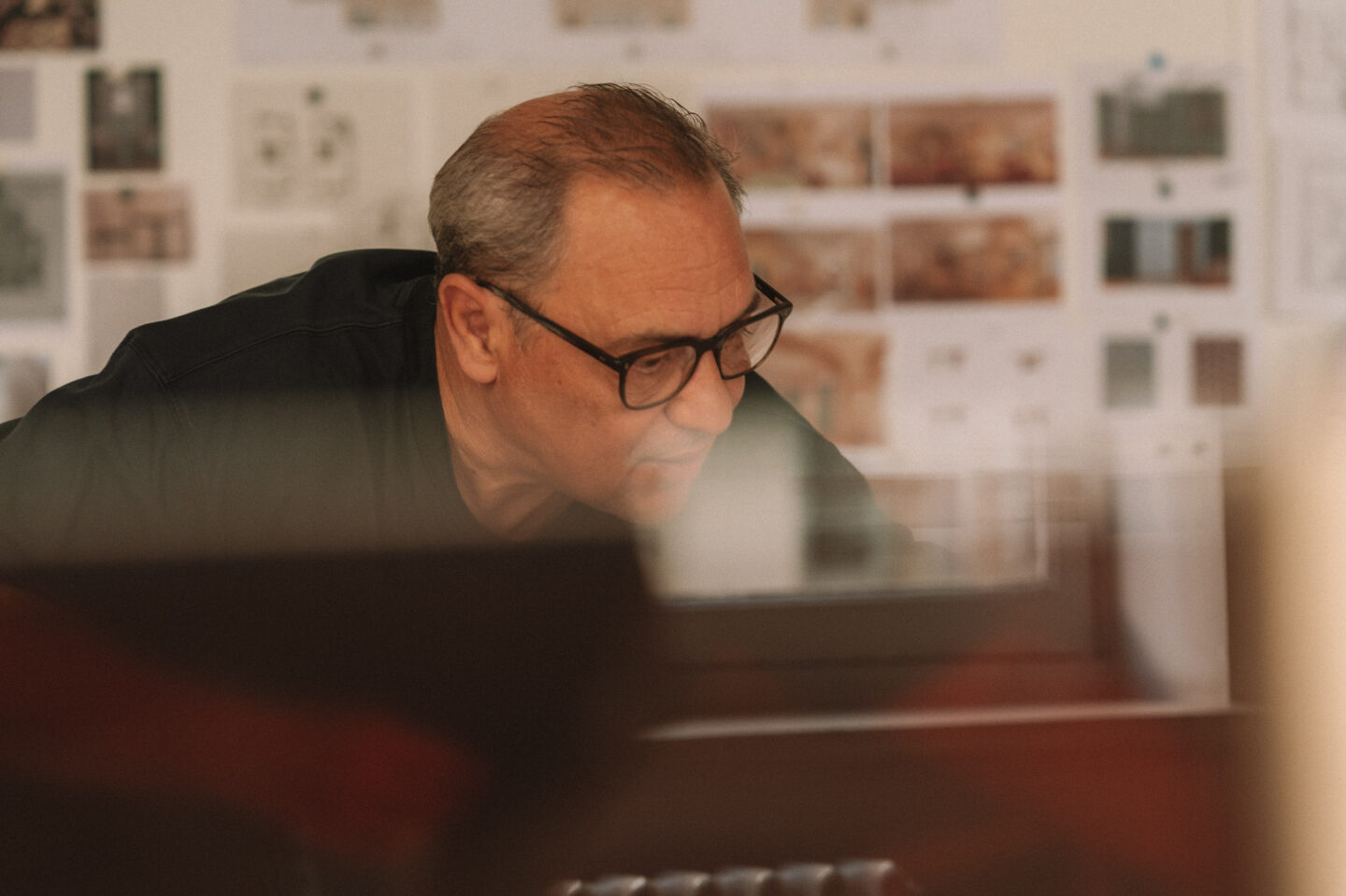 Image © Clemens Poloczek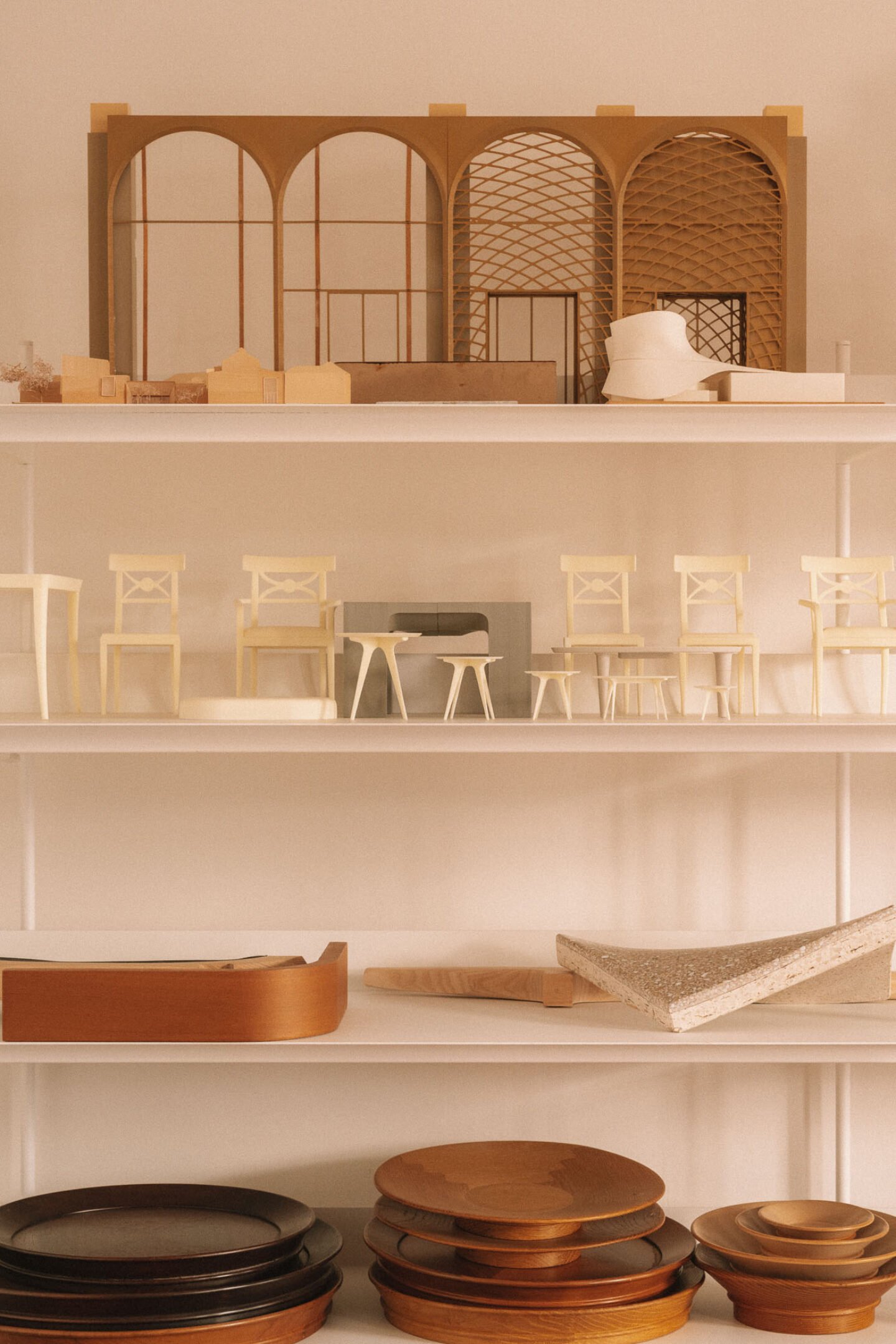 Image © Clemens Poloczek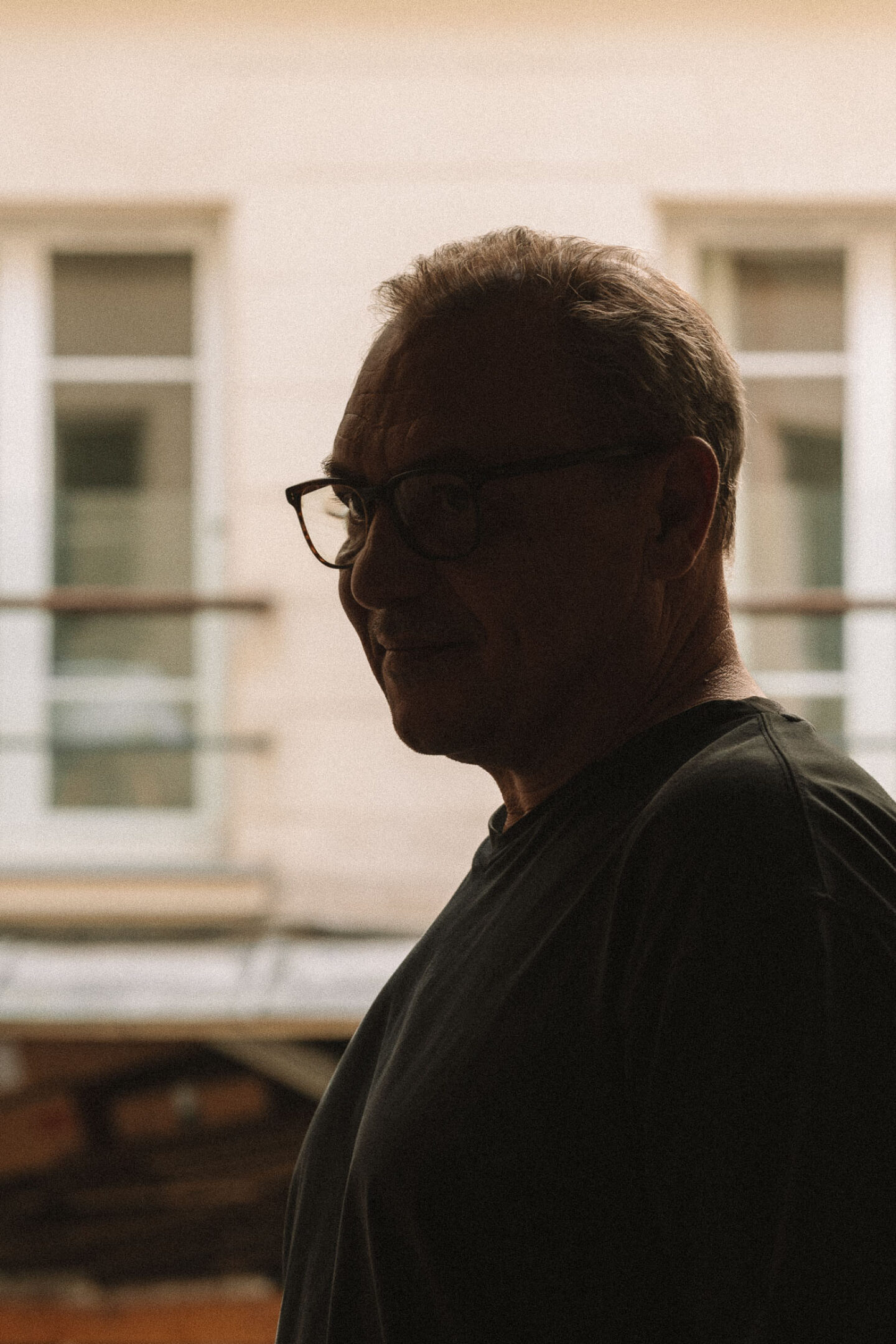 Image © Clemens Poloczek
The choice of travertine as the stone from which the staircase is an essential component of that richness. "Travertine is an extraordinary material. It contains so many colors. It's generally found in southern Europe – Turkey, Iran, Afghanistan. We selected this particular stone from southern Italy. It comes from a very old quarry, which is nearing the end of its current generation. It has a very deep color that's almost grey, and it's extremely lively. We wanted an object that was relatively abstract in terms of its geometry, but at the same time, has a floral side to it—like petals of stone," explains Montel. "Travertine is formed in lake beds, relatively rapidly, in a matter of hundreds of years. The beautiful thing is at the bottom of the lake, there are sediments and organic matter—shells, algae—through which the stone nourishes itself. It's full of life because it's nourished by living things."
While appearing as though hewn from one hefty slab, the staircase is a composite of several pieces of travertine, whose combination involved an unprecedented consolidation of production techniques by the Italian company responsible for its creation. The effect is remarkable: on the natural light-flooded second floor, its balustrade curls around to form an open-end lounge, inviting a moment of repose before gently guiding visitors to leisurely weave their way through a series of distinct spatial experiences. Blue textured wood sets the scene for jewelry and watches, while gold-toned decorative stucco frames leather goods.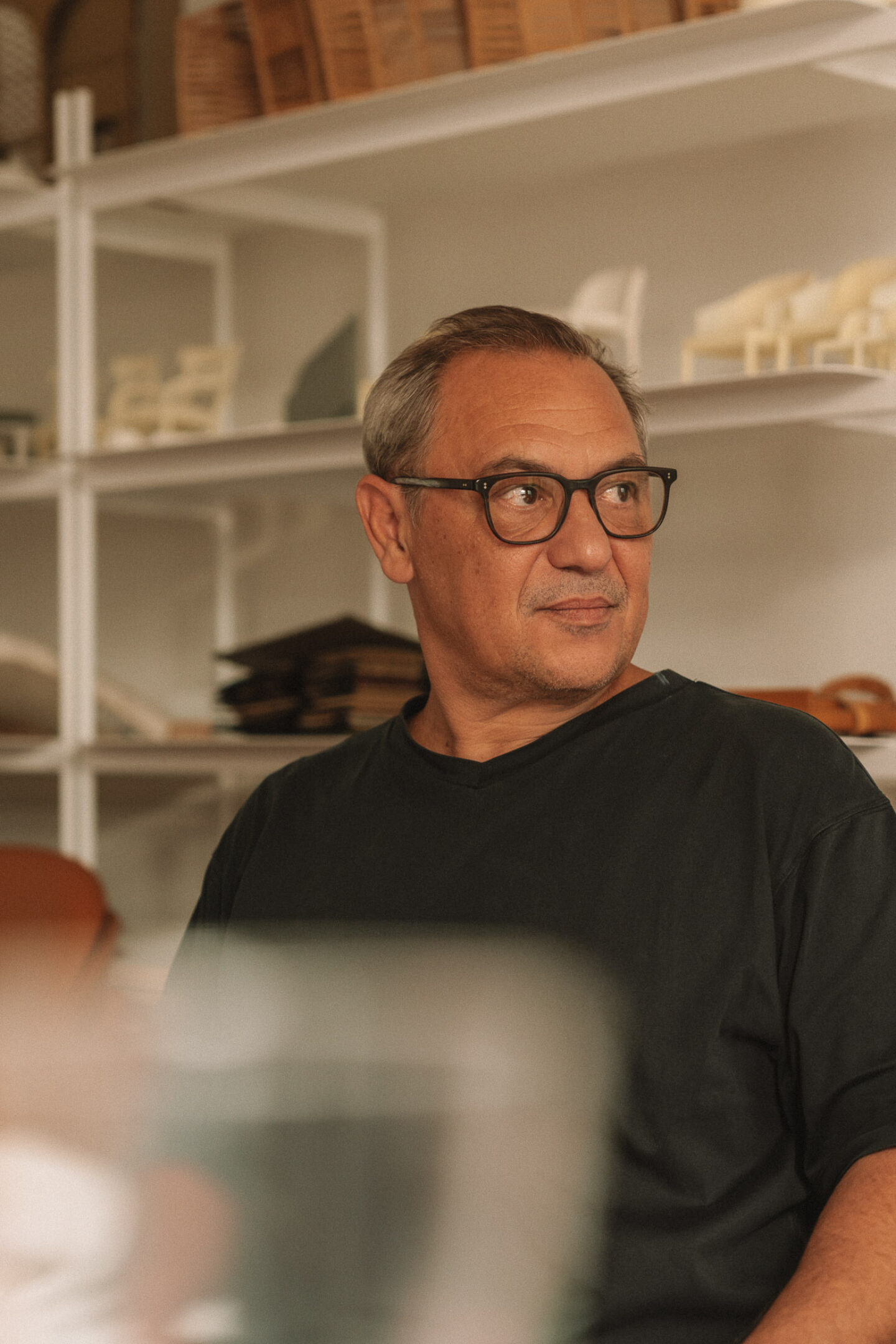 Image © Clemens Poloczek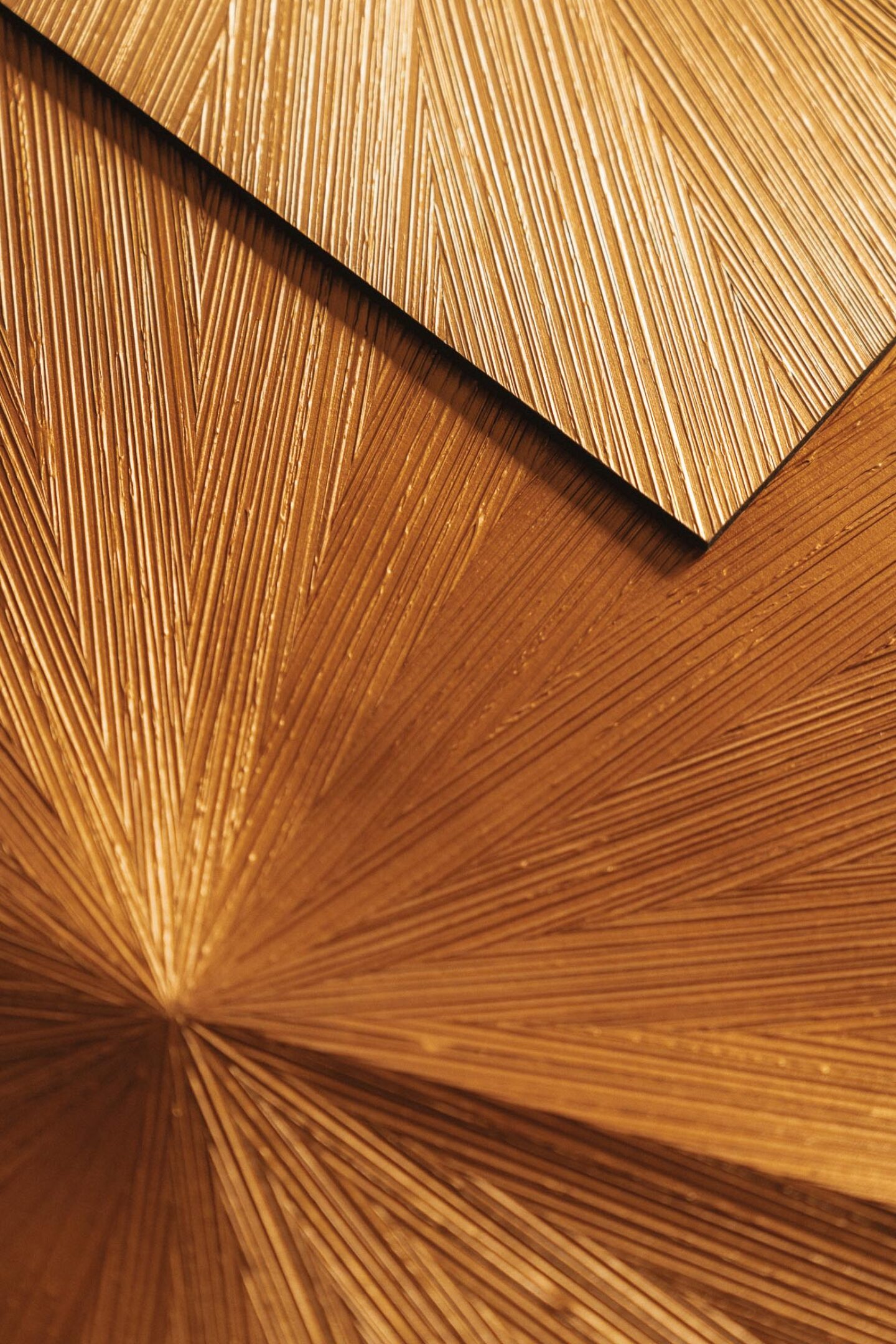 Image © Clemens Poloczek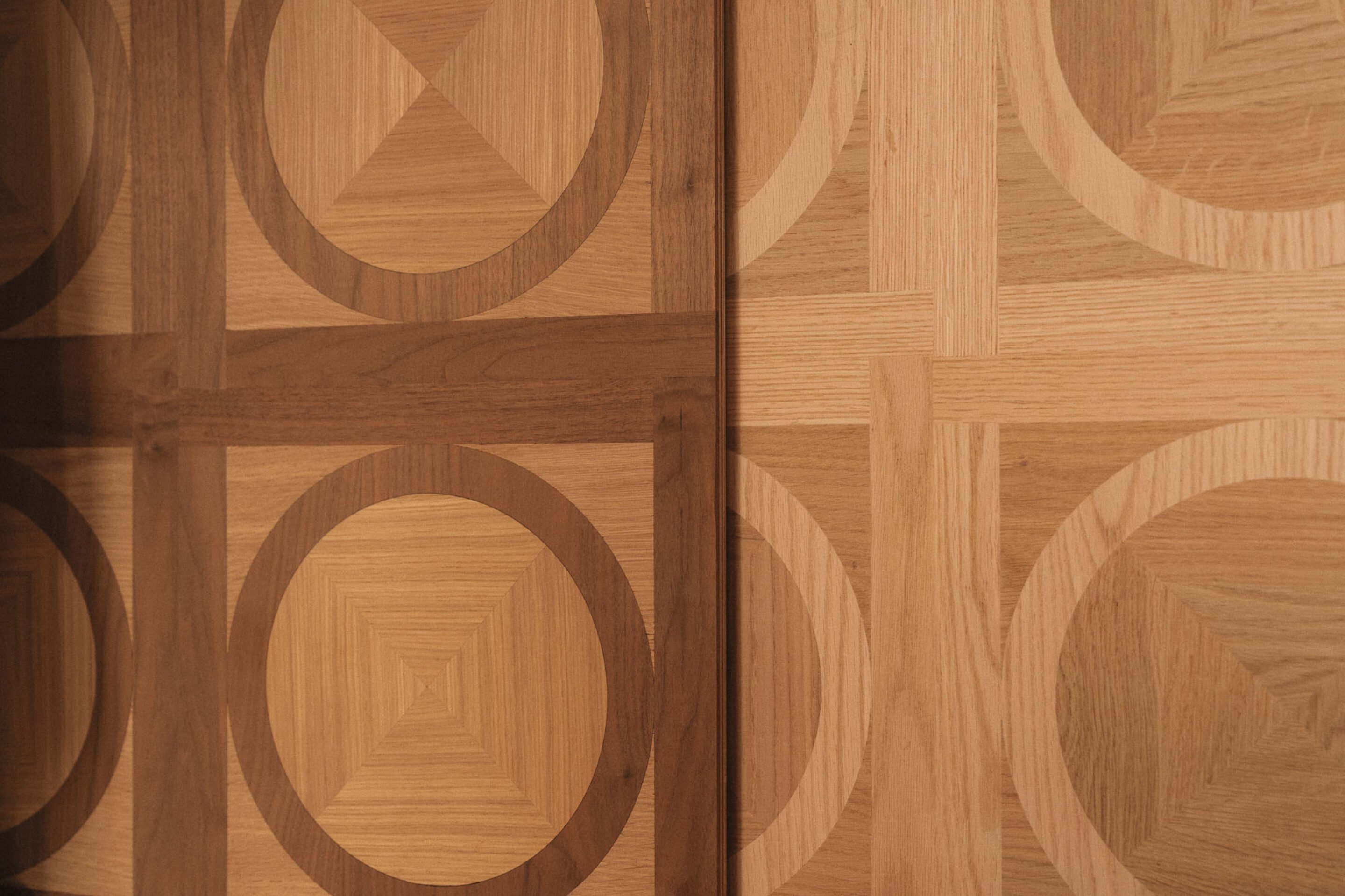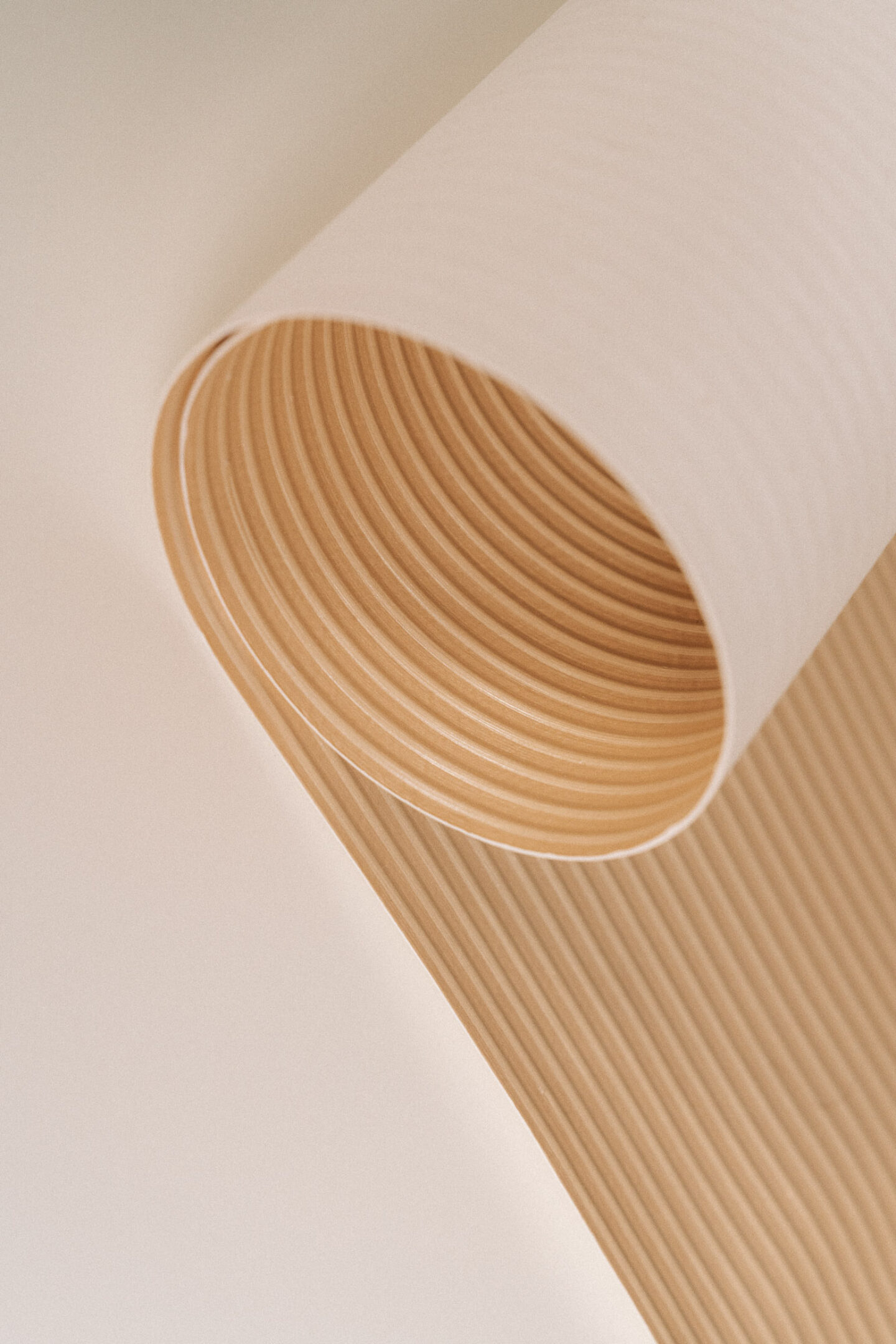 Image © Clemens Poloczek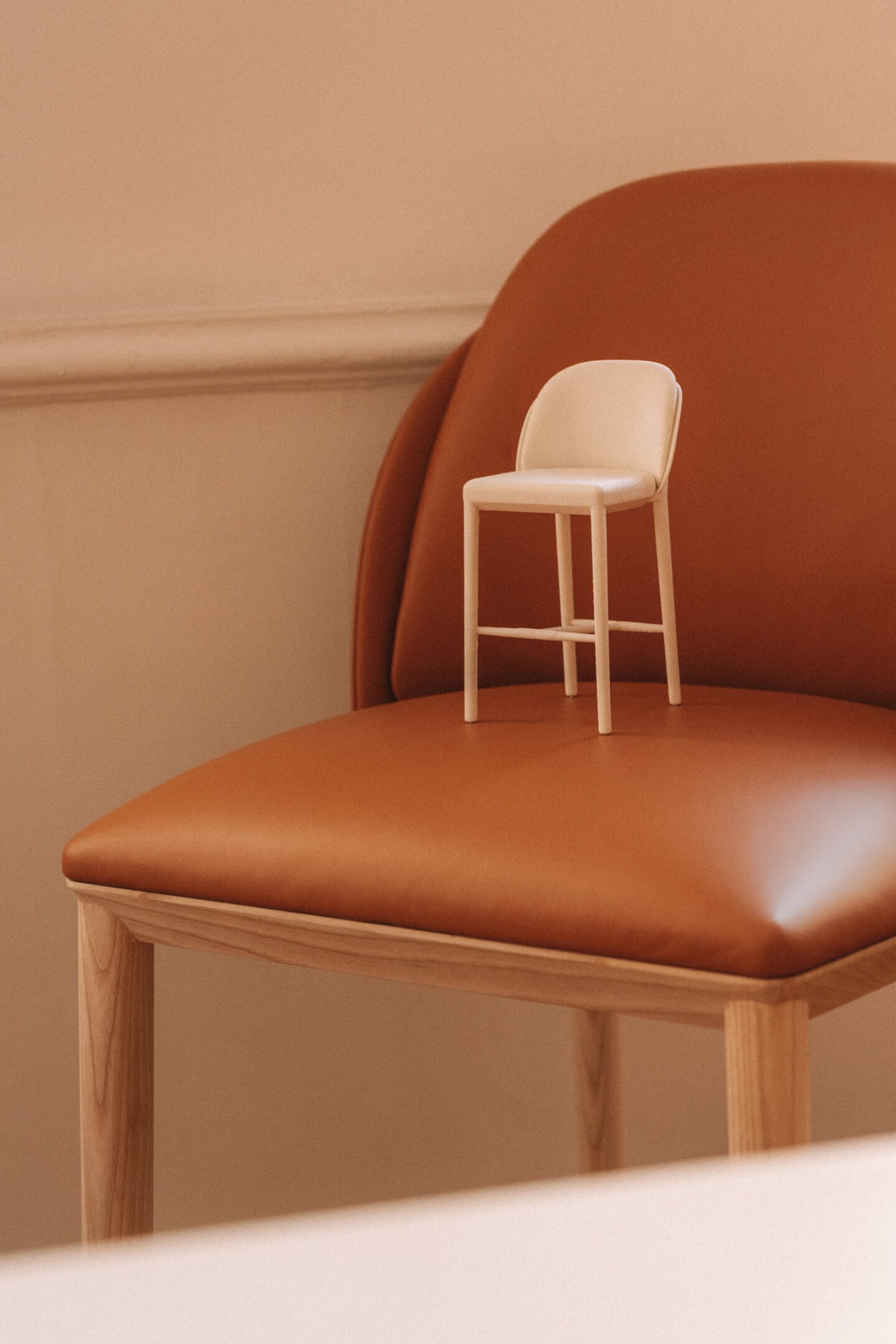 Image © Clemens Poloczek
"Looking back through human history, we've always been telling stories through architecture, through frescos on the walls, through tapestries."
In a stark contrast to the minimalist staircase, the store architecture's more extravagant side reveals itself in the second-floor salon privé, for which Hermès artistic director Pierre-Alexis Dumas gave a carte blanche to French artist and decorator Pierre Marie, known for his opulent, high-touch interiors. His artistic response comprises a custom carpet, wall textiles, and a striking 16-panel stained glass window. Realised in collaboration with artisans of glass—Ateliers Duchemin—Manufacture d'Aubusson Robert Four, each of the salon's components subtly references equestrian motifs sourced from the archives of the Émile Hermès collection, combined with a chess pattern and the classic Hermès Greek motif. Together, they recontextualize the frieze common of the artists of the Wiener Werkstätte, a key art-historical reference underpinning the interior concept.
"What I've done here is about drawing and design before it is about color, material and textures," notes Pierre Marie. "I always say I'm an ornament person. I love ornaments and I think that interiors have lacked ornaments since the 60s, until recently. It all had to be white and pure. Everything that was about ornaments, like textiles, wallpapers, rugs—without even mentioning the stained glass—was forgotten and, in a way, forbidden. You couldn't use too many colors or too many prints. Yet when you go for very pure architecture, you don't relay a lot of messages. Looking back through human history, we've always been telling stories through architecture, through frescos on the walls, through tapestries… These are the means we have to tell stories about ourselves."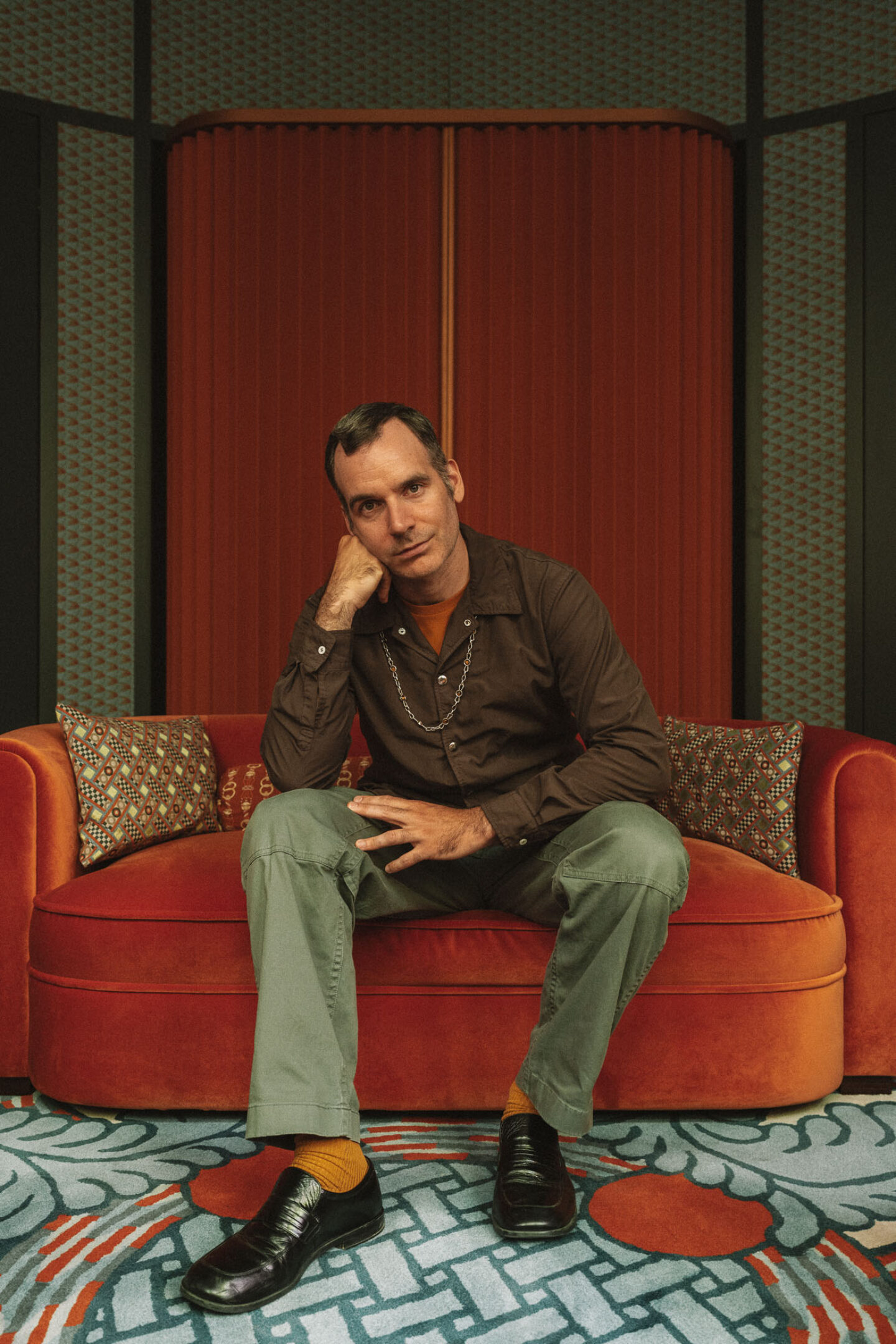 Image © Clemens Poloczek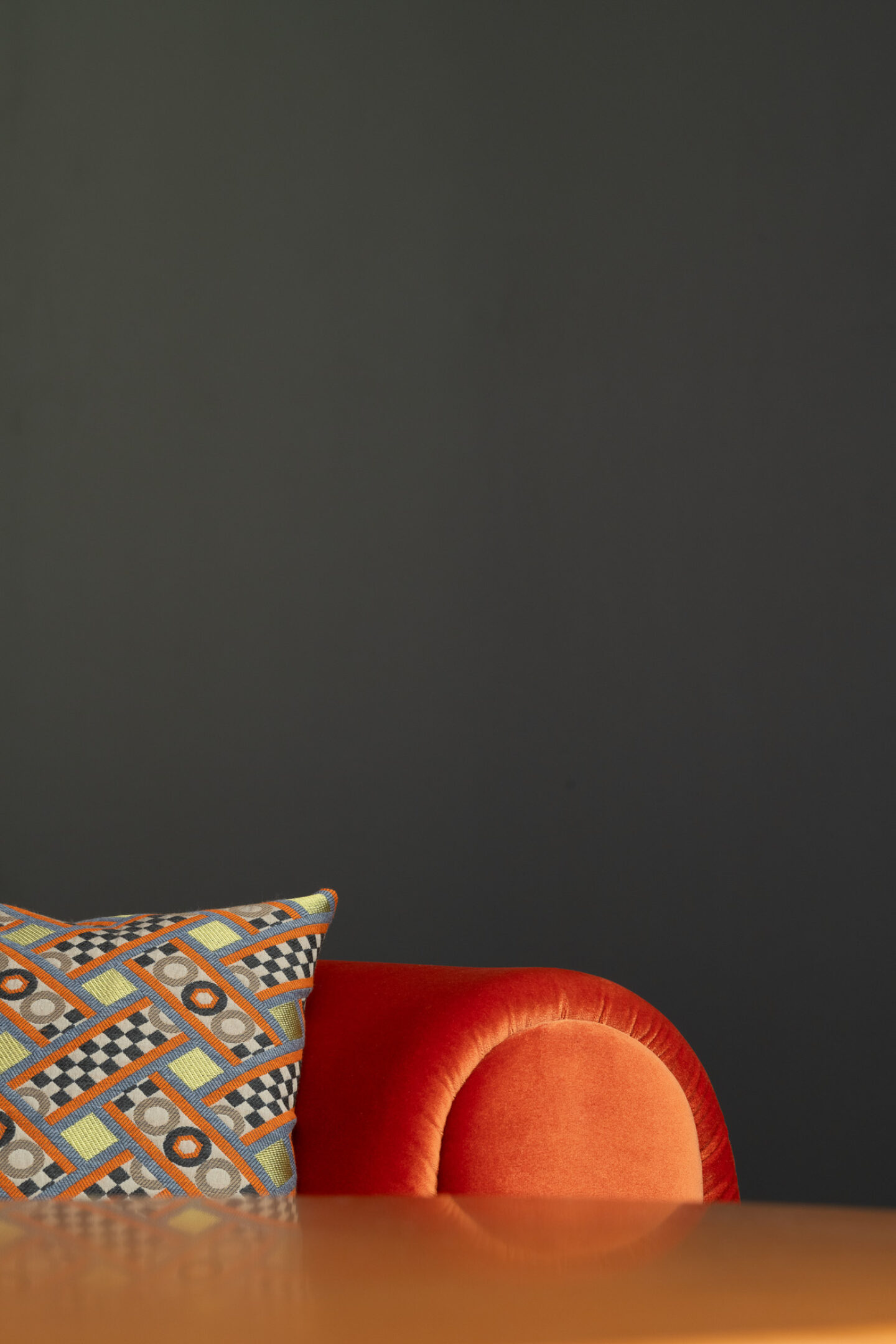 Image © Clemens Poloczek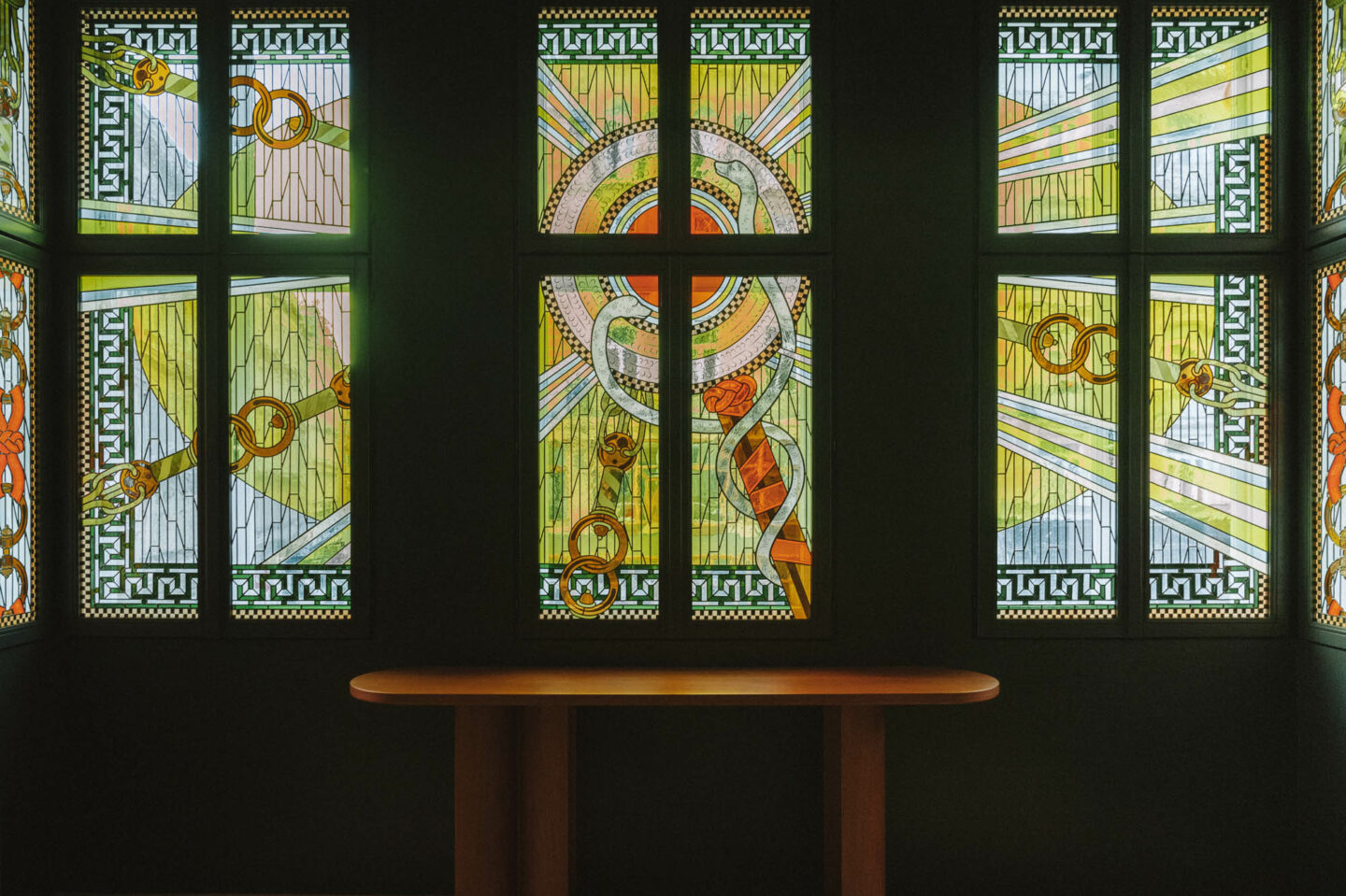 Image © Clemens Poloczek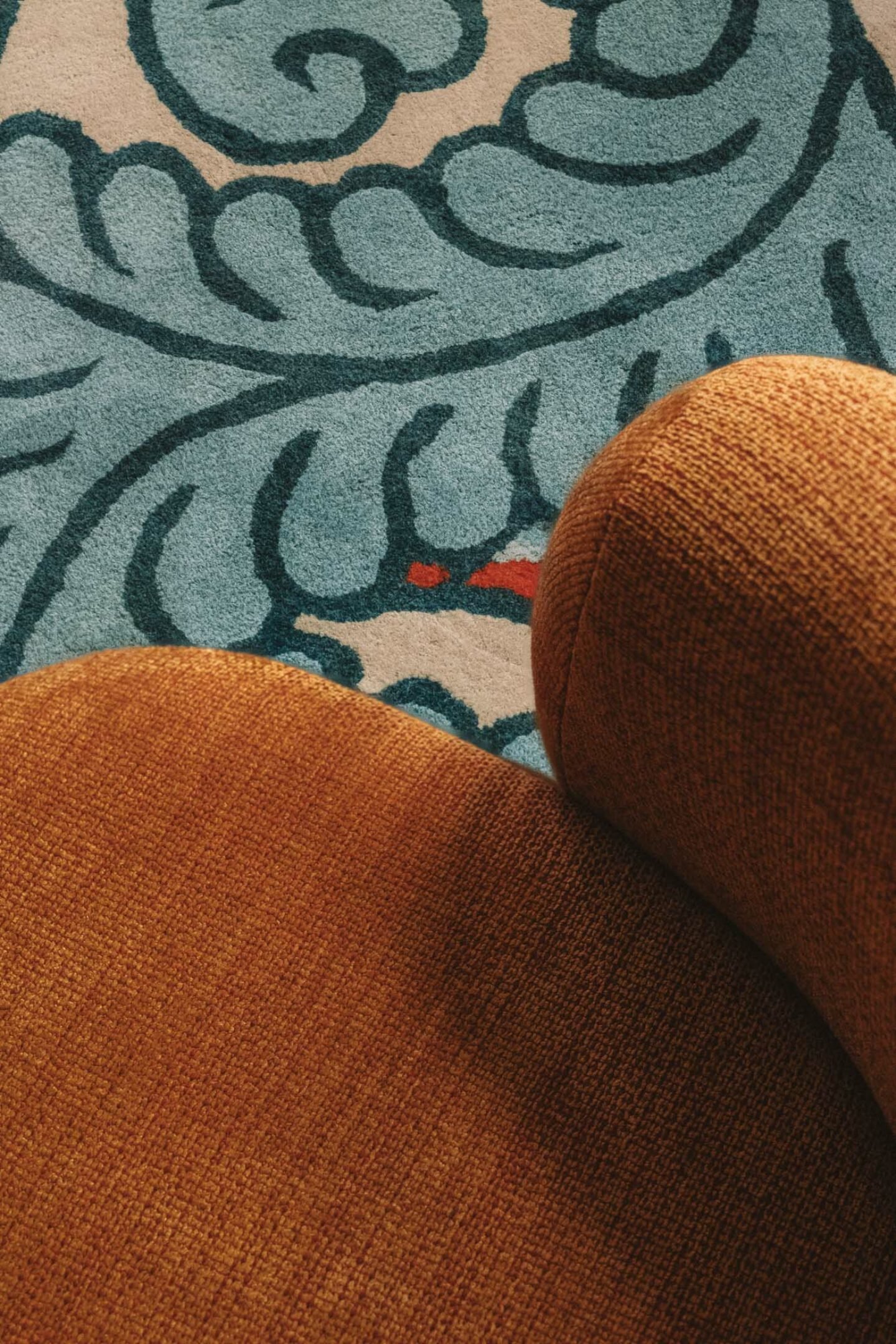 Image © Clemens Poloczek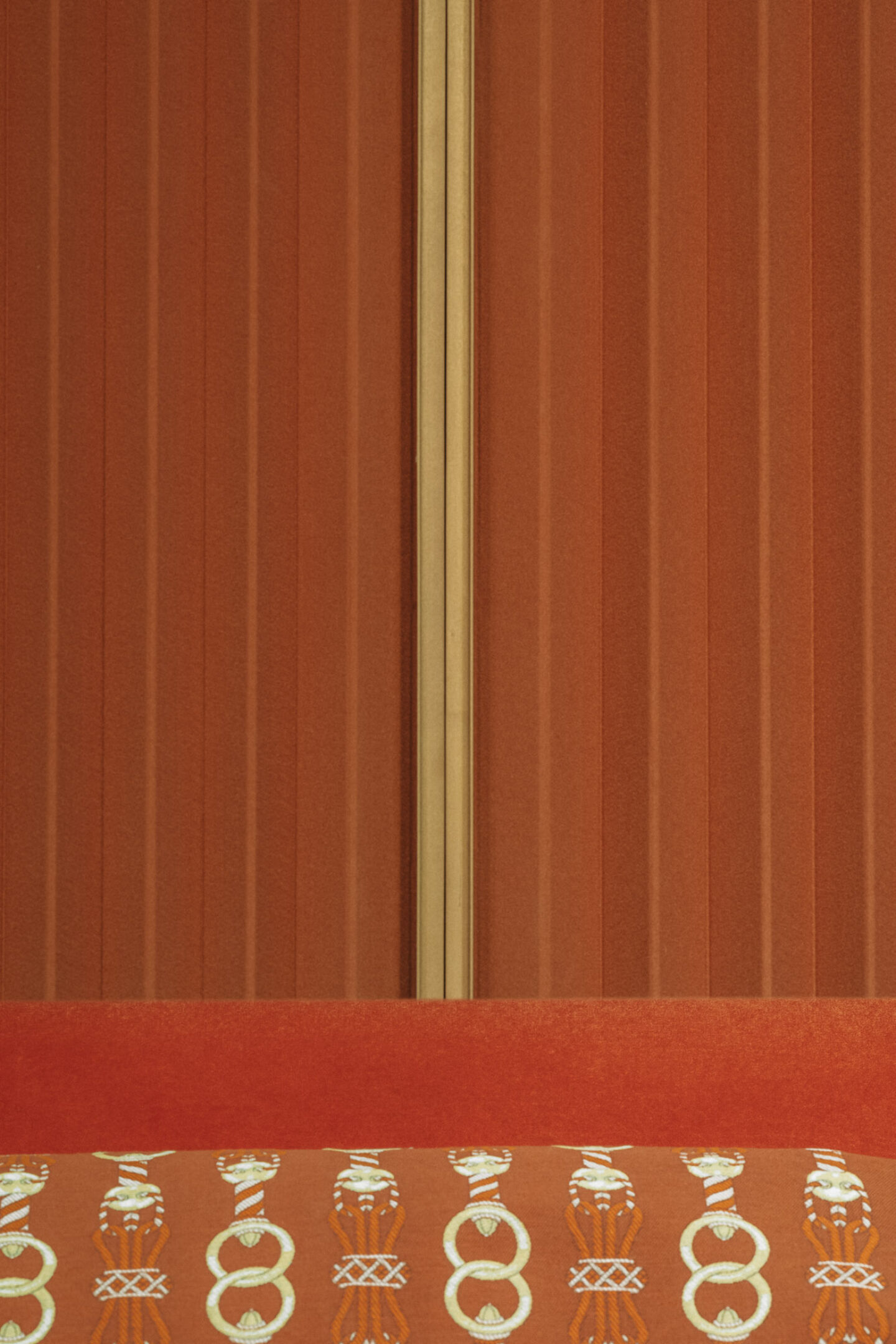 Image © Clemens Poloczek
In telling the Hermès story within the context of Vienna, Pierre-Marie's research led him to the catalogue for an exhibition about Vienna at Paris's Centre Pompidou in 1996, whose foreword relayed the plot of a Viennese play called Die unheilbringende Zauberkrone ("The Ewald's Torch") by Ferdinand Raimund. "The writer uses it as a metaphor of this important city at this very important historical turning point at the end of 19th century and beginning of the 20th century," he notes. "Vienna wanted to reinvent itself completely, to keep shining across Europe and the world. They could no longer do that through power and politics, because the Empire had come to an end, so they had to use intellectuals and artists. This message about shining thanks to art and beauty was the moral of its story. It was equally reminiscent of Hermès's history."
"I really wanted the client to feel like they were experiencing something special – out of time and out of space."
Inspired by the House of Hermès's inclination toward seeking beauty in the smallest details, Pierre Marie's objective was to create an "immersive and embracing" atmosphere within the salon privé. "I really wanted the client to feel like they were experiencing something special – out of time and out of space. You feel like you're entering something a little cozier, and thanks to the stained glass, you are protected from Graben—a beautiful street, but hectic sometimes," he notes. "I wanted something quiet, a privileged mood. When you come inside this space, you lower your voice, everything is made for you to be focused. The meditative effect of things is something I often try to put in my work. It's a way to hypnotize your eyes, because your eyes really get lost in every detail, and your mind can focus on something other than what you see."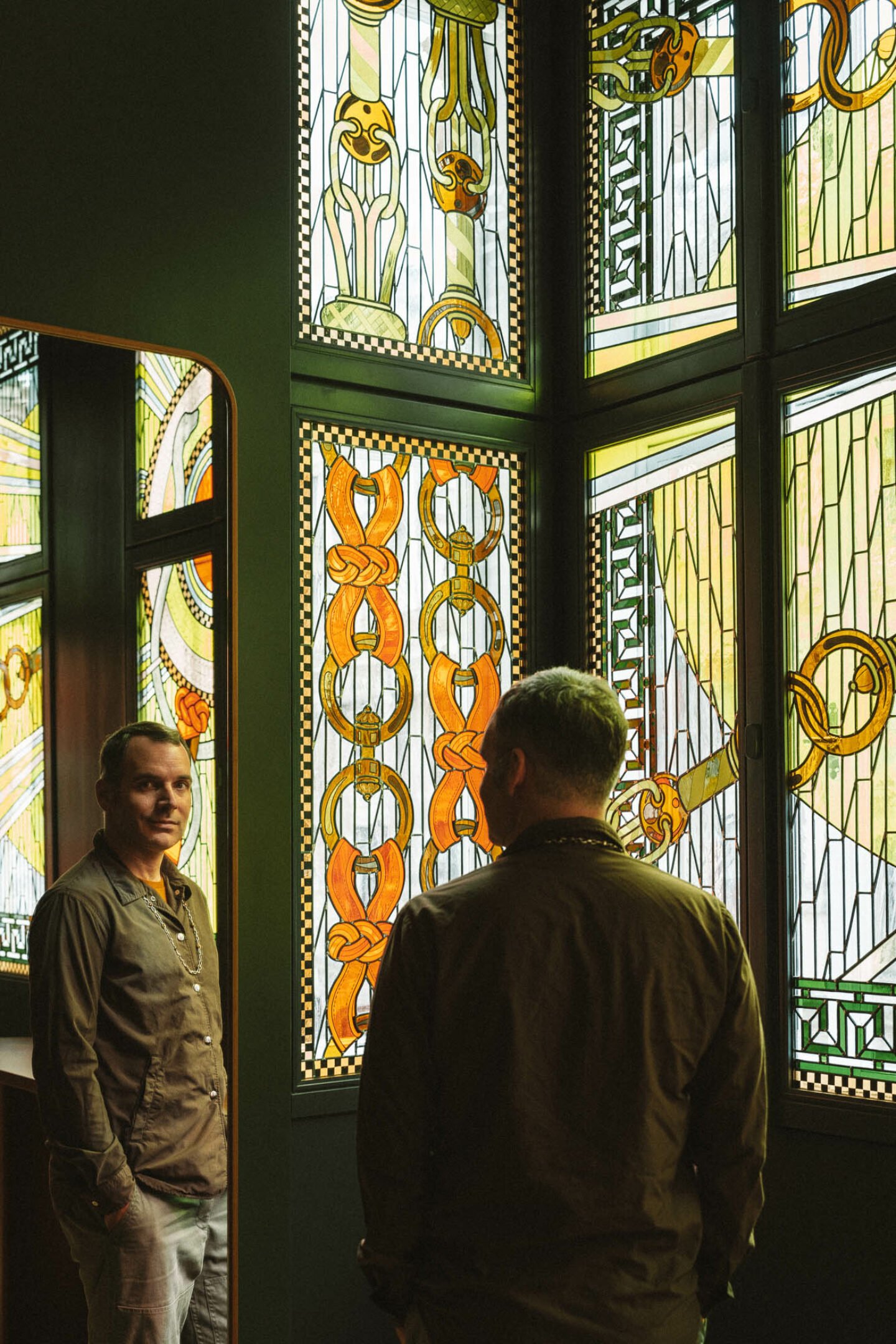 Image © Clemens Poloczek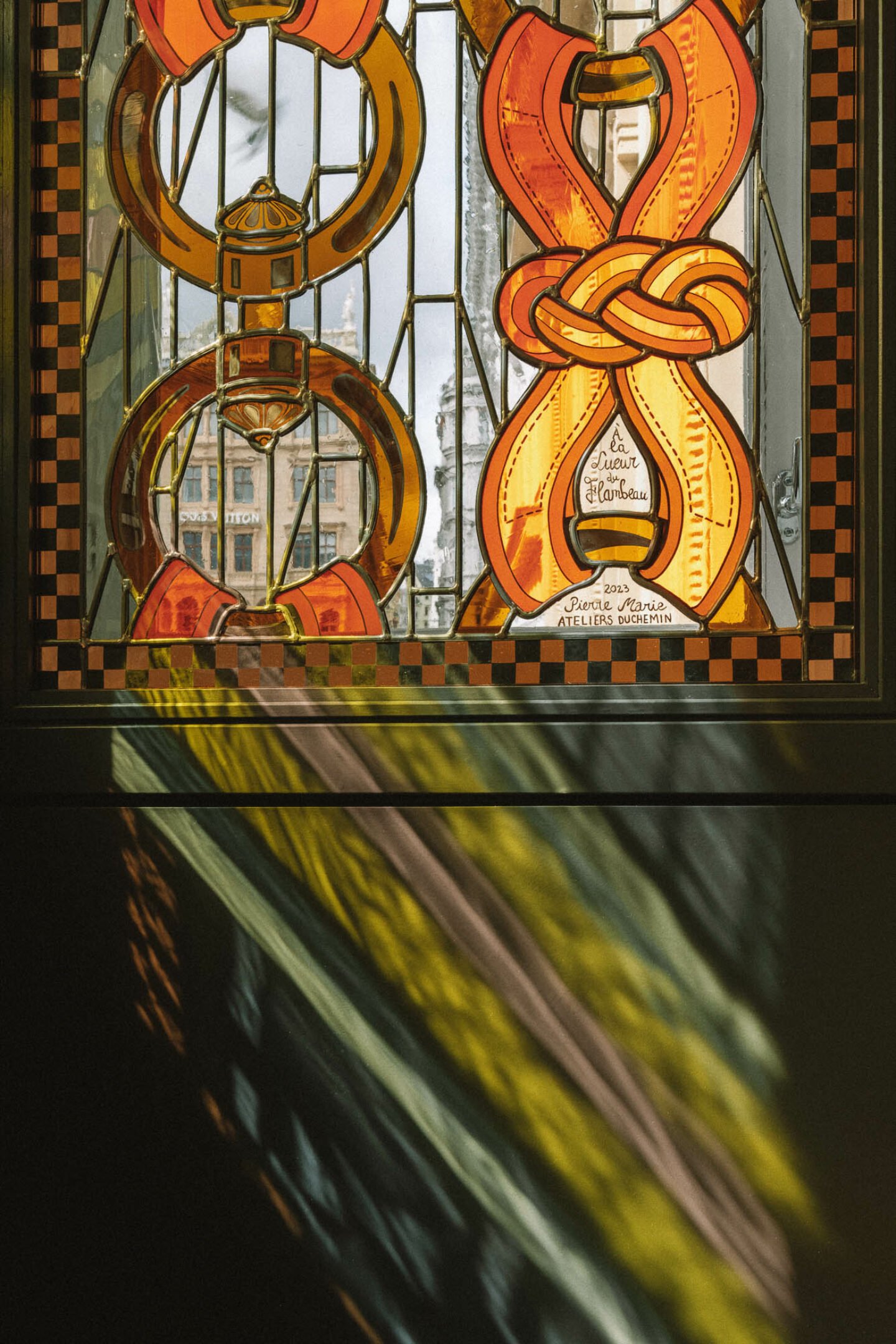 Image © Clemens Poloczek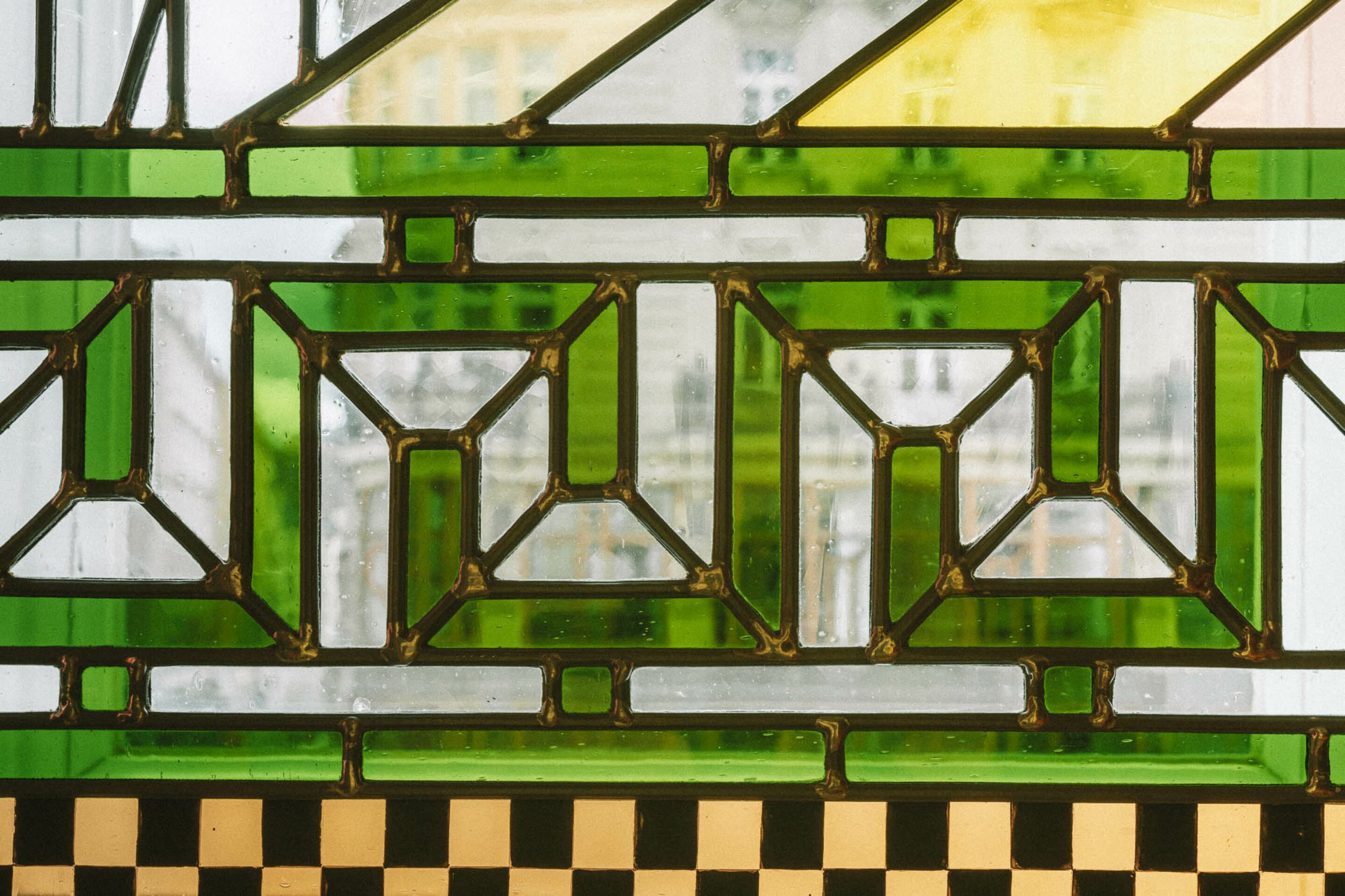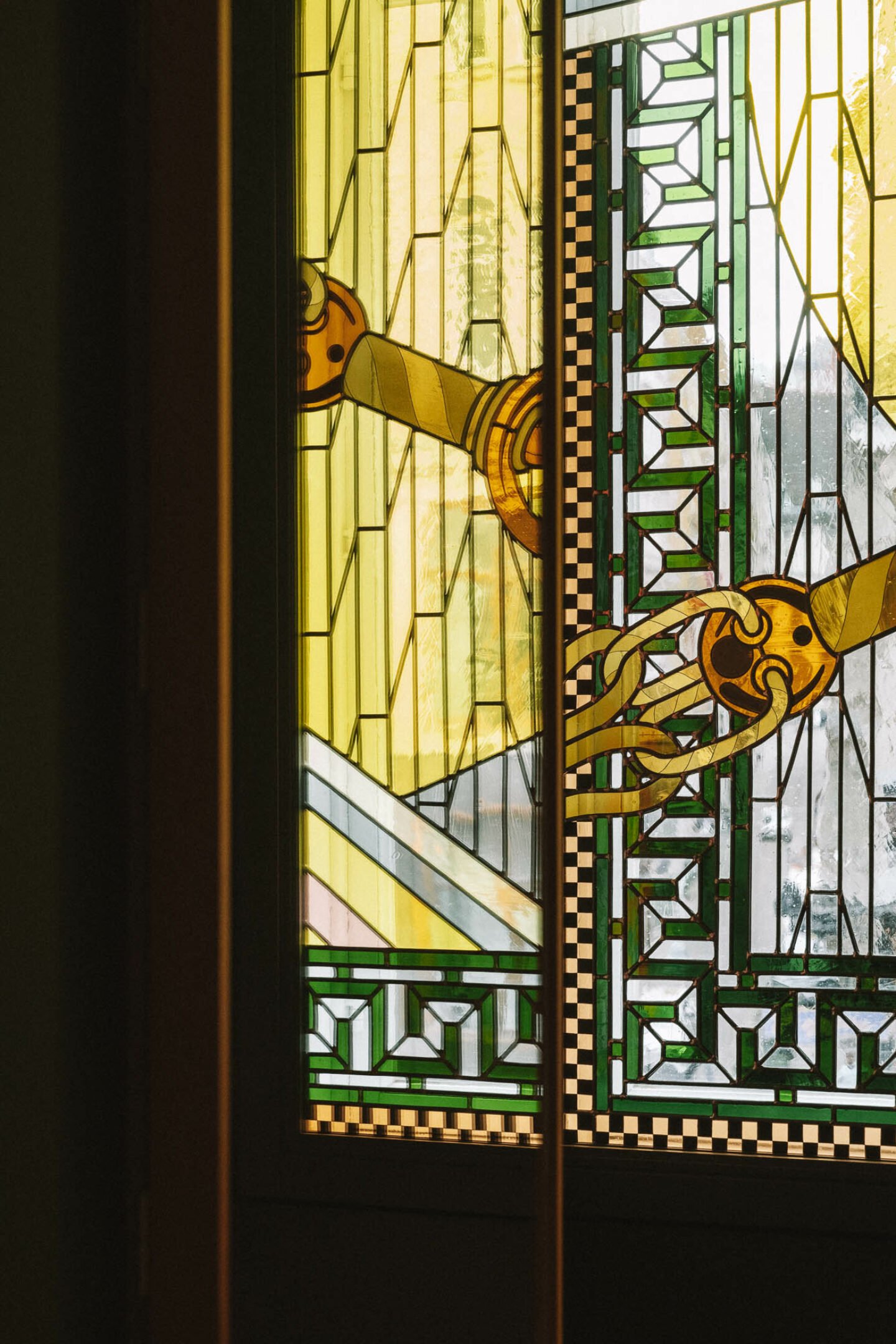 Image © Clemens Poloczek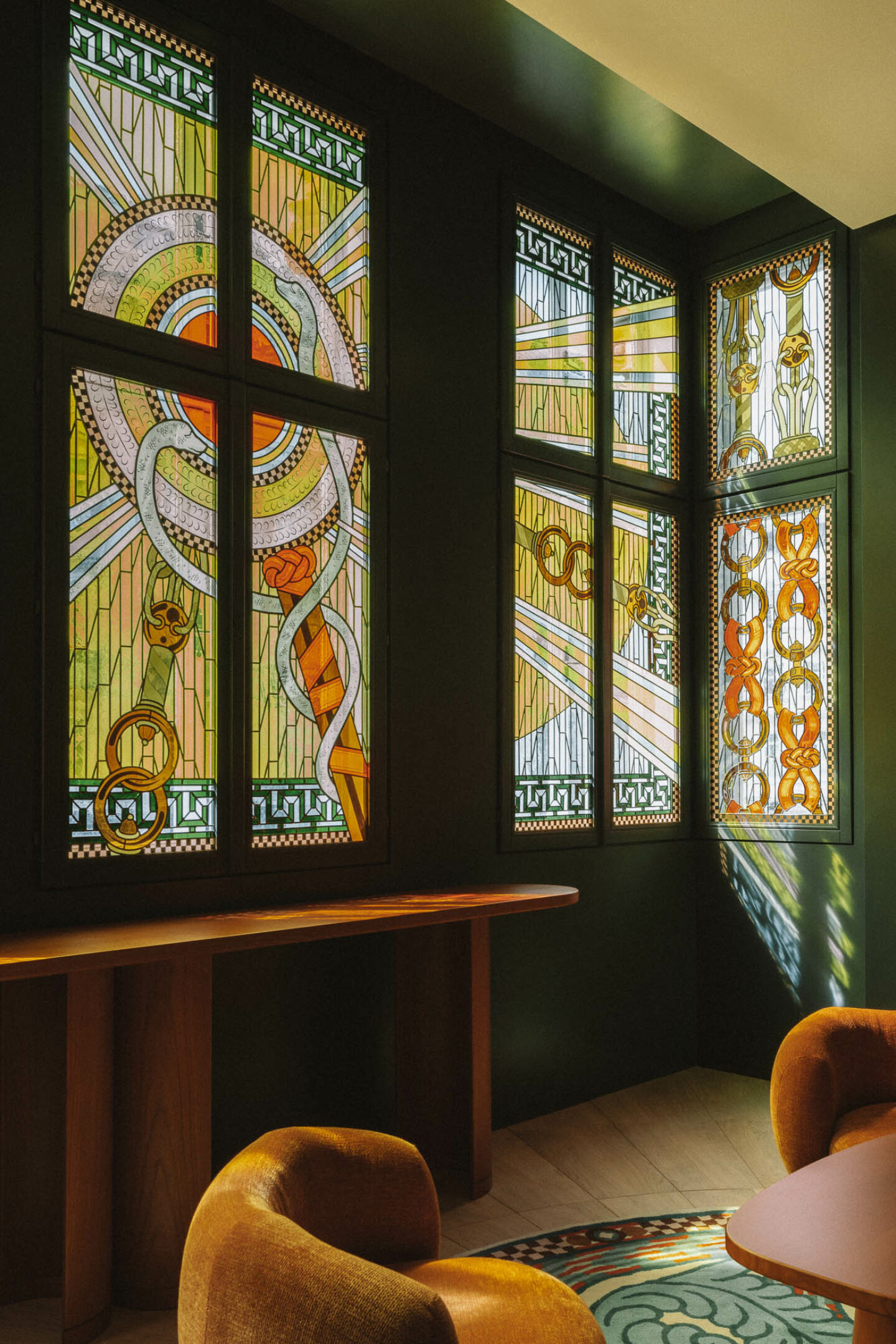 Image © Clemens Poloczek
It is perhaps, above all else, a feeling—the setting of a scene, a mood, a sensation—that distinguishes the singularity of this renovation. Like the city itself, it is composed of a melange of parts, grand objects and nuanced details, from different eras—complementary, contradictory—yet altogether more than the sum of their parts. Montel reflects on the equation: "There's the staircase—this sophisticated object that's quite minimal and, conversely, elements that are completely baroque, almost excessive. To me, all of this reflects the spirit of Hermès, because Hermès can be both a very baroque storyteller and at the same time completely essential in the purity of its gestures."
Source: Ignant